Keep reading for 20 awesome children's books about West Virginia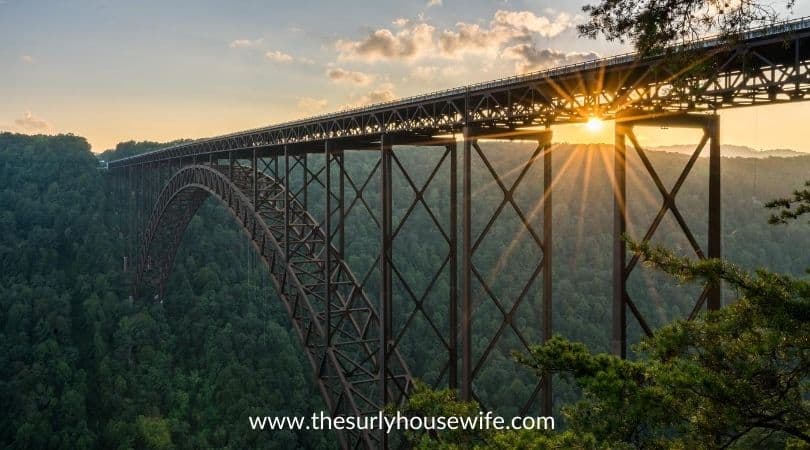 Did you know that West Virginia was part of Virginia until 1863? In 1861, West Viriginia succeeded from Virginia after Virginia joined the Confederacy. Feeling they had nothing in common with the wealthy slave owners who owned all the political power in the state, West Virginia "remained loyal to the Union and began the process of separation."
One of the best ways I have found to teach my kids about history and geography is through, what Charlotte Mason coined, living books. Living books are defined as books that make the subject you are studying come alive and are written by people who love the subject. No more bland nonfiction picture books. You get to learn about the 50 states through rich and vibrant books that make the state come alive to the reader!
Today's blog post is about West Virginia. It picture and chapter books set in West Virginia, children's books about West Virginia, as well as books for Mom. Let's get started!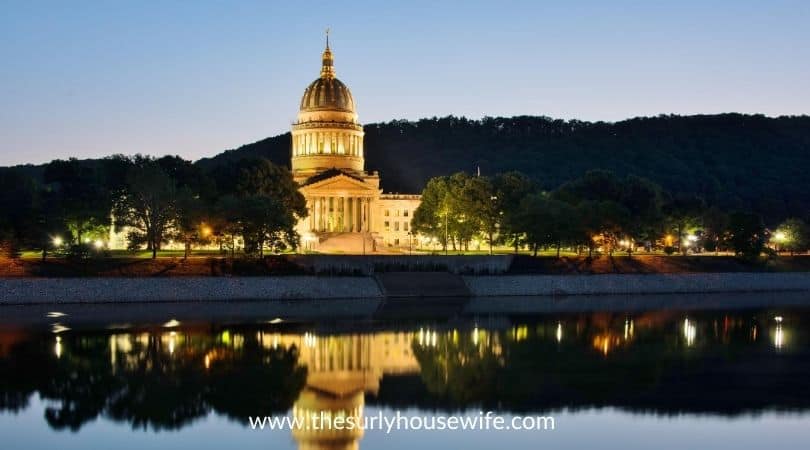 ICYMI, click HERE for all the other state book lists!
West Virginia History and Facts
West Virginia is nicknamed the Mountain State.
Motto – Mountaineers are always free.
West Virginia entered the Union on June 20, 1863. It was the 35th state.
West Virginia was a part of the state of Virginia until the Civil War. Virginia was named after England's Queen Elizabeth, the Virgin Queen.
Charleston is the capital of West Virginia.
This post contains affiliate links. If you click and make a purchase, we earn a commission at NO extra cost to you. For more information, please read my full disclosure policy.
Descriptions come from Amazon; some are edited for length
Living Books about West Virginia
Children's Books Set in West Virginia
A Piece of Home by Jeri Hanel Watts
"When Hee Jun's family moves from Korea to West Virginia, he struggles to adjust to his new home. His eyes are not big and round like his classmates', and he can't understand anything the teacher says, even when she speaks s-l-o-w-l-y and loudly at him. As he lies in bed at night, the sky seems smaller and darker. But little by little Hee Jun begins to learn English words and make friends on the playground. And one day he is invited to a classmate's house, where he sees a flower he knows from his garden in Korea, mugunghwa, or rose of Sharon, as his friend tells him, and Hee Jun is happy to bring a shoot to his grandmother to plant a 'piece of home' in their new garden. A child-friendly story about the trials and triumphs of starting over in a new place while keeping family and traditions close."
When I Was Young in the Mountains by Cynthia Rylant
"An evocative remembrance of the simple pleasures in country living; splashing in the swimming hole, taking baths in the kitchen, sharing family times, each is eloquently portrayed here in both the misty-hued scenes and in the poetic text."
In Coal Country by Judith Hendershot
"Through the eyes of the little girl who is narrating, we see memories of her childhood in coal country. The immediate ingredients in her life, family, school, friends, and holidays, are described lovingly. The power of the book, however, lies in the deep, dark counterpoint that underlies the light melody of the childhood reminiscence. Though the text is spare, the dark, eloquent pictures speak volumes."
Passing the Music Down by Sarah Sullivan
"A young boy travels to the hills of Appalachia to meet the old-time fiddle player whose music he has admired, and so sparks a friendship that will forge a bond between generations. The boy develops under the man's care and instruction, just as seedlings grow with spring rain and summer sun. From playing on the front porch to performing at folk festivals, the two carry on the tradition of passing the music down. This touching, lyrical story, inspired by the lives of renowned fiddlers Melvin Wine and Jake Krack, includes an author's note and suggested resources for learning about the musicians and the music they love."
No Star Nights by Anna Egan Smucker
"'When I was little, we couldn't see the stars in the nighttime sky because the furnaces of the mill turned the darkness into a red glow.' So begins the beautifully told and illustrated No Star Nights. This book recollects growing up in a steel-mill town with its memorable sights and sounds, sometimes glorious and sometimes frightening."
Chuck Yeager Goes Supersonic: An Action-Packed, True Flying Adventure by Alan Biermann
"Young readers will love the legend of the great American aviator, Chuck Yeager, who grew up from humble beginnings to become the first person to fly a plane faster than the speed of sound. This beautifully illustrated book shows scenes of Chuck as a boy in rural West Virginia, describes his wild flights as a test pilot in the U. S. Air Force, and recounts the terrifying bumping and rattling flights as he neared the sound barrier. The book presents a chapter on what the sound barrier is and why it is so dangerous. The reader can experience, with Chuck, the beautiful moment of success as his rocket plane breaks through to supersonic speeds. Young people will remember always this heroic story and the legendary pilot who took the world of aviation into a new era."
West Virginia Picture Books
M is for Mountain State: A West Virginia Alphabet by Mary Ann McCabe Riehle
"With its multitude of mountains and the highest elevation east of the Rockies, it's no wonder West Virginia's nickname is the Mountain State. Abundant natural resources make it a leader in both industry and recreation, from glassmaking to rock climbing. Historic sites and sights include Harper's Ferry and the annual Native American Pow Wow, along with Lost World Caverns and White Sulphur Springs. Noteworthy West Virginians include Chuck Yeager and Olympian Mary Lou Retton."
This series of books called Discover America State By State are some of my favorites for introducing a state to kids. Each letter states a fact or a thing about that state. For example, for West Virginia letter A is for Allegheny Mountains and B is for Black Bears and so on. Each letter comes with a four line rhyme about that respective letter's fact or subject. What I love most is on the side of the page it gives more in-depth description about each subject. It's a great jumping off point for what sparks an interest in your child!
More Than Anything Else by Marie Bradby
"Wanting to learn how to read above all other ambitions, nine-year-old Booker T. Washington fears that his long days in the saltworks will prevent him from trying, until a final burst of determination makes his hopes possible."
John Denver's Take Me Home, Country Roads by Christopher Canyon
"This brilliant picture book adaptation of John Denver's first hit song is all about roots, family, and country. Set in Appalachia, a humorously diverse bunch of relatives and their in-laws go up, down and around the hills of West Virginia to converge by car, pickup, and motorcycle to a family reunion at Grandma and Grandpa's country home. True to Appalachian style, Canyon portrays it all as if on a quilt, complete with little stitches between the 'fabric.' The lyrics demand to be sung!"
Mountain Christmas by Marc Harshman
"Miracles await the reader in this instant West Virginia classic by the poet laureate of West Virginia, Marc Harshman, and the gifted painter, Cecy Rose. Every page reveals a new glimpse of Santa coming to the mountains with his sleigh and reindeer. You do not have to be a West Virginian to enjoy this book, but natives will certainly recognize iconic scenes featuring such familiar sights as the State Capitol, Green Bank Observatory and Blackwater Falls."
Chapter Books set in West Virginia
Shiloh by Phyllis Reynolds Naylor
"When Marty Preston comes across a young beagle in the hills behind his home, it's love at first sight, and also big trouble. It turns out the dog, which Marty names Shiloh, belongs to Judd Travers, who drinks too much and has a gun, and abuses his dogs. So when Shiloh runs away from Judd to Marty, Marty just has to hide him and protect him from Judd. But Marty's secret becomes too big for him to keep to himself, and it exposes his entire family to Judd's anger. How far will Marty have to go to make Shiloh his?"
"Although Ruby seemed to just appear out of thin air on the steps of the courthouse on the first day of summer in 1944, no one in Way Down Deep, West Virginia, ever worried too much about where the toddler came from. They figured that if Ruby's people were dumb enough to lose something as valuable as a child, then that was their problem. So even though Ruby can't help but wonder where she came from, she has led a joyful and carefree life in Way Down Deep, loved and watched over by Miss Arbutus (proprietor of The Roost, the local boardinghouse), the residents of The Roost, and the rest of the town. But when Ruby is twelve, a new family moves to Way Down Deep, and they inadvertently provide enough clues about Ruby's past that she is able to find her own people. Ruby travels from Way Down Deep to the top of Yonder Mountain to learn who she really is only to find that she is bound to Way Down Deep by something even stronger than family ties: love."
"Ever since May, Summer's aunt and good-as-a-mother for the past six years, died in the garden among her pole beans and carrots, life for Summer and her Uncle Ob has been as bleak as winter. Ob doesn't want to create his beautiful whirligigs anymore, and he and Summer have slipped into a sadness that they can't shake off. They need May in whatever form they can have her: a message, a whisper, a sign that will tell them what to do next. When that sign comes, Summer will discover that she and Ob can keep missing May but still go on with their lives."
Child of the Mountains by Marilyn Sue Shank
"Growing up poor in 1953 in the Appalachian Mountains of West Virginia doesn't bother Lydia Hawkins. She treasures her tight-knit family. There's her loving mama, now widowed; her younger brother BJ, and wise old Gran. But everything falls apart after Gran and BJ die and Mama is jailed unjustly. Suddenly Lydia has lost all those dearest to her. Moving to a coal camp to live with her uncle William and aunt Ethel Mae only makes Lydia feel more alone. She is ridiculed at her new school for her outgrown homemade clothes, the way she talks, and for what the kids believe her mama did. And to make matters worse, she discovers that her uncle has been keeping a family secret, about her. If only Lydia, with her resilient spirit and determination, could find a way to clear her mother's name."
When the Whistle Blows by Fran Cannon Slayton
"Jimmy lives in Rowlesburg, West Virginia, during the 1940s. He does all the things boys do in the small mountain town: plays a mean game of football, pulls the unforgettable Halloween prank with his friends in the Platoon, and promises to head off into the woods on the first day of hunting season, no matter what. He also knows his father belongs to a secret society, and is determined to uncover the mysteries behind it! But it is a midnight encounter with a train that shows Jimmy the man his father really is."
Canary in a Coal Mine by Madelyn Rosenberg
"Bitty is a canary whose courage more than makes up for his diminutive size. Of course, as a bird who detects deadly gas leaks in a West Virginia coal mine during the Depression, he is used to facing danger. Tired of unsafe working conditions, he escapes and hops a coal train to the state capital to seek help in improving the plights of miners and their canaries. While there, Bitty manages to bring together two men: a state senator and the inventor of a machine that can replace canaries. But Bitty's return to Coalbank Hollow coincides with a shattering mining accident that affects humans and canaries alike."
"When twelve-year-old Foster and her mother land in the tiny town of Culpepper, they don't know what to expect. But folks quickly warm to the woman with the great voice and the girl who can bake like nobody's business. Soon Foster, who dreams of having her own cooking show one day, lands herself a gig baking for the local coffee shop. She gets herself some much-needed help in overcoming her biggest challenge, learning to read! Just as Foster and Mama start to feel at ease, their past catches up to them. Thanks to the folks in Culpepper, though Foster and her mama find the strength to put their troubles behind them for good."
Mountain Girl by Rose Creasy McMills
"Energetic eleven-year-old Elizabeth eagerly embraces mountain life when she moves with her family to her grandparents' West Virginia farm in the late 1940s. Adventures abound for this imaginative, inquisitive girl. But Elizabeth's idyllic life belies family troubles. Family and community alike shun her Uncle John and Elizabeth wants to know why. Can she forge a connection with Uncle John and will she be able to do it in time?"
Young Adult Literature Set in West Virginia
The Miner's Daughter by Gretchen Moran Laskas
"Backbreaking work, threadbare clothes, and black coal dust choking the air, this is what a miner's daughter knows. Willa Lowell fears that this dust marks her to be nothing else, that she will never win against the constant struggle to survive. Willa yearns for a better life: enough food to eat, clothes that fit, and a home free of black grit. She also yearns for a special love, the love of a boy who makes her laugh and shares the poetry she carries in her heart. When a much brighter future is suddenly promised to her family, Willa knows it is a miracle, until she discovers that every promise has a price. But she also discovers that the real change has burned inside her all along, if only she is strong enough to mine it."
The Night I Freed John Brown by John Michael Cummings
"Josh knows there is something about the tall Victorian House on the Harpers Ferry Hill, the one his father grew up in, that he can't quite put his finger on. And his impossible father won't give him any clues. He's hiding something. And then there's the famous John Brown. The one who all the tourists come to hear about. The one whose statue looms over Josh's house. Why does he seem to haunt Josh and his whole family? When the fancy Richmonds come to town and move right next door, their presence forces Josh to find the answers and stand up to the secrets of the House, to his father and to John Brown, too. The historic village of Harpers Ferry comes alive in this young boy's brave search for answers and a place of his own."
Books Set in West Virginia (for Mom!)
I love to read, and I love a good theme or challenge for a reading list. So my final two books on this book list are one adult fiction and one adult non-fiction.
Fiction Book Set in West Virginia
The Unquiet Earth by Denise Giardina
"In this moving and brilliant follow-up to her acclaimed Storming Heaven, Denise Giardina returns to the coal field of Blackberry Creek, West Virginia, and its people who struggle to maintain their lives against the brutal forces of oppression, neglect, poverty, and disaster."
Non-fiction Book Set In West Virginia
"The #1 New York Times bestselling memoir that inspired the film October Sky, Rocket Boys is a uniquely American memoir. A powerful, luminous story of coming of age at the dawn of the 1960s, of a mother's love and a father's fears, of a group of young men who dreamed of launching rockets into outer space and who made those dreams come true. With the grace of a natural storyteller, NASA engineer Homer Hickam paints a warm, vivid portrait of the harsh West Virginia mining town of his youth, evoking a time of innocence and promise, when anything was possible, even in a company town that swallowed its men alive. A story of romance and loss, of growing up and getting out, exquisitely written and marvelously entertaining."
And there you have it! 20 living books about West Virginia. It is my hope that this book list provides you with JUST ONE book to share with your kids. For our homeschool unit we read Shiloh, which, I think, is THE living book about West Virginia!
From the miners to country roads and from mountains to the sound barrier, I hope you find some fun things to learn about West Virginia!
Check out the other states below!