20 of the best books for a unit study about Georgia.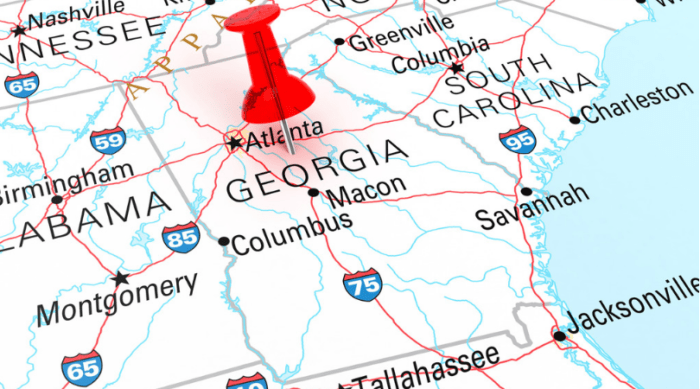 Sigh. What can I say about Georgia. First off, it's one of the most beautiful states in the country. BUT! I will always be perplexed by the red dirt. Being born in Iowa and now living in Wisconsin I am used to rich, dark, brown dirt. Every time I have driven in Georgia I am always thrown off by the red dirt. Just add it to my list of quirks.
Secondly, it's home to one of my favorite tv shows, hello Walking Dead, but it's also the home to one of my all-time favorite novels, Gone With The Wind. Margaret Mitchell brings not only characters alive through her writing, but the state of Georgia as well. Gone With the Wind is obviously a high school reading level, but I urge all homeschool parents to add it to their reading list.
If your kids are a touch younger, I have a list of 20 books of various reading levels to get you started. From peanuts, to the Okefenokee swamp, this list has something for all interests and age ranges that homeschooling families may have.
Studying and learning about the fifty states is more than memorizing facts about the state bird and square milage. So the books included in this book list about Georgia are, as Charlotte Mason coined, living books. Living books are books that make the subject you are studying come alive and are written by people who love the subject. Some books are about a family living in Georgia, while others are about the state's history.
ICYMI! Here are the lists for the other states!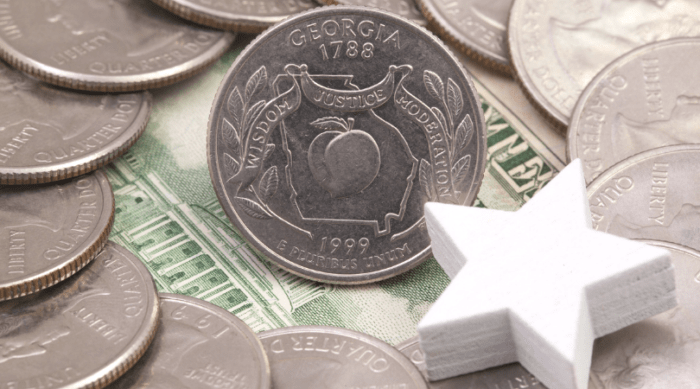 Georgia History and Facts
Georgia is nicknamed the Peach State because of the growers' reputation for producing the highest quality fruit.
Motto – Wisdom, justice, and moderation.
Georgia became a state on January 2, 1788. It was the fourth state to enter the Union.
Georgia was named for England's King George II.
Jimmy Carter, the 39th President, was born in Plains, Georgia on October 1, 1924.
Atlanta is the capital city of Georgia.
This post contains affiliate links. If you click and make a purchase, we earn a commission at NO extra cost to you. For more information, please read my full disclosure policy.
Living Books about Georgia
Picture Books About Georgia
And the Tide Comes In…: Exploring a Georgia Salt Marsh by Merryl Alber
"This book is a narrative told from the point of view of a young girl who is showing her visiting cousin a Georgia coastal salt marsh. The children visit the marsh every day for four days, slowly building their knowledge of the ecosystem."
The Life and Times of the Peanut by Charles Micucci
"In the same spirit as his award-winning Life and Times of the Honeybee, Charles Micucci explores one of America's most favorite and enigmatic snack foods. This fascinating picture book, with its concise, detailed text and abundant illustrations, ranging from the humorous to the scientific, offers a spirited introduction to the life cycle, many uses, and historical influences of the peanut."
Deep in the Swamp by Donna Bateman
"Set to the melody of "Over in the Meadow," readers will love reading, counting, and singing along with the creatures that live in the swamp."
P is for Peach: A Georgia Alphabet by Carol Crane
"As you travel through the Okefenokee Swamp, keep an eye out for Tiger Swallowtails and Brown Thrashers, and be sure to pick some Yellow Confederate Daisies before taking a nap under a Live Oak Tree. This is the Georgia that becomes a wondrous reality within the beautiful rhyming verses of Carol Crane and the colorful images of Mark Braught."
A Peck of Peaches: A Georgia Number Book by Carol Crane
"Using simple number concepts, A Peck of Peaches: A Georgia Number Book travels the state, showcasing its natural wonders and traditions, along with entertaining facts and information."
Children's Book Set in Georgia
Pink and Say by Patricia Polacco
"A story, seen through the white soldier's eyes, about a young black soldier who rescues a white soldier during the Civil War. This emotionally charged book, opens young readers' eyes to the injustices of slavery and the senselessness of war."
Georgia Music by Helen Griffith
"A young girl finds a way to make her sick grandfather laugh again by bringing back the Georgia music they had shared the summer before."
Books about Georgia History for Kids
Martin's Big Words: The Life of Dr. Martin Luther King, Jr. by Doreen Rappaport
"This picture-book biography is an excellent and accessible introduction for young readers to learn about one of the world's most influential leaders, Dr. Martin Luther King, Jr. Doreen Rappaport weaves the immortal words of Dr. King into a captivating narrative to tell the story of his life. With stunning art by acclaimed illustrator Bryan Collier, Martin's Big Words is an unforgettable portrait of a man whose dream changed America-and the world-forever."
A Confederate Girl: The Diary of Carrie Berry, 1864 by Carrie Berry
"Excerpts from the diary of Carrie Berry, describing her family's life in the Confederate south in 1864."
Only the Names Remain: The Cherokees and The Trail of Tears by Alex W. Bealer
"From 1837 to 1838, thousands of Cherokee Indians were marched from their homelands in Georgia to exile in Arkansas by the same white men they has once befriended. The Cherokees journeyed through bitter cold and blazing heat, with little food or water. One out of every four died — and with them died a culture that had existed for hundreds of years. Today, only the names remain of this once great nation."
Chapter Books Set In Georgia
Ida Early Comes Over the Mountain by Robert Burch
"Life in rural Georgia is tough for the Suttons. Their mother has passed away, and the country is in the midst of the Great Depression . But things take a turn for the better when Ida Early comes over the mountain. She offers to help Mr. Sutton with the children, and entertains them with her tall tales of lion taming, working as a cook on a pirate ship, and even a stunt pilot!"
Tree Castle Island by Jean Craighead George
"Fourteen-year-old Jack sets out in a handmade canoe for the legendary Okefenokee Swamp. But after several idyllic days of exploring, he's hit with some bad luck. He can't find his way home! When he pulls up to a remote island, he finds another surprise: a mystery that will reach far into his own past . . . and force him to question the world he's left behind."
The Fantastic Secret of Owen Jester by Barbara O'Connor
"Owen Jester wishes his family hadn't moved to his grandfather's house after his dad lost his job. Then late one night, Owen hears a curious noise when the train passes by his grandfather's house. Something mysterious and wonderful has fallen off the train. When Owen finally discovers what it is, he realizes he just might have found the most fantastic secret to ever tumble into Carter, Georgia."
Fame and Glory in Freedom, Georgia by Barbara O'Connor
All her life, all Bird has ever wanted is to be noticed in her small town and to get to Disney World. Then a boy named Harlem Tate moved to Freedom. Harlem seems like a kindred spirit. But as much as Bird tries to get his attention, Harlem is not easily won over. Then Harlem agrees to be her partner in the state spelling bee, and if they study hard enough, the two might just win everything Bird's always wanted.
Cherokee Sister by Debbie Dadey
"When Allie MacAllister's best friend, Leaf Sweetwater, invites her to try on her buckskin dress, Allie couldn't be happier. Until soldiers interrupt the girls' fun and round up Leaf's family, forcing them from their home and taking Allie with them. Together they are swept along the harsh Trail of Tears, and joined by thousands of other Cherokee families. Throughout the harrowing journey, Allie and Leaf share strength, hope, fear, and courage, forging a bond of sisterhood greater than any blood tie."
Turn Homeward, Hannalee by Patricia Beatty
"During the closing days of the Civil War, plucky 12-year-old Hannalee Reed is sent north to work in a Yankee mill where she struggles to return to the family she left behind in war-torn Georgia."
Freedom Train by Evelyn Coleman
"It's 1947, and twelve-year-old Clyde Thomason is proud to have an older brother who guards the Freedom Train—a train that is traveling to all forty-eight states carrying the country's most important documents, including the Declaration of Independence and the Bill of Rights. Clyde is chosen to say the Freedom Pledge at the train's stop in Atlanta, but his terrible stage fright forces him to refuse the honor. Instead, it's the class bully, Phillip, who gets selected, and he begins to torment Clyde. When an African-American boy saves him from a beating, Clyde is shocked. Especially when he learns that William lives in the white part of town. How can this be? And why can't he bring himself to be friends with William?
Clyde hasn't told his parents he won't perform the pledge, nor has he mentioned his confusing friendship with a boy of color. So when the townspeople threaten William's family, Clyde has a choice to make: Will he keep quiet, or stand up for real freedom?"
"Kira-kira (kee ra kee ra): glittering; shining; Glittering. That's how Katie Takeshima's sister, Lynn, makes everything seem. The sky is kira-kira because its color is deep but see-through at the same time. The sea is kira-kira for the same reason. And so are people's eyes. When Katie and her family move from a Japanese community in Iowa to the Deep South of Georgia, it's Lynn who explains to her why people stop on the street to stare. And it's Lynn who, with her special way of viewing the world, teaches Katie to look beyond tomorrow. But when Lynn becomes desperately ill, and the whole family begins to fall apart, it is up to Katie to find a way to remind them all that there is always something glittering — kira-kira — in the future."
Books Set in Georgia (for Mom!)
I love to read, and I love a good theme or challenge for a reading list. So my final two books on this book list are one adult fiction and one adult non-fiction.
Fiction Book Set in Georgia
Gone With The Wind by Margaret Mitchell
Gone With the Wind, winner of the Pulitzer Prize, one of America's best-loved novels and widely considered The Great American Novel, tells the tale of Scarlett O'Hara, the spoiled, manipulative daughter of a wealthy plantation owner, who arrives at young womanhood just in time to see the Civil War forever change her way of life. A superb piece of storytelling, which vividly depicts the drama of the Civil War and Reconstruction.
Non-Fiction Book Set in Georgia
Untamed: The Wildest Woman in America and the Fight for Cumberland Island by Will Harlan
"Carol Ruckdeschel is the wildest woman in America. She wrestles alligators, eats roadkill, rides horses bareback, and lives in a ramshackle cabin that she built by hand in an island wilderness. A combination of Henry David Thoreau and Jane Goodall, Carol is a self-taught scientist who has become a tireless defender of sea turtles on Cumberland Island, a national park off the coast of Georgia. What happens when a dirt-poor naturalist with only a high school diploma becomes an outspoken advocate on a celebrated but divisive island? Untamed is the story of an American original standing her ground and fighting for what she believes in, no matter the cost."
And there you have it! 20 books to begin a unit study about Georgia. From the Trail of Tears to the swamps of Georgia, I hope this book list sparks an interest in your homeschooler. With this list, there is a lot young readers have a lot they can learn about the peach state. Georgia has so many fun areas to explore and expand on.