Keep reading for 20 books about Ohio you can use for a state unit study!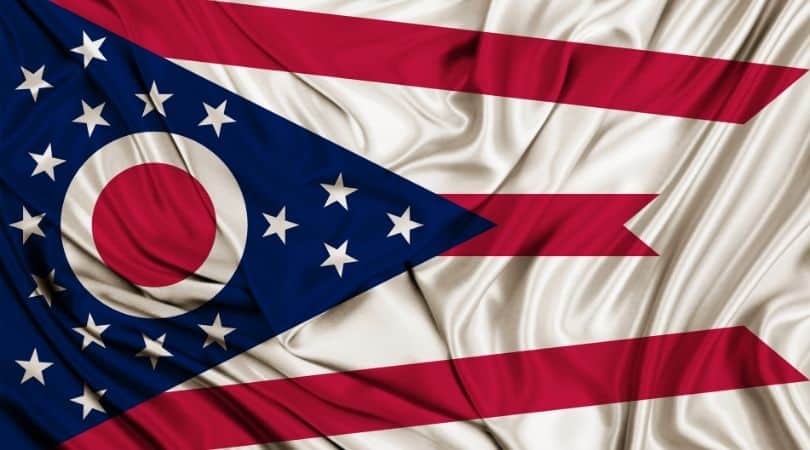 Did you know that Ohio is the 35th largest state in America if you go by square miles? But if you ask any trucker they will probably say it's the largest 😉 With an area of of almost 45,000 square miles, the great state of Ohio is home to 8 U.S. Presidents, Lake Erie, and the Rock 'N Roll Hall of fame!
However, studying and learning about Ohio is more than memorizing its square milage and state flower. My approach to homeschooling involves what as Charlotte Mason coined, living books. Living books are books that make the subject you are studying come alive and are written by people who love the subject.
This book list contains some nonfiction books about Ohio as well as chapter books set in Ohio and books about famous people from the Buckeye State. All of these books DO make the state of Ohio come alive to the reader.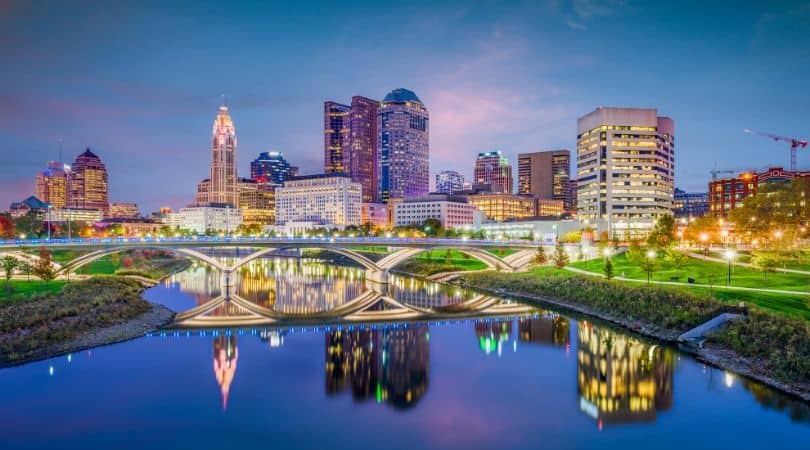 ICYMI, click HERE for all the other state book lists!
Ohio History and Facts
Ohio is nicknamed the Buckeye State because Buckeye trees grow so plentifully there.
Motto – With God, all things are possible.
Ohio entered the Union on March 1, 1803. It was the 17th state.
Ohio is named for an Iroquois word meaning "good river" referring to the Ohio River.
Presidents Ulysses Grant, Rutherford Hayes, James Garfield, Benjamin Harrison, William McKinley, William Taft, and Warren Harding were all born in Ohio.
Columbus is the capital of Ohio.
This post contains affiliate links. If you click and make a purchase, we earn a commission at NO extra cost to you. For more information, please read my full disclosure policy.
Descriptions come from Amazon; some are edited for length
Living Books about Ohio
Children's Books About Ohio
B Is for Buckeye by Marcia Schonberg
"Did you know that Ohio is called 'The Mother of Presidents' for the eight United States Presidents born there? Or, that 23 astronauts (the most of any state) are from Ohio? These and more amazing facts are revealed in B is for Buckeye, a must-have for every Ohioan (from Ulysses S. Grant to John Glenn)! Bring the history and information of Ohio in the second of Sleeping Bear Press' state alphabet books."
This series of books called Discover America State By State are some of my favorites for introducing a state to kids. Each letter states a fact about that state. For example, for Ohio letter A is for Astronauts and the letter B is for Buckeye, and so on. Each letter comes with a four line rhyme about that respective letter's fact or subject. What I love most is on the side of the page it gives more in-depth description about each subject. It's a great jumping off point for what sparks an interest in your child!
Cardinal Numbers by Marcia Schonberg
"This colorful and richly informative pictorial teaches children about numbers and math concepts by using people, places, and things specific to Ohio as examples. As the elementary age students begin to grasp these concepts, they learn more and more about their state in the process."
Picture Books Set in Ohio
"Young Lentil wants to learn to sing, but no matter how hard he tries he can't sing on key. He can't even pucker his lips to whistle! So Lentil learns to play the harmonica instead and beautifully carries his tune through the winding streets of Alto, Ohio. Lentil masters his craft just as the beloved Colonel Carter returns to town and the Alto residents decide to plan a special celebration. But Old Sneep, the grouchiest man in town, doesn't want anyone celebrating Colonel Carter's homecoming. When Old Sneep stops the welcoming parade in its tracks, Lentil's music turns out to be just what Alto needs."
Freedom River by Doreen Rappaport
"One thousand feet across the Ohio River lay Ripley, Ohio—and freedom. Before the Civil War, Kentucky was a slave state, while Ohio remained free. Time and time again, John Parker, an ex-slave who had bought his own freedom, led Kentucky slaves across a thin stretch of river to Ohio, and safety. These dangerous journeys demanded a tremendous amount of courage, planning, and faith."
Kids Books about Famous Ohioans
One Giant Leap by Robert Burleigh
"On July 29, 1969, as Americans sat glued to their televisions and radios, Neil Armstrong and Buzz Aldrin did the seemingly impossible–something humans had dreamed of doing for centuries: They traveled 240,000 miles through space and set foot on the moon. One small step for man; one giant leap for mankind. This achievement not only brought the moon within reach, but now everything seemed possible. If it could be imagined, it could be done."
Young Thomas Edison by Michael Dooling
"How did Thomas Edison grow up to be America's greatest inventor? Author Michael Dooling explores the beginnings of Edison's genius: from his difficulty in school, to his early years as a young scientist, to the man everyone called 'The Wizard.'"
The Unstoppable Garrett Morgan: Inventor, Entrepreneur, Hero by Joan Dicicco
"Garrett Morgan, a prolific African American inventor and entrepreneur, must test his latest invention in a daring rescue after an explosion at the Cleveland Waterworks. The son of freed slaves, young and curious Garrett was eager for life beyond his family's farm. At age fourteen, he moved north to Cleveland, where his creative mind took flight amidst the city's booming clothing-manufacturing industry. Using his ingenuity and tenacity, Garrett overcame racial barriers and forged a career as a successful businessman and inventor. But when a tunnel collapsed, trapping twenty men, the rescue would test both Garrett's invention and his courage."
Johnny Appleseed by Reeve Lindberg
"Rhymed text and illustrations relate the life of John Chapman, whose distribution of apple seeds and trees across the Midwest made him a legend and left a legacy still enjoyed today."
Chapter Books Set in Ohio
Out of My Mind by Sharon M. Draper
"Eleven-year-old Melody is not like most people. She can't walk. She can't talk. She can't write. All because she has cerebral palsy. But she also has a photographic memory; she can remember every detail of everything she has ever experienced. She's the smartest kid in her whole school, but NO ONE knows it. Most people, her teachers, her doctors, her classmates, dismiss her as mentally challenged because she can't tell them otherwise. But Melody refuses to be defined by her disability. And she's determined to let everyone know it…somehow."
Other Words for Home by Jasmine Warga
"Jude never thought she'd be leaving her beloved older brother and father behind, all the way across the ocean in Syria. But when things in her hometown start becoming volatile, Jude and her mother are sent to live in Cincinnati with relatives. At first, everything in America seems too fast and too loud. The American movies that Jude has always loved haven't quite prepared her for starting school in the US, and her new label of 'Middle Eastern,' an identity she's never known before. But this life also brings unexpected surprises: there are new friends, a whole new family, and a school musical that Jude might just try out for. Maybe America, too, is a place where Jude can be seen as she really is."
Double Dutch by Sharon M Draper
"Delia loves Double Dutch more than just about anything, and she's really good at it so good she and her teammates have a shot at winning the World Double Dutch Championships. Delia would die if she couldn't jump, but Delia has a secret, and it could keep her off the team next year. Delia's friend Randy has a secret too, one that has him lonely and scared. And while Delia and Randy struggle to keep their secrets, their school is abuzz with rumors about what malicious mischief the terrible Tolliver twins are planning. Delia and Randy's secrets collide on what should be the happiest day of Delia's life, and the collision threatens to destroy their friendship. Why can't life be as easy for Delia as Double Dutch?"
M.C. Higgins, the Great by Virginia Hamilton
"Mayo Cornelius Higgins sits on his gleaming, forty-foot steel pole, towering over his home on Sarah's Mountain. Stretched before him are rolling hills and shady valleys. But behind him lie the wounds of strip mining, including a mountain of rubble that may one day fall and bury his home. M.C. dreams of escape for himself and his family. And, one day, atop his pole, he thinks he sees it, two strangers are making their way toward Sarah's Mountain. One has the ability to make M.C.'s mother famous. And the other has the kind of freedom that M.C. has never even considered."
"Jeremiah is not one to let anything keep him down. Starting with his adoption by computer genius Walt, Jeremiah has looked on his life as a series of lucky breaks. When a weak heart keeps him from playing his beloved baseball, Jeremiah appoints himself the team coach. When Walt has to move for another new assignment, Jeremiah sees it as a great chance to explore a new town. But no sooner do they arrive than a doping scandal is revealed and the town feels betrayed and disgraced. Jeremiah takes it as his personal mission to restore the town's morale and help the teams bounce back and remember how to soar."
Lost and Found by Andrew Clements
"Identical twins Ray and Jay Grayson are moving to a new town. Again. But at least they'll have each other's company at their new school. Except, on the first day of sixth grade, Ray stays home sick, and Jay quickly discovers a major mistake: No one knows about his brother. Ray's not on the attendance lists and doesn't have a locker, or even a student folder. Jay decides that this lost information could be very…useful. And fun. Maybe even a little dangerous. As these two clever boys exploit a clerical oversight, each one discovers new perspectives on selfhood, friendship, and honesty."
Jack & Louisa: Act 1 by Andrew Keenan-Bolger and Kate Wetherhead
"Twelve-year-old Jack Goodrich was a Broadway star, with two shows under his belt and a third in rehearsals. But when his voice suddenly changes, Jack and his parents leave the spotlight and move far from New York City to Shaker Heights, Ohio. While Jack hopes to leave his Broadway past behind, his new neighbor refuses to let him off the hook. Louisa is a self-proclaimed 'musical theater nerd' and can hardly believe when an actor moves to town. What's more, the local theater has announced auditions for her favorite show, Into the Woods. As the audition date looms nearer, the two are faced with difficult choices. Should Jack risk humiliation and return to the stage? Will Louisa have confidence to go it alone? And can friendship survive all those complicated octave leaps?"
Absolutely Normal Chaos by Sharon Creech
"Mary Lou is less than excited about her assignment to keep a journal over the summer. Boring! Then cousin Carl Ray comes to stay with her family, and what starts out as the dull dog days of summer quickly turns into the wildest roller-coaster ride of all time. This is the beloved prequel to bestselling author Sharon Creech's Newbery Medal winner Walk Two Moons."
North by Night: A Story of the Underground Railroad by Katherine Ayres
"It's 1851 and Lucy Spencer's family is keeping a secret. Their Ohio home is a station on the Underground Railroad, the network of people and places that helps fugitive slaves escape to freedom in Canada. Lucy believes in what she and her family do to help the fugitives, even if it means putting herself in danger. So Lucy doesn't hesitate when she is asked to stay with the Widow Aurelia Mercer and help her with a family of runaway slaves hiding in her attic. And she learns so much from her experience: about growing up, love, and standing on her own. But what will Lucy do when she is asked to make the ultimate sacrifice and leave all she loves behind?"
Homer Price by Robert McCloskey
"Welcome to Centerburg! Where you can win a hundred dollars by eating all the doughnuts you want; where houses are built in a day; and where a boy named Homer Price can foil four slick bandits using nothing but his wits and pet skunk. The comic genius of Robert McCloskey and his wry look at small-town America has kept readers in stitches for generations!"
Books about Ohio History
Paddle-to-the-Sea by Holling Clancy Holling
"A young Indian boy carves a little canoe with a figure inside and names him Paddle-to-the-Sea. Paddle's journey, in text and pictures, through the Great Lakes to the Atlantic Ocean provides an excellent geographic and historical picture of the region."
The Boy Who Saved Cleveland by James Cross Giblin 
"In 1798, Cleveland, Ohio, was in danger of being wiped out by a malaria epidemic. Based on fact, this book tells the remarkable story of Seth Doan, a young boy whose heroic efforts kept his family and neighbors alive and ultimately put the city of Cleveland on the map."
Books Set in Ohio (for Mom!)
I love to read, and I love a good theme or challenge for a reading list. So my final two books on this book list are one adult fiction and one adult non-fiction.
Fiction Book Set in Ohio
Little Fires Everywhere by Celeste Ng
"In Shaker Heights, a placid, progressive suburb of Cleveland, everything is planned. From the layout of the winding roads, to the colors of the houses, to the successful lives its residents will go on to lead. And no one embodies this spirit more than Elena Richardson, whose guiding principle is playing by the rules. Enter Mia Warren who arrives in this idyllic bubble with her teenaged daughter Pearl, and rents a house from the Richardsons. Soon Mia and Pearl become more than tenants: all four Richardson children are drawn to the mother-daughter pair. But Mia carries with her a mysterious past and a disregard for the status quo that threatens to upend this carefully ordered community. When old family friends of the Richardsons attempt to adopt a Chinese-American baby, a custody battle erupts that dramatically divides the town—and puts Mia and Elena on opposing sides. Suspicious of Mia and her motives, Elena is determined to uncover the secrets in Mia's past. But her obsession will come at unexpected and devastating costs."
Non-fiction Book Set In Ohio
Hillbilly Elegy: A Memoir of a Family and Culture in Crisis by J. D. Vance
"Hillbilly Elegy is a passionate and personal analysis of a culture in crisis: that of white working-class Americans. The disintegration of this group, a process that has been slowly occurring now for more than forty years, has been reported with growing frequency and alarm, but has never before been written about as searingly from the inside. J. D. Vance tells the true story of what a social, regional, and class decline feels like when you were born with it hung around your neck. A deeply moving memoir, with its share of humor and vividly colorful figures, Hillbilly Elegy is the story of how upward mobility really feels. And it is an urgent and troubling meditation on the loss of the American dream for a large segment of this country."
And there you have it! 20 living books about Ohio. It is my hope that this book list provides you with JUST ONE book to share with your kids. For our homeschool unit we read Homer Price and it was one of my favorites!
From Johnny Appleseed to Thomas Edison and from astronauts to Presidents, I hope you find some fun things to learn about Ohio!
What kind of books does your child love best? What kind of books would you like to see in the future? Drop a comment below to let me know!
Don't forget to check out the other states!