20 Children's books about Massachusetts
Massachusetts is a state rich in history. The American Revolution started in Massachusetts. The Plymouth colony began in what would become Massachusetts. And Massachusetts was the birthplace of four American Presidents.
If you are starting to study Massachusetts the following Massachusetts-themed books cover all aspects of the long and varied history of this great state. From Dr. Seuss, to Paul Revere, this list covers many aspects of the homeschool coin: picture books, chapter books, and even books for mom!
Studying and learning about the fifty states is more than memorizing facts about the state bird and square milage. So the books I include in my unit studies are, as Charlotte Mason coined, living books. Living books are books that make the subject you are studying come alive and are written by people who love the subject. Some books are about a family living in Massachusetts, while others are about the state's history and resources.
ICYMI, click HERE for all the other state book lists!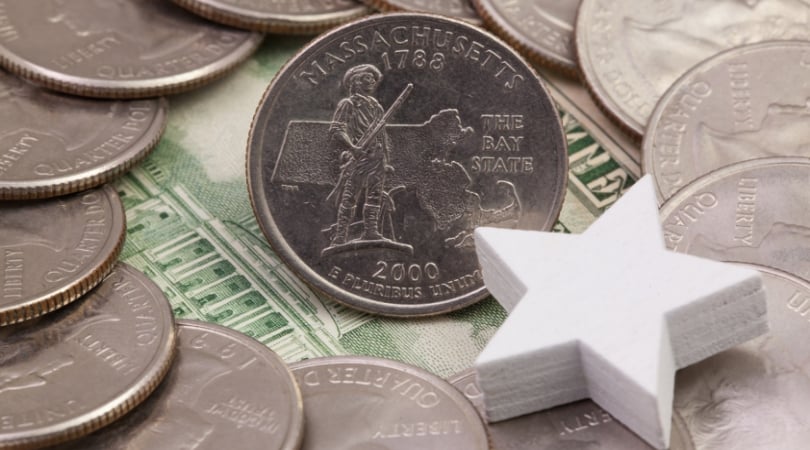 Massachusetts History And Facts
Massachusetts is nicknamed the Bay State, alluding to the colony of Massachusetts Bay
Motto – By the sword we see peace, but peace only under liberty.
Massachusetts entered the union on February 6th, 1788. It was the sixth state.
Massachusetts was named for the native people, the Massachsett. The name means "near the great hill."
Presidents John Adams, John Quincy Adams, JFK, and George H.W. Bush were all born in Massachusetts.
Boston is the capital city of Massachusetts.
This post contains affiliate links. If you click and make a purchase, we earn a commission at NO extra cost to you. For more information, please read my full disclosure policy.
Descriptions come from Amazon; some are edited for length
Living Books About Massachusetts
Picture Books Set in Massachusetts
Make Way for Ducklings by Robert McCloskey
"Mrs. Mallard was sure that the pond in the Boston Public Gardens would be a perfect place for her and her eight ducklings to live. The problem was how to get them there through the busy streets of Boston. But with a little help from the Boston police, Mrs. Mallard and Jack, Kack, Lack, Nack, Ouack, Pack, and Quack arive safely at their new home."
Comet's Nine Lives by Jan Brett
"It all begins when Comet walks away from the lighthouse close to his birthplace on Nantucket Island. He visits a garden, a bookstore, a boat, and a party, and at each place he gets into trouble and loses one of his lives. Comet starts to worry. He longs for a home, a place where he'll be safe. Will he find one before he uses up all nine lives?"
Dario and the Whale by Cheryl Lawton Malone
"When Dario and his mother move to Cape Cod from Brazil, Dario has a hard time making friends since he doesn't speak English well. But one day Dario meets someone else who has just arrived in New England and he doesn't speak any English at all…because he's a right whale! Day after day Dario and the whale meet at the beach. But what will happen when it's time for the whale to migrate?"
Ghost Ship by Mary Higgins Clark
"Thomas loved his summer visits to his grandmother's on Cape Cod. He spent hours wondering about the sailing ships of the past and imagining their stories. He dreamed of being on a sailing ship himself. One afternoon after a night of terrible thunderstorms, Thomas finds, deep in the sand, a weathered, old-fashioned belt buckle. When he picks it up, a boy his own age, Silas Rich, who was a cabin boy on a ship called the Monomoy that sailed almost 250 years ago, appears. Suddenly the world of sailing ships is very near as Silas tells his tale."
Picture Books About Massachusetts
M Is For Mayflower: A Massachusetts Alphabet by Margot Theis Raven
"This pictorial celebrates the treasures of the Bay State. Older readers will appreciate the guided tour through Massachusetts' history, and will learn more about their unique home. Where else could you find John F. Kennedy, Emily Dickinson, and Walden's Henry David Thoreau sharing the spotlight with Roxbury Puddingstones and the Quabbin Reservoir? Only in "M is for Mayflower."
This series of books called Discover America State By State are some of my favorites for introducing a state to kids. Each letter states a fact or a thing about that state. For example, for Massachusetts letter A is for Algonquin and the letter B is for Bunker Hill and so on. Each letter comes with a four line rhyme about that respective letter's fact or subject. What I love most is on the side of the page it gives more in-depth description about each subject. It's a great jumping off point for what sparks an interest in your child!
One If By Land: A Massachusetts Number Book by Heidi E. Y. Stemple
"Did you know that Dr. Seuss and the real Johnny Appleseed hailed from Massachusetts, or that quahog clams are the ones most often used for chowder? Lively tidbits like these make learning about states more fun, and they are just a few examples of what you'll find in this educational and entertaining book. One if by Land is relevant not only to children who live in Massachusetts but to anyone who wants to learn more about our nation's history."
The Boy on Fairfield Street: How Ted Geisel Grew Up to Become Dr. Seuss by Kathleen Krull
"Award-winning author Kathleen Krull zeros in on the formative first 22 years of the life of Ted Geisel. This is the first picture book biography of Dr. Seuss, written especially for his young fans who want to know what made him tick. The animals in the zoo that his father ran and his fondness for drawing them, the injustices he suffered as the child of German immigrants, and his inherent sense of humor all fed into the imagination of this boy. He was a square peg in a round hole until he found that he could make a living doing exactly what he pleased—doodling and writing funny things about the world as he saw it."
Children's Books About Massachusetts History
Three Young Pilgrims by Cheryl Harness
"In these richly detailed pages, you'll meet three of the young Pilgrims who sailed on the Mayflower, Bartholomew, Remember, and Mary Allerton. They and their parents first step down from the Mayflower after sixty days at sea, they never dream that life in the New World will be so hard. Many in their Plymouth colony won't make it through the winter, and the colony's first harvest is possible only with the help of two friends, Samoset and Squanto."
Real Pirates: The Untold Story of the Whydah from Slave Ship to Pirate Ship by Kenneth J. Kinkor
"The riveting story of the slave ship Whydah,captured by pirates and later sunk in a fierce storm off the coast of Massachusetts, energizes this lavish companion book to a unique exhibition on a five-year U.S. tour. Packed with plunder from more than 50 captured ships, the Whydah was discovered by underwater explorer Barry Clifford in 1984. Now, for the first time, its treasure holds are unlocked for public view."
You Wouldn't Want to Be at the Boston Tea Party! by Peter Cook
"Uses humor to recount the events leading up to the colonists' defiant act against the British, describing the Boston Tea Party itself, as well as providing a brief history of the American Revolution."
Paul Revere's Ride by Henry Wadsworth Longfellow
"Longfellow's tribute to the famous revolutionary hero begins with the stirring cadence that American schoolchildren have committed to memory for over a century. Now illustrator Ted Rand brings these vivid and beautiful lines to life as dramatically as the poet's immortal message inspires."
I Survived the Great Molasses Flood by Lauren Tarshis
"It's been four years since Carmen and Papa moved from Italy to Boston. Life here is exciting, but not always easy. And then there's the massive metal tank that rises up over their crowded North End neighborhood. The ugly tank, filled with sticky brown molasses, has always leaked. But nobody imagined that it could one day explode apart, sending a tsunami of molasses into the streets. Caught in the flood, Carmen must fight for her life, the life that she and Papa built together in America. But where will she find the strength?"
Brave Clara Barton by Frank Murphy
Clara Barton was a Massachusetts native and the founder of the American Red Cross. "This Step 3 biography follows Clara Barton as she helps her brother recover from a terrible injury, overcomes her timidity, and works as a teacher, and finally fights her way to the front lines of the Civil War, where she helps soldiers wounded in battle. Clara's story is a testament to the strength, grit, and persistence of women."
Sam the Minuteman by Nathaniel Benchley
"In this exciting classic early reader, Nathaniel Benchly recreates what it must have been like for a young boy to fight in the Battle of Lexington. Arnold Lobel's vivid pictures give a poignant reality to the famous battle that marked the beginning of the American Revolution.This is historical fiction that pulls in young readers in first and second grade, even reluctant readers."
Chapter Books Set in Massachusetts
The Penderwicks: A Summer Tale of Four Sisters, Two Rabbits, and a Very Interesting Boy by Jeanne Birdsall
"This summer the Penderwick sisters have a wonderful surprise: a holiday on the grounds of a beautiful estate called Arundel. Soon they are busy discovering the summertime magic of Arundel's sprawling gardens, treasure-filled attic, tame rabbits, and the cook who makes the best gingerbread in Massachusetts. But the best discovery of all is Jeffrey Tifton, son of Arundel's owner, who quickly proves to be the perfect companion for their adventures. Deliciously nostalgic and quaintly witty, this is a story as breezy and carefree as a summer day."
Carry on Mr. Bowditch by Jean Lee Latham
"Readers today are still fascinated by Nat, an eighteenth-century nautical wonder and mathematical wizard. Nathaniel Bowditch grew up in a sailor's world: Salem in the early days, when tall-masted ships from foreign ports crowded the wharves. Nat may have been slight of build, but no one guessed that he had the persistence and determination to master sea navigation in the days when men sailed only by 'log, lead, and lookout.' Nat's long hours of study and observation, collected in his famous work, The American Practical Navigator stunned the sailing community and made him a New England hero."
Alvin Ho: Allergic to Girls, School, and Other Scary Things by Lenore Look
"Alvin, an Asian American second grader, is afraid of everything—elevators, tunnels, girls, and, most of all, school. He's so afraid of school that, while he' s there, he never, ever, says a word. But at home, Alvin is a very loud superhero named Firecracker Man, a brother to Calvin and Anibelly, and a gentleman-in-training, just like his dad. With the help of his family, can Alvin take on the outside world without letting his fears get the best of him? The first book in a hilarious chapter book series that tackles anxiety in a fun, kid-friendly way. Perfect for both beginning and reluctant readers, and fans of Diary of a Wimpy Kid!"
Beyond the Bright Sea by Lauren Wolk
"Twelve-year-old Crow has lived her entire life on a tiny, isolated piece of the starkly beautiful Elizabeth Islands in Massachusetts. Crow has always been curious about the world around her, but it isn't until the night a mysterious fire appears across the water that the unspoken question of her own history forms in her heart. Soon, an unstoppable chain of events is triggered, leading Crow down a path of discovery and danger."
Young Adult Literature set in Massachusetts
Johnny Tremain by Esther Hoskins Forbes
"Johnny Tremain, winner of the 1944 Newbery Medal, is one of the finest historical novels ever written for children. Fourteen-year-old Johnny Tremain, an apprentice silversmith with a bright future ahead of him, injures his hand in a tragic accident, forcing him to look for other work. In his new job as a horse-boy, riding for the patriotic newspaper, The Boston Observer, and as a messenger for the Sons of Liberty, he encounters John Hancock, Samuel Adams, and Dr. Joseph Warren. Soon Johnny is involved in the pivotal events shaping the American Revolution from the Boston Tea Party to the first shots fired at Lexington."
Little Women by Louisa May Alcott
"Grown-up Meg, tomboyish Jo, timid Beth, and precocious Amy. The four March sisters couldn't be more different. But with their father away at war, and their mother working to support the family, they have to rely on one another. Whether they're putting on a play, forming a secret society, or celebrating Christmas, there's one thing they can't help wondering: Will Father return home safely?"
Books About Massachusetts (Reads for Mom!)
I love to read, and I love a good theme or challenge for a reading list. So my final two books on this book list are one adult fiction and one adult non-fiction.
Fiction Book Set in Massachusetts
Practical Magic by Alice Hoffman
"For more than two hundred years, the Owens women have been blamed for everything that has gone wrong in their Massachusetts town. Gillian and Sally have endured that fate as well: as children, the sisters were forever outsiders, taunted, talked about, pointed at. Their elderly aunts almost seemed to encourage the whispers of witchery, with their musty house and their exotic concoctions and their crowd of black cats. But all Gillian and Sally wanted was to escape. One will do so by marrying, the other by running away. But the bonds they share will bring them back—almost as if by magic…"
Non-fiction Set in Massachusetts
Running with Scissors: A Memoir by Augusten Burroughs
"The true story of a boy whose mother gave him away to be raised by her unorthodox psychiatrist who bore a striking resemblance to Santa Claus. So at the age of twelve, Burroughs found himself amidst Victorian squalor living with the doctor's bizarre family, and befriending a pedophile who resided in the backyard shed. The story of an outlaw childhood where rules were unheard of, and the Christmas tree stayed up all year round, where Valium was consumed like candy, and if things got dull an electroshock- therapy machine could provide entertainment. The funny, harrowing and bestselling account of an ordinary boy's survival under the most extraordinary circumstances."
And there you have it! 20 living books about Massachusetts. I hope this book list sparks an interest in your homeschooler. I hope your little Jos or Amys or Lauries find a wonderful book within this list. From pirate to ducklings, from Paul Revere to Clara Burton, I hope you find some fun areas to explore and expand during your Massachusetts unit study.
Which one does your child love best? What kind of books would you like to see in the future? Drop a comment below to let me know!
Don't forget to check out the other states!
WANT TO SAVE THIS FOR LATER? SAVE THIS BOOK LIST TO YOUR FAVORITE PINTEREST BOARD!!