Keep reading for 20 awesome books about California!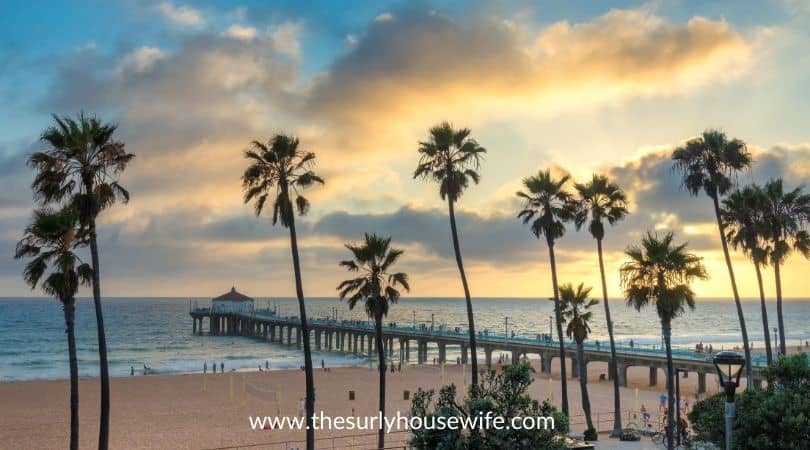 Where on earth do you begin a state study of California. The opportunities are endless! From the Redwoods, to the gold rush, to the San Fransisco earthquakes, the action never stops in California.
I did my best to make this book list a fantastic resource for studying California by finding the BEST books about all it's various subjects. After all, studying and learning about California is much more than knowing it is the 3rd largest state after Alaska and Texas. My approach to homeschooling involves what as Charlotte Mason coined, living books. Living books are books that make the subject you are studying come alive and are written by people who love the subject.
This book list has the best living books about California which includes nonfiction picture books as well as picture books and chapter books set in California. All of these books DO make the state of California come alive to the reader.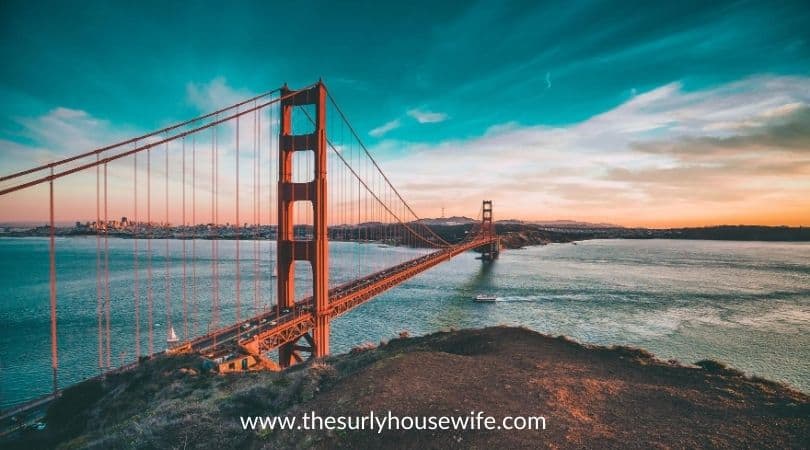 ICYMI, click HERE for all the other state book lists!
California History and Facts
California is nicknamed the Golden State.
Motto – Eureka!
California entered the Union on September 9, 1850. It was the 31st state.
California was named by Spanish explorers after a fictional island paradise.
Richard Nixon, the 37th President of the United States, was born in Yorba Linda, California on January 9, 1913.
Sacramento is the capital of California.
This post contains affiliate links. If you click and make a purchase, we earn a commission at NO extra cost to you. For more information, please read my full disclosure policy.
Living Books about California
Descriptions come from Amazon; some are edited for length
Children's Books About California
California Picture Books
G is for Golden: A California Alphabet by David Domeniconi
"G is for Golden captures California on so many fronts – its natural history, social sciences, inventors, and even its forty-niners. On the T is for Television page, the reader discovers Philo Farnsworth, a 21-year-old farmer who gleaned the idea to transmit the world's first television picture by looking at the patterns in the rows he had plowed in his field. Another California first was the creation of the United Nations Charter, signed by representatives of 50 countries at the San Francisco Opera House in 1945. Readers of G is for Golden also learn about the world's largest find of Ice Age fossils at the La Brea Tar Pits, the 21 missions that line El Camino Real, Cesar Chavez's vision, and Rodia's Watts Towers."
This series of books called Discover America State By State are some of my favorites for introducing a state to kids. Each letter states a fact or a thing about that state. For example, for California letter A is for Alcatraz and the letter B is for Bear flag, and so on. Each letter comes with a four line rhyme about that respective letter's fact or subject. What I love most is on the side of the page it gives more in-depth description about each subject. It's a great jumping off point for what sparks an interest in your child!
Our California by Pam Muñoz Ryan
"It's easy to explore all that the Golden State has to offer in this spirited collection of rhymes. Our California, by Pam Munoz Ryan, is full of short, celebratory poems for young children about famous places in the state of California."
Separate Is Never Equal: Sylvia Mendez and Her Family's Fight for Desegregation by Duncan Tonatiuh
"When her family moved to the town of Westminster, California, young Sylvia Mendez was excited about enrolling in her neighborhood school. But she and her brothers were turned away and told they had to attend the Mexican school instead. Sylvia could not understand why—she was an American citizen who spoke perfect English. Why were the children of Mexican families forced to attend a separate school? Unable to get a satisfactory answer from the school board, the Mendez family decided to take matters into its own hands and organize a lawsuit. In the end, the Mendez family's efforts helped bring an end to segregated schooling in California in 1947, seven years before the landmark Supreme Court ruling in Brown v. Board of Education ended segregation in schools across America."
Kids Books Set In California
"A ordinary subway trip is transformed when a young boy happens upon a book about redwood forests. As he reads the information unfolds, and with each new bit of knowledge, he travels all the way to California to climb into the Redwood canopy. Crammed with interesting and accurate information about these great natural wonders, Jason Chin's first book is innovative nonfiction set within a strong and beautiful picture storybook."
Grandfather's Journey by Allen Say
"Lyrical, breathtaking, splendid are words used to describe Allen Say's Grandfather's Journey when it was first published. At once deeply personal yet expressing universally held emotions, this tale of one man's love for two countries and his constant desire to be in both places captured readers' attention and hearts. Fifteen years later, it remains as historically relevant and emotionally engaging as ever."
"In this heartwarming story about family and multigenerational relationships, a Mexican-American boy and his grandfather, who struggles to speak English and find work, reconnect through gardening. Francisco, a young Mexican-American boy, doesn't know how to connect with his grandfather who doesn't doesn't speak English. But when the opportunity to help his grandfather find a job comes along, Francisco helps his grandfather learn about gardening. They get to learn about gardening, and each other, along the way."
Song of the Swallows by Leo Politi
"Every summer, the swallows leave San Juan Capistrano and fly far away, to a peaceful green island, but they always come back in the spring, on St. Joseph's Day. Juan loves las golondrinas, and so does his friend, Julian, the gardener at the mission. This year, Juan plants a garden in his own yard. There's nothing he wants more than for the swallows to nest there. And on St. Joseph's Day, his dream comes true."
"The Golden Gate Bridge. The impossible bridge, some call it. They say it can't be built. But Robert's father is building it. He's a skywalker: a brave, high-climbing ironworker. Robert is convinced his pop has the most important job on the crew. Until a frightening event makes him see that it takes an entire team to accomplish the impossible. When it was completed in 1937, San Francisco's Golden Gate Bridge was hailed as an international marvel. Eve Bunting's riveting story salutes the ingenuity and courage of every person who helped raise this majestic American icon."
Thank You, Mr. Falker by Patricia Polacco
"Patricia Polacco is now one of America's most loved children's book creators, but once upon a time, she was a little girl named Trisha starting school. Trisha could paint and draw beautifully, but when she looked at words on a page, all she could see was jumble. It took a very special teacher to recognize little Trisha's dyslexia: Mr. Falker, who encouraged her to overcome her reading disability. Patricia Polacco will never forget him, and neither will we."
Chapter Books Set in California
I Survived the California Wildfires, 2018 by Lauren Tarshis
"The people of Northern California were used to living with the threat of wildfires. But nothing could have prepared them for the devastating 2018 fire season, the deadliest in 100 years and the most destructive in history. In the 20th I Survived book, readers join eleven-year-old Josh as he leaves his New Jersey home for the rural northern California town where his cousins live. Still reeling from the life-changing challenges that propelled him and his mother across the country, Josh struggles to adapt to a more rustic, down-to-earth lifestyle that couldn't be more different from the one he is used to. Josh and his cousin bond over tacos and reptiles and jokes, but on a trip into the nearby forest, they suddenly find themselves in the path of a fast-moving firestorm, a super-heated monster that will soon lay waste to millions of acres of wilderness and, possibly, their town. Josh needs to confront the family issues burning him up inside, but first he'll have to survive the flames blazing all around him."
By the Great Horn Spoon! by Sid Fleischman
"When Jack's aunt is forced to sell her beloved mansion but is still unable to raise enough money to pay her debts, the twelve-year-old goes to California in search of gold to help her. Joined by his trusty butler, Praiseworthy, Jack finds adventure and trouble at every turn. Will Jack strike gold in San Francisco or come home empty-handed?"
"Raina just wants to be a normal sixth grader. But one night after Girl Scouts she trips and falls, severely injuring her two front teeth. What follows is a long and frustrating journey with on-again, off-again braces, surgery, embarrassing headgear, and even a retainer with fake teeth attached. And on top of all that, there's still more to deal with: a major earthquake, boy confusion, and friends who turn out to be not so friendly."
"Mia Tang has a lot of secrets. Number 1: She lives in a motel, not a big house. Every day, while her immigrant parents clean the rooms, ten-year-old Mia manages the front desk of the Calivista Motel and tends to its guests. Number 2: Her parents hide immigrants. And if the mean motel owner, Mr. Yao, finds out they've been letting them stay in the empty rooms for free, the Tangs will be doomed. Number 3: She wants to be a writer. But how can she when her mom thinks she should stick to math because English is not her first language? It will take all of Mia's courage, kindness, and hard work to get through this year. Will she be able to hold on to her job, help the immigrants and guests, escape Mr. Yao, and go for her dreams?"
Esperanza Rising by Pam Muñoz Ryan
"Esperanza thought she'd always live a privileged life on her family's ranch in Mexico. She'd always have fancy dresses, a beautiful home filled with servants, and Mama, Papa, and Abuelita to care for her. But a sudden tragedy forces Esperanza and Mama to flee to California and settle in a Mexican farm labor camp. Esperanza isn't ready for the hard work, financial struggles brought on by the Great Depression, or lack of acceptance she now faces. When Mama gets sick and a strike for better working conditions threatens to uproot their new life, Esperanza must find a way to rise above her difficult circumstances-because Mama's life, and her own, depend on it."
Al Capone Does My Shirts by Gennifer Choldenko
"Today I moved to Alcatraz, a twelve-acre rock covered with cement, topped with bird turd and surrounded by water. I'm not the only kid who lives here. There are twenty-three other kids who live on the island because their dads work as guards or cooks or doctors or electricians for the prison, like my dad does. And then there are a ton of murderers, rapists, hit men, con men, stickup men, embezzlers, connivers, burglars, kidnappers and maybe even an innocent man or two, though I doubt it. The convicts we have are the kind other prisons don't want. I never knew prisons could be picky, but I guess they can. You get to Alcatraz by being the worst of the worst. Unless you're me. I came here because my mother said I had to."
One Crazy Summer by Rita Williams-Garcia
"In One Crazy Summer, eleven-year-old Delphine is like a mother to her two younger sisters, Vonetta and Fern. She's had to be, ever since their mother, Cecile, left them seven years ago for a radical new life in California. But when the sisters arrive from Brooklyn to spend the summer with their mother, Cecile is nothing like they imagined. While the girls hope to go to Disneyland and meet Tinker Bell, their mother sends them to a day camp run by the Black Panthers. Unexpectedly, Delphine, Vonetta, and Fern learn much about their family, their country, and themselves during one truly crazy summer."
Island of the Blue Dolphins by Scott O'Dell
"This is the story of Karana, the Indian girl who lived alone for years on the Island of the Blue Dolphins. Year after year she watched one season pass into another and waited for a ship to take her away. But while she waited, she kept herself alive by building shelter, making weapons, finding food, and fighting her enemies, the wild dogs. Hers is not only an unusual adventures of survival, but also a tale of natural beauty and personal discovery."
"To Janey Larkin, the blue willow plate was the most beautiful thing in her life, a symbol of the home she could only dimly remember. Now that her father was an itinerant worker, Janey didn't have a home she could call her own or any real friends, as her family had to keep moving, following the crops from farm to farm. Someday, Janey promised the willow plate, with its picture of a real house, her family would once again be able to set down roots in a community. Blue Willow is an important fictional account of the Dust Bowl and the Great Depression, and has been called The Grapes of Wrath for children."
The Mouse and the Motorcycle by Beverly Cleary
"When the ever-curious Ralph spots Keith's red toy motorcycle, he vows to ride it. So when Keith leaves the bike unattended in his room one day, Ralph makes his move. But with all this freedom (and speed!) come a lot of obstacles. Whether dodging a rowdy terrier or keeping his nosy cousins away from his new wheels, Ralph has a lot going on! And with a pal like Keith always looking out for him, there's nothing this little mouse can't handle."
"Inspired by the story of a Chinese immigrant who created a flying machine in 1909, Dragonwings touches on the struggles and dreams of Chinese immigrants navigating opportunity and prejudice in San Francisco. Moon Shadow only knows two things about his father, Windrider: he lives in San Francisco and used to craft beautiful kites. One day shortly after his eighth birthday, Cousin Hand Clap arrives with a letter from Windrider asking Moon Shadow to join him in San Francisco. When Moon Rider arrives in America he learns that his father makes a living doing laundry and dreams of building a flying machine just like the Wright Brothers. But making this fantastical dream a reality proves to be no easy task, as intolerance, poverty, and even an earthquake stand in their way."
Books Set in California (for Mom!)
I love to read, and I love a good theme or challenge for a reading list. So my final two books on this book list are one adult fiction and one adult non-fiction.
Fiction Book Set in California
East of Eden by John Steinbeck
"In his journal, Nobel Prize winner John Steinbeck called East of Eden 'the first book,' and indeed it has the primordial power and simplicity of myth. Set in the rich farmland of California's Salinas Valley, this sprawling and often brutal novel follows the intertwined destinies of two families—the Trasks and the Hamiltons—whose generations helplessly reenact the fall of Adam and Eve and the poisonous rivalry of Cain and Abel."
Non-fiction Book Set In California
Where I Was From by Joan Didion
"A native Californian, Didion applies her scalpel-like intelligence to the state's ethic of ruthless self-sufficiency in order to examine that ethic's often tenuous relationship to reality. Combining history and reportage, memoir and literary criticism, Where I Was From explores California's romances with land and water; its unacknowledged debts to railroads, aerospace, and big government; the disjunction between its code of individualism and its fetish for prisons. Whether she is writing about her pioneer ancestors or privileged sexual predators, robber barons or writers (not excluding herself), Didion is an unparalleled observer, and her book is at once intellectually provocative and deeply personal."
And there you have it! 20 living books about California. It is my hope that this book list provides you with JUST ONE book to share with your kids. For our homeschool unit we read The Mouse and the Motorcycle, and we ended up getting the entire series on Audible!
From San Fransisco to San Juan Capistrano, and from the Gold Rush to the Civil Rights Movement, I hope you find some fun things to learn about California.