Keep reading for 20 fantastic books about Wyoming!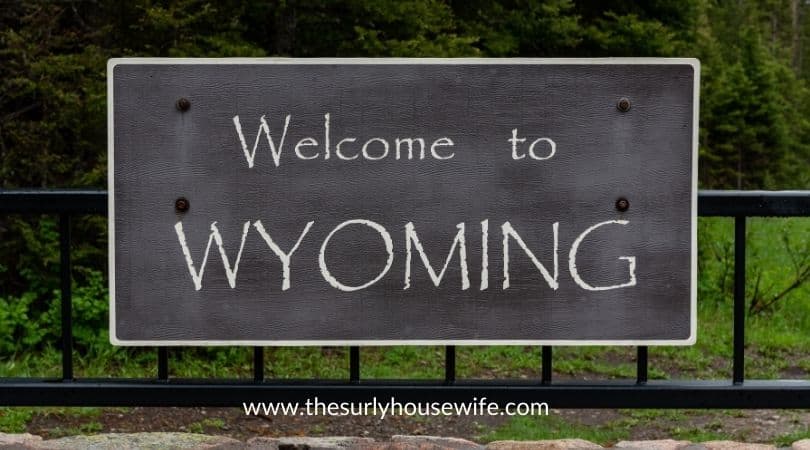 Did you know that Wyoming's state nickname is the Equality State? In 1869, Wyoming was the first state that granted women the right to vote. "It was not only the first to grant women the right to vote, but also allow women to serve on a jury, have a suffragist elected to the legislature, and elect the country's first female governor."
However, studying and learning about a state is more than learning what it was "first" in. My approach to homeschooling involves what as Charlotte Mason coined, living books. Living books are books that make the subject you are studying come alive and are written by people who love the subject.
I love using this method because we aren't reading bland nonfiction books. And this book list is anything but! As it is filled with picture books and chapter books about and set in Wyoming. They truly make the state of Wyoming come alive to the reader. Let's get started!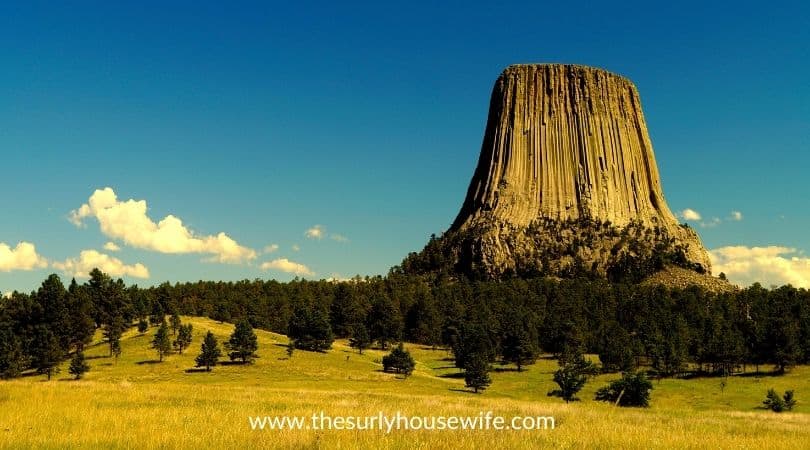 ICYMI, click HERE for all the other state book lists!
Wyoming History and Facts
Wyoming is nicknamed the Equality State.
Motto – Equal Rights
Wyoming entered the Union on July 10, 1890. It was the 44th state.
Wyoming is from the Delaware Indian word meaning "on the great plain."
Dick Cheney, the 46th Vice President of the United States, represented the State of Wyoming in Congress from 1978-1989.
This post contains affiliate links. If you click and make a purchase, we earn a commission at NO extra cost to you. For more information, please read my full disclosure policy.
Descriptions come from Amazon; some are edited for length
Living Books about Wyoming
Wyoming Picture Books
C is for Cowboy: A Wyoming Alphabet by Eugene Gagliano
"Catch a glimpse of all the wonders Wyoming has to offer in C is for Cowboy: A Wyoming Alphabet. This alphabet journey begins 'A is for Altitude of mountains that soar, the Grand Tetons rise straight from the floor.' Written in a two-tier format with rhyming text for younger readers and detailed expository text for older reader, C is for Cowboy showcases the many natural wonders of this expansive state. Susan Guy's dramatic, true-to-life artwork provides a stunning backdrop to the printed words."
Four Wheels West: A Wyoming Number Book by Eugene Gagliano
"Journey through Four Wheels West: A Wyoming Number Book and you'll learn there are only five people per square mile in Wyoming! Count your way past oil rigs, bison herds and horned lizards as you are introduced to Wyoming's history, landscapes and culture. Paired together again, the creators of C is for Cowboy: A Wyoming Alphabet share their love of the Equality State with readers everywhere."
B is for Buckaroo: A Cowboy Alphabet by Louise Doak Whitney
"'L is for lariat or lasso, a loop of rope coiled just so. Swing it wide or swing it low. Hook those horns and yell whoa!' Hold on to your hat and strap on your spurs! Cowpokes and buckaroos of all ages will enjoy this A-Z gallop through the facts, feats, and folks of the cowboy way of life. Even greenhorns are invited to ride this fun-filled range!"
The Legend of the Indian Paintbrush by Tomie dePaola
Learn about Wyoming's state flower in this delightful book from Tommi dePaola.
"In spring, the hills and meadows of Texas and Wyoming are ablaze with the reds, oranges, and yellows of the Indian Paintbrush. How this striking plant received its name is told in an old Indian legend. Many years ago, when the People traveled the Plains, a young Indian boy had a Dream-Vision in which it was revealed that one day he would create a painting that was as pure as the colors of the evening sky at sunset. The boy grew up to become the painter of the tribe, but although he found a pure white buckskin for a canvas and made paints from the brightest flowers and the reddest berries, he could not capture the sunset."
Buffalo Bill by Ingri Parim D'aulaire
Cody, Wyoming is named after Bullabo Bill Cody! Check out this book . . .
"William F. Cody was born in the middle of the nineteenth century on the plains of Kansas Territory where his family had settled to trade with the friendly Kickapoo Tribe. The Kickapoo children were Bill's childhood playmates and at a tender age he traded his brand-new buckskin suit for a little wild pony that he learned to ride like the wind. By the time he was twelve, he was doing the work of a grown man as a cattle driver, camping under the stars each night. When he was caught in a buffalo stampede his horsemanship saved his life. Travel along with Bill and his adventures that included meeting wilderness scout Kit Carson, signing up to carry mail on the new Pony Express, fighting in the Civil War, and performing in his Wild West Show which took him around the country for forty years."
Picture Books Set in Wyoming
I Could Do That: Esther Morris Gets Women the Vote by Linda White 
"'I could do that,' says six-year-old Esther as she watches her mother making tea. Start her own business at the age of nineteen? Why, she could do that, too. But one thing Esther and other women could NOT do was vote. Only men could do that. With lively text and humorous illustrations as full of spirit as Esther herself, this striking picture book biography shows how one girl's gumption propels her through a life filled with challenges until, in 1869, she wins the vote for women in Wyoming Territory. The first time ever in the United States!"
When Esther Morris Headed West: Women, Wyoming, and the Right to Vote by Connie Nordhielm Wooldridge
"A biography of the first female judge in the United States tells the remarkable tale of how, back in 1869, she fought for a women's right to vote and she believed that a woman could hold a public office."
Volcano Dreams: A Story of Yellowstone by Janet Fox
"Volcano Dreams leads readers on a tour of Yellowstone National Park, from the wolves, elk, bears, and mountain goats that live there today to the supervolcano that erupted thousands of years ago. It knits together the vibrancy of the Yellowstone ecosystem with its explosive history, placing the everyday lives of its creatures within the context of geological time. Janet Fox's poetic text takes us to the root of it all: the 'sleeping giant' of magma responsible for the Yellowstone landscape and Marlo Garnsworthy's evocative paintings capture the awe of natural forces at work in our nation's oldest national park."
Franny's Dream by Caralyn Buehner
"In this inventive take on the traditional Cinderella tale, Fanny Agnes is a sturdy farm girl with a big dream. Someday, she believes, she will marry a prince. When the town mayor announces he is throwing a grand ball, Fanny is convinced her time has come. She puts on her best calico dress and goes out to the garden so that she'll be ready when her fairy godmother arrives. As the seconds tick by, Fanny waits and waits. Finally, she hears a voice. It isn't her fairy godmother. But it is someone who will change her life forever."
Children's Books Set in Wyoming
Stone Fox by John Reynolds Gardiner
"Based on a Rocky Mountain legend, Stone Fox tells the story of Little Willy, who lives with his grandfather in Wyoming. When Grandfather falls ill, he is no longer able to work the farm, which is in danger of foreclosure. Little Willy is determined to win the National Dogsled Race; the prize money would save the farm and his grandfather. But he isn't the only one who desperately wants to win. Willy and his brave dog Searchlight must face off against experienced racers, including a Native American man named Stone Fox, who has never lost a race."
Dinosaur Hunter by Elaine Marie Alphin
"In 1880s Wyoming, Ned Chapman dreams of finding a dinosaur skeleton. When he discovers some old bones on his father's ranch, Ned is thrust into the world of bone hunters. Men so competitive that they will do anything to bring back the best fossils!"
Chapter Books set in Wyoming
Charlie's Raven by Jean Craighead George
"Charlie brings home Blue Sky, a baby raven with a big personality. Blue Sky imprints on Charlie and becomes a great friend and a source of amazement to the whole family. Granddad, an old naturalist, is intrigued, and he does seem to get better-at least for a while. But caring for a wild creature is very demanding, and as Blue Sky grows, Charlie must find a way to protect him from the many dangers in the rugged Teton Mountains where they live. Weaving natural history, myth, and a family narrative about life and death, Jean Craighead George demonstrates once again why she is one of the most admired children's writers today. Blue Sky will take his place in readers' hearts beside Frightful of My Side of the Mountain as one of this author's most compelling animal characters."
Paint the Wind by Pam Muñoz Ryan
"Maya lives like a captive. At Grandmother's house in California, everything is forbidden: friends, fun, even memories. And her life is built on lies: lies Grandmother tells her about her dead mother, lies Maya tells to impress or manipulate. But then she moves to the vast Wyoming wilderness where her mother's family awaits. Kind, rugged people who have no tolerance for lies. They challenge Maya to confront the truth about who she is. And a mysterious mustang called Artemisia waits, too. She holds the key to Maya's freedom. But to find it, Maya will have to risk everything, including her life."
Little Blog on the Prairie by Cathleen Davitt Bell
"Camp Frontier promises families the 'thrill' of living like 1890s pioneers. Gen will be thrilled if she survives the summer stuck in a cabin with her family and no modern amenities. But ever the savvy teen, Gen sneaks in a phone and starts texting about camp life. Turns out, there are some good points, like the cute boy who lives in the next clearing. But when her texts go viral as a blog and a TV crew arrives, Gen realizes she may have just ruined the best vacation she's ever had."
My Friend Flicka by Mary O'Hara
"The first time that Ken McLaughlin sees Flicka galloping past him on his family's Wyoming horse ranch, he knows she's the yearling he's been longing for. But Flicka comes from a long line of wild horses, and taming her will take more than Ken could ever have imagined. Soon, Ken is faced with an impossible choice: give up on his beautiful horse, or risk his life to fight for her."
"It's nine years after Savvy, and Mibs' cousin Ledge is on the verge of turning thirteen. More than anything, he wants the power to run like the wind. But when his birthday comes, he discovers that his savvy is actually making things fall apart. It starts out with small things, but then it gets worse. To top it all off, someone outside the family has witnessed his destruction. Now, in addition to trying to figure out how to control (or scumble) his savvy, he's got to worry about how to protect the family secrets. Over the course of one amazing summer, Ledge learns a lot about himself and his family, makes a new and very unlikely friend, and learns to appreciate his newfound skills."
Wolf Stalker: A Mystery in Yellowstone National Park by Gloria Skurzynski
"In this fast-paced adventure, the Landons trail a wounded wolf in Yellowstone National Park. The park is abuzz with rumors of a wolf attack. Meanwhile, a killer stalks the woods. Unaware of the danger, Jack and Ashley are more concerned about rebellious teenage foster child, Troy Haverson. From the opening moments at Old Faithful through 48 action-packed hours, the tension builds: What is lodged in the wolf's radio collar? And what is the meaning of the Native American story of Sin-a-Wavi? A heady mix of suspense, adventure, and moments of tenderness lure readers into this story of kids discovering the natural world."
"In the rugged Wyoming territory, the red pup is Adam's best friend. Adam and his family live in a lonely cabin in the mountains, facing the dangers of the wilderness alone. One day, Adam's stepfather announces that he must leave for a weeklong trip to Cheyenne. Adam is put in charge of the family. Everything goes smoothly until three cutthroat gold prospectors come crashing into the cabin and hold the family at gunpoint. Late that night, Adam manages to escape. Unfortunately, the men let the red pup loose, and the one thing that dog does best is track Adam. Will the pup lead the men to Adam? And if he does, can Adam still save his family?"
Young Adult Literature set in Wyoming
"Fourteen-year-old John Barron is asked, like his father and grandfather before him, to spend the summer taking care of their sheep in the haymeadow. Six thousand sheep. John will be alone, except for two horses, four dogs, and all those sheep. John doesn't feel up to the task, but he hopes that if he can accomplish it, he will finally please his father. But John finds that the adage 'things just to sheep' is true when the river floods, coyotes attack, and one dog's feet get cut. Through it all he must rely on his own resourcefulness, ingenuity, and talents to survive this summer in the haymeadow."
"The Starrett family's life forever changes when a man named Shane rides out of the great glowing West and up to their farm in 1889. Young Bob Starrett is entranced by this stoic stranger who brings a new energy to his family. Shane stays on as a farmhand, but his past remains a mystery. Many folks in their small Wyoming valley are suspicious of Shane, and make it known that he is not welcome. But dangerous as Shane may seem, he is a staunch friend to the Starretts. And when a powerful neighboring rancher tries to drive them out of their homestead, Shane becomes entangled in the deadly feud. This classic Western, originally published in 1949, is a profoundly moving story of the influence of a singular character on one boy's life."
Books Set in Wyoming (for Mom!)
I love to read, and I love a good theme or challenge for a reading list. So my final two books on this book list are one adult fiction and one adult non-fiction.
Fiction Book Set in Wyoming
"Still as exciting and meaningful as when it was written in 1902, Owen Wister's epic tale of one man's journey into the untamed territory of Wyoming, where he is caught between his love for a woman and his quest for justice, has exemplified one of the most significant and enduring themes in all of American culture. With remarkable character depth and vivid descriptive passages, The Virginian stands not only as the first great novel of American Western literature, but as a testament to the eternal struggle between good and evil in humanity, and a revealing study of the forces that guide the combatants on both sides."
Non-fiction Book Set In Wyoming
The Legend of Colton H. Bryant by Alexandra Fuller
"The unforgettable true story of Colton H. Bryant, a soulful boy with a mustang-taming heart who comes of age in the oil fields and open plains of Wyoming. After surviving a sometimes cruel adolescence with his own brand of optimistic goofiness, Colton goes to work on an oil rig and there the biggest heart in the world can't save him from the new, unkind greed that has possessed his beloved Wyoming during the latest boom. Colton's story could not be told without telling of the land that grew him, where the great high plains meet the Rocky Mountains to create a vista of lonely beauty. It is here that the existence of one boy is a true story as deeply moving as the life that inspired it."
And there you have it! 20 living books about Wyoming. It is my hope that this book list provides you with JUST ONE book to share with your kids. For our homeschool unit we read Stone Fox. A short, and pretty sad, book but we will always remember it.
From cowboys to dinosaurs, and from wolves to horses, I hope you find some fun things to learn about Wyoming!
If you enjoyed this post, check out the other states below!
What kind of books does your child love best? What kind of books would you like to see in the future? Drop a comment below to let me know!