Keep reading for 20 awesome books about the state of Washington!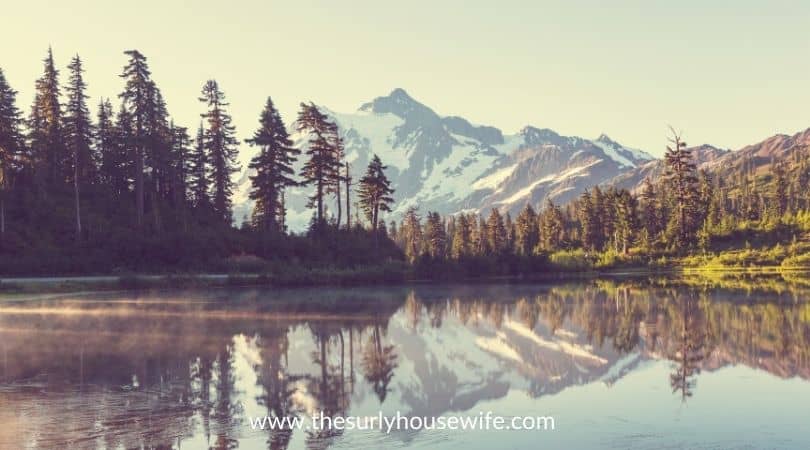 Dreams do come true folks!! It only took 26 years but my husband, a die-hard Nirvana fan in his teens, FINALLY made it to Seattle in the summer of 2020. Even more crazy was that our daughter was with him.
They had an epic west coast road trip because my husband is a truck driver and one of the perks is my daughter gets to go with him! It's real-life geography lessons! Actually experiencing the states of Colorado, Wyoming, Idaho, Washington, and Oregon adds another level to your homeschooling.
However, if you are unable to each of the 50 states during your state study, I always recommend living books. Living books are books that make the subject you are studying come alive and are written by people who love the subject. And they are the go-to method in our homeschool. Mason Cooley said, "Reading gives us someplace to go when we have to stay where we are."
That's why all my state book lists include living books. While this book list DOES have a few nonfiction books filled with facts and figures about Washington, a majority of the books are set in Washington or stories about historical events that occurred in Washington. All of them DO make the state come alive to the reader. Let's get started!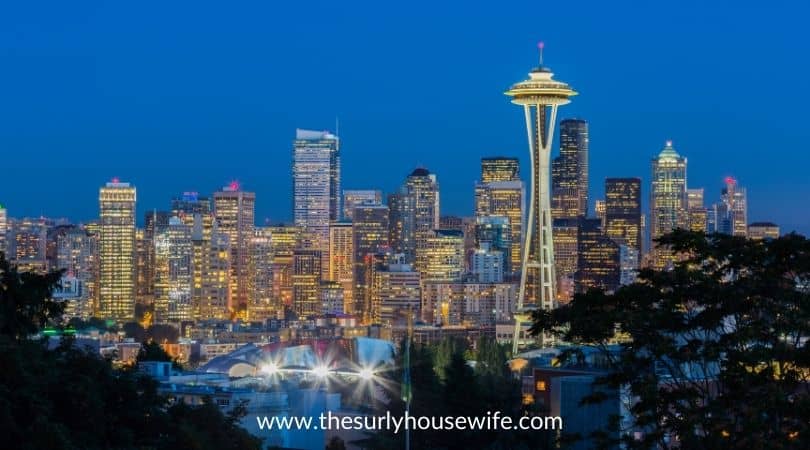 ICYMI! Here are the lists for the other states.
State of Washington History and Facts
Washington is nicknamed the Evergreen State
Motto – By and by
Washington entered the Union on November 11, 1889. It was the 42nd state.
Washington is named after President George Washington.
Olympia is the capital of Washington
This post contains affiliate links. If you click and make a purchase, we earn a commission at NO extra cost to you. For more information, please read my full disclosure policy.
Living Books about Washington
Picture Books about Washington
E is for Evergreen: A Washington State Alphabet by Roland Smith
"Readers young and old will be delighted to discover the wonders of Washington State, from its natural beauty (Mount Rainier and evergreen forests), to its famous residents (Jimi Hendrix and Big Foot) and familiar skyline (Seattle's Space Needle). Intriguing facts coupled with beautiful, original artwork make E is for Evergreen an exciting journey."
This series of books called Discover America State By State are some of my favorites for introducing a state to kids. Each letter states a fact or a thing about that state. For example, for Washington letter A is for Apple and letter B is for Bigfoot, and so on. Each letter comes with a four line rhyme about that respective letter's fact or subject. What I love most is on the side of the page it gives more in-depth description about each subject. It's a great jumping off point for what sparks an interest in your child!
"Discover the well-loved tradition of growing and picking apples, one of Washington's chief crops. Apples are a fruit that has been in existence for about two million years. Explore the history of the apple but also the way that families and farmers grow and care for apple trees today, from planting to selling, to turning them into delicious treats and using them for classic games like 'bobbing for apples' on Halloween."
Courageous People from Washington Who Changed the World by Heidi Poelman
"From the creative vision of Merce Cunningham to the brave voice of Bernie Whitebear, Courageous People from Washington Who Changed the World is a young child's first introduction to the brave people from their home state who made a difference. This board book with simple text and adorable illustrations tell the contributions of more than a dozen courageous Washingtonians: Chief Seattle, George Washington, Catherine Montgomery, Bill & Melinda Gates, and Pearl Jam (of course). A quote from each hero is included on each spread along with colorful, delightful artwork."
Eagle Boy: A Pacific Northwest Native Tale by Richard Lee Vaughan
"Based on a popular Northwest Coast Native tale, this book recounts the story of Eagle Boy. Born an orphan, the title character grows up to love eagles, despite the fact that the people of his tribe distrust eagles. In return he is ridiculed and made an outcast. One year, the tribe has difficulty hunting and fishing, and must depart their land. With not enough room in their boats, Eagle Boy is left behind. He is saved from starvation by the eagles he loves, and using their assistance saves his starving tribe, who have not been able to find a fertile place to live since their departure. The gorgeous illustrations and tales of adventures and bald eagles will thrill children, while also instructing them about individualism and humanity, as well as Northwest Coast Native life."
Raven: A Trickster Tale from the Pacific Northwest by Gerald McDermott
"Raven, the trickster, wants to give people the gift of light. But can he find out where Sky Chief keeps it? And if he does, will he be able to escape without being discovered? His dream seems impossible, but if anyone can find a way to bring light to the world, wise and clever Raven can!"
Children's Books Set in Washington
For the Love of Autumn by Patricia Polacco

"Miss Parks just loves her new home, her new teaching job, and all her new students. But most of all, she loves Autumn, her perfect little kitten. Then one night, during a terrible storm, Autumn runs away. Miss Parks' students band together to search for Autumn with no luck. Hope is lost until Autumn turns up at Miss Parks' front door with a brand new collar and a bandage on her tail. Someone has been taking care of Autumn! With the help of her students, Miss Parks unravels the mystery of Autumn's disappearance and finds true love along the way, Polacco style."
Ivan: The Remarkable True Story of the Shopping Mall Gorilla by Katherine Applegate
"Captured as a baby, Ivan was brought to a Tacoma, Washington, mall to attract shoppers. Gradually, public pressure built until a better way of life for Ivan was found at Zoo Atlanta. From the Congo to America, and from a local business attraction to a national symbol of animal welfare, Ivan the Shopping Mall Gorilla traveled an astonishing distance in miles and in impact. This is his true story and includes photographs of Ivan in the back matter."
The Boy Who Cried Bigfoot! by Scott Magoon
"He's big. He's funny. He's not real. Or IS he? This clever twist on 'The Boy Who Cried Wolf' is told from the point of view of an unexpected narrator and, through snappy text and lighthearted illustrations, demonstrates the value of telling the truth, the importance of establishing trust, and (of course!) the possibility that a beast you created to get attention can become a real-life friend. Enjoy one of Washington's cryptozoology tales!"
There Was an Old Lady Who Swallowed a Trout by Teri Sloat
"A bright, energetic retelling of a beloved children's rhyme, with a Pacific Northwest twist. Beautiful illustrations in this story capture the scenery and wildlife of the Pacific Northwest. The buoyant text jumps along as the old lady swallows a salmon, an otter, a seal, a walrus, and more, until eventually she swallows the entire sea and the trout swims free! With a unique and fascinating setting, this pure flight of fancy gives a fresh look to a familiar poem."
The Sun, the Wind and the Rain by Lisa Westberg Peters
"With a plastic bucket and shovel, Elizabeth uses beach sand to build a mountain. Off in the distance, yet large enough to see, is a magnificent mountain range forged of rock and sediment. As breezes and the sea spill the granules from Elizabeth's mountain, so too does the wind and rain shear pebbles and dirt from the majestic peak that rises above the land. This is the story of two mountains and how nature and time changes them."
Nonfiction Books Set in Washington State
Volcano: The Eruption and Healing of Mt. St. Helens by Patricia Lauber
"May 18, 1980, 8:32 A.M.: An earthquake suddenly triggered an avalanche on Mount St. Helens, a volcano in southern Washington State. Minutes later, Mount St. Helens blew the top off its peak and exploded into the most devastating volcanic eruption in U.S. history. What caused the eruption? What was left when it ended? What did scientists learn in its aftermath? In this extraordinary photographic essay, Patricia Lauber details the Mount St. Helens eruption and the years following. Through this clear accurate account, readers of all ages will share the awe of the scientists who witnessed both the power of the volcano and the resiliency of life."
Mysterious Bones: The Story of Kennewick Man by Katherine Kirkpatric
"When two young men who were sneaking into a boat race accidentally uncovered a skeleton along a bank of the Columbia River in Kennewick, Washington, in 1996, they had no idea of the impact their discovery would have. The bones were those of one of the oldest and most complete skeletons ever recovered in the U.S. and led to one of the most important archaeological controversies of modern times. Kennewick Man transformed long-held theories about the colonization of the Americas and sparked a nine-year battle pitting scientists against Native American tribes for control of the remains."
---
Chapter Books Set in the state of Washington
Our Only May Amelia by Jennifer Holm
"It isn't easy being a pioneer in the state of Washington in 1899. It's particularly hard when you are the only girl ever born in the new settlement. With seven older brothers and a love of adventure, May Amelia Jackson just can't seem to abide her family's insistence that she behave like a Proper Young Lady. She's sure she could do better if only there were at least one other girl living along the banks of the Nasel River. And now that Mama's going to have a baby, maybe there's hope. Inspired by the diaries of her great-aunt, the real May Amelia, three-time Newbery Honor-winning author Jennifer Holm gives a beautifully crafted tale of one young girl whose unique spirit captures the courage, humor, passion and depth of the American pioneer experience."
Some Kind of Courage by Dan Gemeinhart
"Joseph Johnson has lost just about everyone he's ever loved. He lost his pa in an accident. He lost his ma and his little sister to sickness. And now, he's lost his pony (fast, fierce, beautiful Sarah) taken away by a man who had no right to take her. Joseph can sure enough get her back, though. The odds are stacked against him, but he isn't about to give up. He will face down deadly animals, dangerous men, and the fury of nature itself on his quest to be reunited with the only family he has left."
Seaglass Summer by Anjali Banerje
"Eleven-year-old Poppy Ray longs to be a veterinarian, but she's never had a pet. This summer, she's going to spend a month with her uncle Sanjay, veterinarian and owner of the Furry Friends Animal Clinic on an island off the Washington coast. Poppy is in for big surprises. She loves tending to the dogs, cats, and even a bird, and she discovers the fun of newborn puppies and the satisfaction of doing a good job. But she learns that there's more to caring for animals than the stethoscope and cotton swabs in her Deluxe Veterinarian First-Aid Kit. She's not prepared for quirky pet owners, gross stuff, or scary emergencies. With help from a boy named Hawk, a chunk of seaglass, and a touch of intuition, Poppy gains a deeper understanding of the pain and joy of working with animals. With warmth and humor, Anjali Banerjee tells the story of a resourceful, determined girl who can't wait to grow up, but begins to realize just how much she has left to discover."
The Ghost's Grave by Peg Kehret
"What Josh thought would be the dullest summer of his life, spent with his eccentric great-aunt, turns chilling when he meets the ghost of a coal miner killed in a mine explosion. Willie has been waiting years for some kind soul to dig up his leg and rebury it with the rest of him. Only then will he be at peace. Josh agrees to do the grisly deed, but when he digs in the old cemetery, he finds more than Willie's leg bones! Who buried the box of cash in the grave, and why? How far will that person go to get the money back? The Ghost's Grave is a deliciously spooky adventure from a master of suspense."
Brendan Buckley's Universe and Everything In It by Sundee Tucker Frazier
"Ten-year-old Brendan Buckley is a self-declared scientist: asking questions and looking for answers, but most of all struggling against the overprotective behavior of his parents. Up until now, he has never even met his grandfather, the grandfather his mother won't even speak of. A chance encounter brings Brendan and his grandfather together where Brendan initiates a relationship with estranged grandfather, Ed DeBose. While they share a passion for geology, they do not share the color of their skin; Brendan's skin is brown, not pink like Ed DeBose's. Pretty soon, Brendan sets out to uncover the reason behind Ed's absence but soon discovers that family secrets can't be explained by science."
Yang the Third and Her Impossible Family by Lensey Namioka
"Yingmei Yang has changed her name to Mary now that she's learning how to be American. It's hard since her family sticks to their Chinese customs, which can be embarrassing in public. Still, Mary wants to be best friends with popular Holly Hanson. She sees her chance when she adopts one of Holly's kittens. The trouble is that Mary's family can't afford a cat and it could damage their prized musical instruments. To prove her friendship to Holly, Mary must find a way to keep the kitten a secret from her impossible family. It won't be easy!"
Aliens on Vacation by Clete Barrett Smith
"Scrub isn't happy about having to spend the summer with his hippie grandmother in 'Middle of Nowhere,' Washington. When he arrives at her Intergalactic Bed & Breakfast, he's not surprised by its 1960s-meets-Star Wars decor; but he is surprised by the weird looking guests. It turns out that each room in the inn is a portal and his grandma is the gatekeeper, allowing aliens to vacation on Earth. She desperately needs Scrub's help with disguising the tourists as humans. As if that weren't difficult enough, the town sheriff is already suspicious of Granny. One wrong move and Scrub could blow Grandma's cover, forcing the B&B to shut down forever. And when it comes to aliens, every move seems wrong . . ."
I am Princess X by Cherie Priest
"Once upon a time, two best friends created a princess together. Libby drew the pictures, May wrote the tales, and their heroine, Princess X, slayed all the dragons and scaled all the mountains their imaginations could conjure.
Once upon a few years later, Libby was in the car with her mom, driving across the Ballard Bridge on a rainy night. When the car went over the side, Libby passed away, and Princess X died with her. Once upon a now: May is sixteen and lonely, wandering the streets of Seattle, when she sees a sticker slapped in a corner window. Princess X? When May looks around, she sees the Princess everywhere: Stickers. Patches. Graffiti. There's an entire underground culture, focused around a webcomic at IAmPrincessX.com. The more May explores the webcomic, the more she sees disturbing similarities between Libby's story and Princess X online. And that means that only one person could have started this phenomenon. Her best friend, Libby, who lives. Best friends, big fans, a mysterious webcomic, and a long-lost girl collide in this riveting novel, illustrated throughout with comics."
Books Set in Washington (for Mom!)
I love to read, and I love a good theme or challenge for a reading list. So my final two books on this book list are one adult fiction and one adult non-fiction.
Fiction Book Set in Washington
Snow Falling on Cedars by David Guterson
"San Piedro Island, north of Puget Sound, is a place so isolated that no one who lives there can afford to make enemies. But in 1954 a local fisherman is found suspiciously drowned, and a Japanese American named Kabuo Miyamoto is charged with his murder. In the course of the ensuing trial, it becomes clear that what is at stake is more than a man's guilt. For on San Pedro, memory grows as thickly as cedar trees and the fields of ripe strawberries. Above all, San Piedro is haunted by the memory of what happened to its Japanese residents during World War II, when an entire community was sent into exile while its neighbors watched. Gripping, tragic, and densely atmospheric, Snow Falling on Cedars is a masterpiece of suspense. One that leaves us shaken and changed."
Non-fiction Book Set In Washington
The Boys in the Boat: Nine Americans and Their Epic Quest for Gold at the 1936 Berlin Olympics by Daniel James Brown
"It was an unlikely quest from the start. With a team composed of the sons of loggers, shipyard workers, and farmers, the University of Washington's eight-oar crew team was never expected to defeat the elite teams of the East Coast and Great Britain, yet they did, going on to shock the world by defeating the German team rowing for Adolf Hitler. The emotional heart of the tale lies with Joe Rantz, a teenager without family or prospects, who rows not only to regain his shattered self-regard but also to find a real place for himself in the world. Drawing on the boys' own journals and vivid memories of a once-in-a-lifetime shared dream, Brown has created an unforgettable portrait of an era, a celebration of a remarkable achievement, and a chronicle of one extraordinary young man's personal quest."
And there you have it! 20 living books about Washington state. It is my hope that this book list provides you with JUST ONE book to share with your kids. We read Our Only May Amelia, and it was one of our all-time favorites!!
Don't forget to subscribe below for a FREE printable pdf of this book list!
---