Keep reading for 20 books about Idaho you can use for a state unit study!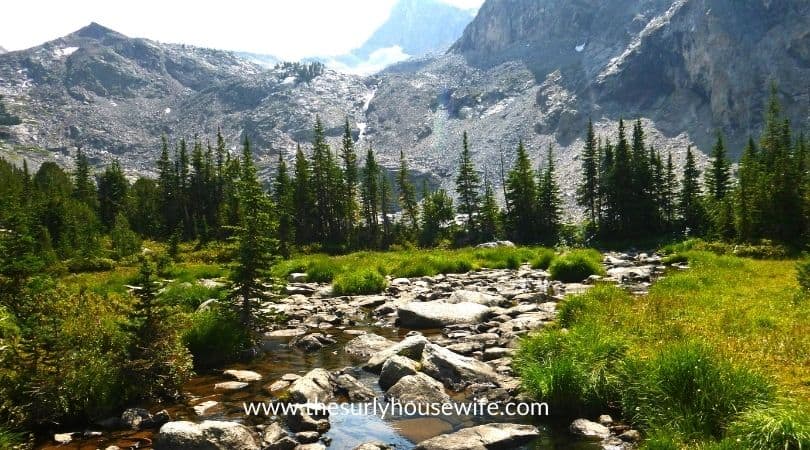 Ya want to know the big secret about Idaho? The people that live there REALLY don't want you to know how amazing and beautiful it is. Tinfoil hat time, I don't think there are any militia's there, they just say that so no one moves there 😂
Anyway! Idaho is a beautiful state filled with natural resources. Zinc, copper, and even phosphate are mined there. Its rugged forests makes it a popular tourist destination. And of course, we all know Idaho is famous for it's potatoes!
However, studying and learning about Idaho is more than memorizing its resources and agricultural products. My approach to homeschooling involves what as Charlotte Mason coined, living books. Living books are books that make the subject you are studying come alive and are written by people who love the subject. No bland nonfiction books on this list!
This book list contains living books about Idaho as well as chapter books set in Idaho and books about famous people from the Gem State. All of these books DO make the state of Idaho come alive to the reader.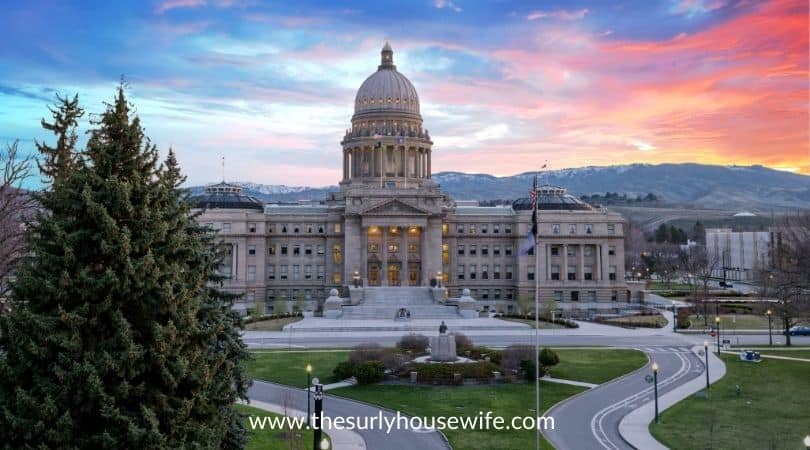 ICYMI, click HERE for all the other state book lists!
Idaho History and Facts
Idaho is nicknamed the Gem State.
Motto – Let it be perpetual.
Idaho entered the Union on July 3, 1890. It was the 43rd state.
Idaho is a coined word meaning "gem of the mountains."
Boise is the capital of Idaho
This post contains affiliate links. If you click and make a purchase, we earn a commission at NO extra cost to you. For more information, please read my full disclosure policy.
Descriptions come from Amazon; some are edited for length
Living Books about Idaho
Children's Books About Idaho
P is for Potato: An Idaho Alphabet by Stan Steiner
"Continuing the great Discover American State By State series is P is for Potato: An Idaho Alphabet. That's right, Idaho! Sleeping Bear Press explores the lush land and rich history of a state so often overlooked. Kids of all ages will love the A to Z rhymes boasting about all the riches found within Idaho's borders, from the Appaloosa steed to the zinc mines. Every page expands on the rhyme and introduces the readers to more interesting facts, places and people that have helped make Idaho the unique treasure it is."
This series of books called Discover America State By State are some of my favorites for introducing a state to kids. Each letter states a fact about that state. For example, for Idaho letter A is for Appaloosa and the letter B is for Boise, and so on. Each letter comes with a four line rhyme about that respective letter's fact or subject. What I love most is on the side of the page it gives more in-depth description about each subject. It's a great jumping off point for what sparks an interest in your child!
Potato: A Tale From The Great Depression by Kate Lied
"During the Great Depression, a family seeking work finds employment for two weeks digging potatoes in Idaho."
Nature Guide: Gems: The World in Your Hands | DK Nature Guide
Idaho earned the nickname the Gem state because it contains 72 different kinds of precious and semi-precious stones. Learn more about gems in this colorful and informative photo book!
"Part of DK's best-selling Nature Guide series, Nature Guide Gems is packed with stunning photography that reveals the intricate details and unique features of more than 400 treasured jewels and precious metals, alongside fact-packed profiles. On this eye-popping tour, you'll discover where gems are found and how crystals are classified. You'll travel the world to discover the history and folklore of ancient rocks and stones. The catalogue reference style ensures newcomers can navigate with ease, while experienced enthusiasts will enjoy the subject-specific structure.Compact and clear, this beautiful book brings the natural world to life so you leave no stone unturned."
Picture Books Set in Idaho
Mailing May by Michael O. Tunnell
"Nowadays it's no big deal or a girl to travel seventy-five miles. But when Charlotte May Pierstorff wanted to cross seventy-five miles of Idaho mountains to see her grandma in 1914, it was a very big deal indeed. There was no highway except the railroad, and a train ticket would have cost her parents a full day's pay. Here is the true story of how May got to visit her grandma, thanks to her won spunk, her father's ingenuity, and the U.S. mail."
Fire Storm by Jean Craighead George
"When Axel and his family take a rafting trip down the swift Salmon River, they sense little risk when smoke appears in the quiet, dry wilderness. Suddenly, orange flames flash dangerously near, and Axel isn't so sure of their safety anymore. Before long, they are caught in a blazing forest and must search for a safe hideout. Will Axel and his family make the right call before the roaring fire gets too close?"
Baseball Saved Us by Ken Mochizuki
"Shorty and his family, along with thousands of other Japanese Americans, have been forced to relocate from their homes to a camp after the attack on Pearl Harbor, Hawaii. Fighting the heat, dust, and freezing cold nights of the desert, Shorty and the others at the camp need something to look forward to, even if only for nine innings. So they build a playing field, and in this unlikely place, a baseball league is formed. Surrounded by barbed-wire fences and guards in towers, Shorty soon finds that he is playing not only to win, but to gain dignity and self-respect as well. Inspired by actual events, this moving story of hope and courage in a Japanese American internment camp during World War II reveals a long-hidden and ugly part of the American past."
The Skydiving Beavers of Idaho: A True Tale by Susan Wood
"Just after World War II, the people of McCall, Idaho, found themselves with a problem on their hands. McCall was a lovely resort community in Idaho's backcountry with mountain views, a sparkling lake, and plenty of forests. People rushed to build roads and homes there to enjoy the year-round outdoor activities. It was a beautiful place to live. And not just for humans. For centuries, beavers had made the region their home. But what's good for beavers is not necessarily good for humans, and vice versa. So in a unique conservation effort, in 1948 a team from the Idaho Fish and Game Department decided to relocate the McCall beaver colony. In a daring experiment, the team airdropped seventy-six live beavers to a new location. One beaver, playfully named Geronimo, endured countless practice drops, seeming to enjoy the skydives, and led the way as all the beavers parachuted into their new home. Readers and nature enthusiasts of all ages will enjoy this true story of ingenuity and determination."
Kids Books about Famous People from Idaho
Silent Days, Silent Dreams by Allen Say
"James Castle was born two months premature on September 25, 1899, on a farm in Garden Valley, Idaho. He was deaf, mute, autistic, and probably dyslexic. He didn't walk until he was four; he would never learn to speak, write, read, or use sign language. Yet, today Castle's artwork hangs in major museums throughout the world. And his reputation continues to grow. Caldecott Medal winner Allen Say, author of the acclaimed memoir Drawing from Memory, takes readers through an imagined look at Castle's childhood, allows them to experience his emergence as an artist despite the overwhelming difficulties he faced, and ultimately reveals the triumphs that he would go on to achieve."
The Boy Who Invented TV: The Story of Philo Farnsworth by Kathleen Krull
"Plowing a potato field in 1920, a 14-year-old farm boy from Idaho saw in the parallel rows of overturned earth a way to 'make pictures fly through the air.' This boy was not a magician; he was a scientific genius and just eight years later he made his brainstorm in the potato field a reality by transmitting the world's first television image. This fascinating picture-book biography of Philo Farnsworth covers his early interest in machines and electricity, leading up to how he put it all together in one of the greatest inventions of the 20th century."
Sacagawea by Liselotte Erdrich
"Taking a rare look beyond the myths and legends surrounding Sacagawea's life, this extraordinary illustrated history recounts the known facts about a remarkable woman and her contribution to one of America's greatest journeys of exploration. Combining beautifully wrought oil paintings, a moving true story, and a unique larger format, Sacagawea will captivate readers of all ages. Born in Idaho Territory, she was kidnapped from her Shoshone tribe when she was just eleven or twelve. She served as interpreter, peacemaker, and guide for the Lewis and Clark Expedition to the Northwest in 1805-1806. Braving hunger and fierce blizzards, Sacagawea traveled thousands of miles with a baby on her back. By the end of the legendary journey, Sacagawea's steadfast courage and capable guidance had ensured her place in history."
Chapter Books Set in Idaho
Walk Two Moons by Sharon Creech
"Thirteen-year-old Salamanca Tree Hiddle, proud of her country roots and the 'Indian-ness in her blood,' travels from Ohio to Idaho with her eccentric grandparents. Along the way, she tells them of the story of Phoebe Winterbottom, who received mysterious messages, who met a 'potential lunatic,' and whose mother disappeared. As Sal entertains her grandparents with Phoebe's outrageous story, her own story begins to unfold. The story of a thirteen-year-old girl whose only wish is to be reunited with her missing mother."
Camille McPhee Fell Under the Bus by Kristen Tracy
"Imagine being Camille McPhee. She has low blood sugar, so she carries extra food in a cooler. Would you want to do that? Didn't think so. And you wouldn't want to fall under the school bus. That happened to Camille too! Her cat, Checkers, is lost. And her best friend, Sally, moved to Japan. It would be hard to stay optimistic, right? But Camille is what her mom calls HOPEFUL. Because really? There are plenty of things to be positive about: gifted reading, a non-squeaky mattress, eating banned foods, the big blue butterfly. Even making a new friend. Imagine that!"
"In early 1942, thirteen-year-old Mina Masako Tagawa and her Japanese-American family are sent from their home in Seattle to an internment camp in Idaho. What do you do when your home country treats you like an enemy? This memorable and powerful novel in verse, written by award-winning author Mariko Nagai, explores the nature of fear, the value of acceptance, and the beauty of life. As thought-provoking as it is uplifting, Dust of Eden is told with an honesty that is both heart-wrenching and inspirational."
The Marble Queen by Stephanie Blake
"Freedom Jane McKenzie isn't good at following the rules. She doesn't like any of the things that girls are supposed to like. She's good at fishing, getting into trouble. And playing marbles. All she wants is to enter the marble competition at the Autumn Jubilee and show the boys in the neighborhood that she's the best player. If she can't be the Marble King, then she'll be the Marble Queen. First, Freedom has to convince her mother to let her enter. But there's a new baby on the way, Freedom's daddy is drinking too much, her little brother is a handful, and her mother is even more difficult than usual. Freedom learns that when it comes to love, friendship, and family, sometimes there are no rules. Set in 1959, The Marble Queen is a timeless story about growing up."
Emory's Gift by W. Bruce Cameron
"After 13-year-old Charlie Hall's mother dies and his father retreats into the silence of grief, Charlie finds himself drifting lost and alone through the brutal halls of junior high school. But Charlie Hall is not entirely friendless. In the woods behind his house, Charlie is saved from a mountain lion by a grizzly bear, thought to be extinct in northern Idaho. And this very unusual bear will change Charlie's life forever. Not only a heartwarming and charming coming of age story, but also a page-turning insightful look at how faith, trust, and unconditional love can heal a broken family and bridge the gaps that divide us."
Colder than Ice by David Patneaude
"Josh isn't happy to be starting at a new school. Maybe it's a chance to be somebody. Not so easy for a kid who's been pretty average and is overweight besides. But he is pumped when a cool kid asks hims to play ice hockey."
The Fences Between Us by Kirby Larson
"With this sweeping tale of life on the World War II home front, Newbery Honor author Kirby Larson brings her incredible talent to the Dear America series. When Pearl Harbor is attacked, America is unable to ignore the wars raging in Europe and Asia any longer. And one girl's entire life is about to change when everything she knows is turned on its head. After the devastating attack on Pearl Harbor, where her brother, a navy sailor, is stationed, Piper Davis begins chronicling her compelling journey through one of history's most tragic and unforgettable eras."
The Reinvention of Bessica Lefter by Kristen Tracy
"After an unfortunate incident at the hair salon, Bessica is not allowed to see her best friend, Sylvie. That means she's going to start middle school a-l-o-n-e. Bessica feels like such a loser. She wants friends. She's just not sure how to make them. It doesn't help that her beloved grandma is off on some crazy road trip and has zero time to listen to Bessica. Or that Bessica has a ton of homework. Or that gorgeous Noll Beck thinks she's just a kid. Or that there are some serious psycho-bullies in her classes. Bessica doesn't care about being popular. She just wants to survive. And look cute. Is that too much to ask when you're eleven?"
West to a Land of Plenty by Jim Murphy
"The first humorous addition to the historical fiction series is narrated by Teresa, a first generation American of Italian descent, who travels by train and then by wagon with her family from New York to a utopian community in Idaho."
Jenny of the Tetons by Kristiana Gregory
"Carrie Hill hates Indians. Indians killed her parents and ruined her life.
With nowhere else to go, fifteen-year-old Carrie signs on to help care for the family of Beaver Dick Leigh, an English trapper. To her dismay, Carrie discovers that Beaver Dick's wife, Jenny, is a Shoshoni Indian! But as Carrie's wounds heal under Jenny's gentle care, she begins to respect and love this kind woman. Beginning each chapter with an excerpt from Beaver Dick Leigh's actual journals, Kristiana Gregory brings alive the people and the dramatic setting of a bygone era."
Books Set in Idaho (for Mom!)
I love to read, and I love a good theme or challenge for a reading list. So my final two books on this book list are one adult fiction and one adult non-fiction.
Fiction Book Set in Idaho
Angle of Repose by Wallace Stegner
"Lyman Ward is a retired professor of history, recently confined to a wheelchair by a crippling bone disease and dependent on others for his every need. Amid the chaos of 1970s counterculture he retreats to his ancestral home of Grass Valley, California, to write the biography of his grandmother: an elegant and headstrong artist and pioneer who, together with her engineer husband, made her own journey through the hardscrabble West nearly a hundred years before. In discovering her story he excavates his own, probing the shadows of his experience and the America that has come of age around him."
Non-fiction Book Set In Idaho
The Courtship of Eva Eldridge: A Story of Bigamy in the Marriage Mad Fifties by Diane Simmons
"Everyone got married in the 1950s, then moved to the suburbs to have the children of the soon-to-be-famous baby boom. For Americans who had survived the Great Depression and World War II, prosperous married life was a triumph. The unwed were objects of pity, scorn, even suspicion. And so in the 1950s, Eva Eldridge, no longer so young and marginally employed, was the perfect target for handsome Vick, who promised everything: storybook romance, marital respectability, and the lively social life she loved. When he disappeared not long after their honeymoon, she was devastated. Refusing to believe her brand-new husband had abandoned her, Eva set about tracking down a man who, she now believed, was more damaged by wartime trauma than she had known. But instead of a wounded hero, she found a long string of women much like herself who had loved and married Vick and now had no idea where (or even who) he was. Eva's remarkable life illuminates women's struggle for happiness at a time when marriage (and the perfect husband) meant everything."
And there you have it! 20 living books about Idaho. It is my hope that this book list provides you with JUST ONE book to share with your kids. For our homeschool unit we read Walk Two Moons, which was so fun. It was like taking a road trip through all the other states we had read!
From potatoes and gems to beavers and the Tetons, I hope you found something fun to read about Idaho!
What kind of books does your child love best? What kind of books would you like to see in the future? Drop a comment below to let me know!
If you enjoyed this post, make sure to check out the other states!