Keeping Reading for 20 Books about the state of New Hampshire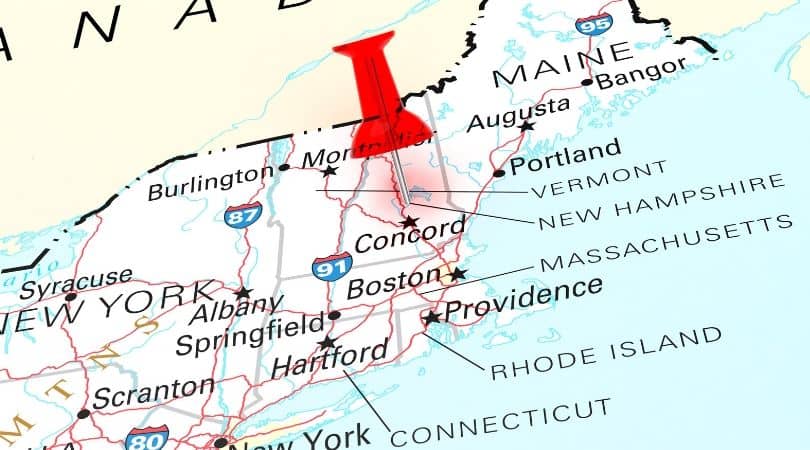 Ok. Massive spoiler alert!! Are you ready?
In the final season of Breaking Bad, avoiding capture from the DEA, Walter White ends up in New Hampshire. This really has nothing to do with the blog post, but to simply show you two things. One, I can find a tv reference in about anything. And two, I can find a way to sneak the Breaking Bad vs. The Sopranos best-tv-show-ever argument into pretty much any conversation.
But back to the subject at hand, New Hampshire! A New England state known for its beautiful landscapes and political pride whose state motto, live free or die, was written by Revolutionary War hero John Stark.
However, studying and learning about New Hampshire, or any state, is more than memorizing its state rock and main agricultural crop. My approach to studying the 50 states involves what as Charlotte Mason coined, living books. Living books are books that make the subject you are studying come alive and are written by people who love the subject.
This book list contains a little bit of everything: a few non-fiction books about New Hampshire, some picture books about famous New Hampshire authors, as well as chapter books set in the state of New Hampshire. Let's get to it!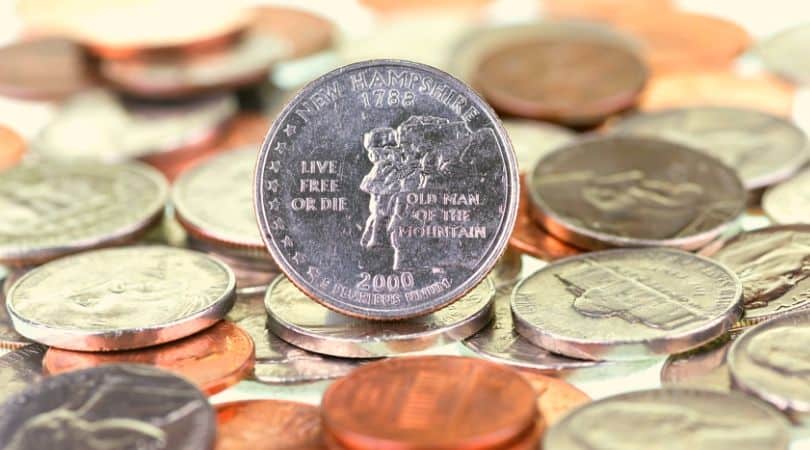 ICYMI! Here are the lists for the other states!
New Hampshire History and Facts
New Hampshire is nicknamed the Granite State in reference to the state rock.
Motto – Live free or die.
New Hampshire became a state on June 21, 1788. It was the ninth state.
New Hampshire was named for by Captain John Mason after Hampshire, his home county in England.
Franklin Pierce, the 15th President of the United States was born in Hillsborough, New Hampshire on November 23, 1804
Concord is the capital of New Hampshire.
This post contains affiliate links. If you click and make a purchase, we earn a commission at NO extra cost to you. For more information, please read my full disclosure policy.
Living Books about New Hampshire
Children's Books About New Hampshire
G is for Granite: A New Hampshire Alphabet by Marie Harris
"G is for Granite: A New Hampshire Alphabet is a detailed picture book that introduces children to the beauty and wonder of New Hampshire, from its numerous covered bridges to the delightful call of the ovenbird and even the coveted New Hampshire primary elections."
This series of books called Discover America State By State are some of my favorites for introducing a state to kids. Each letter states a fact or a thing about that state. For example, for New Hampshire letter A is for Astronaut and the letter B is for Black Jacks, and so on. Each letter comes with a four line rhyme about that respective letter's fact or subject. What I love most is on the side of the page it gives more in-depth description about each subject. It's a great jumping off point for what sparks an interest in your child!
Primary Numbers: A New Hampshire Number Book by Marie Harris
"A fitting follow-up to its companion state alphabet book, this fun, colorful, and superbly informative book teaches children about numbers using recognizable places, events, and facts from their respective states. Numbers throughout the books are explained with simple rhyme for younger children and are accompanied by detailed expository text for older learners."
The Legend of the Old Man of the Mountain by Denise Ortakales
"For centuries, the Great Stone Face has kept silent watch from Cannon Mountain, high above the Pemigewasset River. But who is the onlooker and for whom does he keep vigil? Though from warring tribes, Mohawk maiden Minerwa enchants Chief Pemigewasset, and with their union comes peace for many years. But when Minerwa leaves to visit her dying father, Pemigewasset must stay behind. Denise Ortakales recounts the legend of Chief Pemigewasset, whose steadfast love and devotion to his wife is forever honored in his profile on the mountainside."
Kids Books about New Hampshire History
The Shakers were religious dissenters who settled in NH in 1792. This picture books "celebrates the world of the Shakers, which emphasizes work, devotion, and song, in the story of young Caleb, who hears angels singing and makes the songs into a book."
Children's Books Set in New Hampshire
Picture books Set in NH
The Bear That Heard Crying by Natalie Kinsey-Warnock
"In June 1783, three-year-old Sarah Whitcher wanders into the woods and disappears. For three long days, friends and neighbors search fruitlessly for her. Then a stranger leads the desperate family to a pine tree beneath which the child lies. Sarah tells her rescuers of the "big black dog" that kept her warm every night—but the bear tracks encircling her tell a different tale."
"The oxcart man packs his goods – the wool from his sheep, the shawl his wife made, the mittens his daughter knitted, and the linen they wove. He packs the birch brooms his son carved, and even a bag of goose feathers from the barnyard geese. He travels over hills, through valleys, by streams, past farms and villages. At Portsmouth Market he sells his goods, one by one – even his beloved ox. Then, with his pockets full of coins, he wanders through the market, buying provisions for his family, and returns to his home. And the cycle begins again."
The Farm Summer 1942 by Donald Hall
"A young boy spends the summer on his grandparents' farm in New Hampshire while his mother works in the war effort in New York and his father serves on a destroyer in the Pacific."
When Willard Met Babe Ruth by Donald Hall
"Enjoying the annual baseball game between the married and single men in his community, twelve-year-old Willard Babson assists talented baseball star Babe Ruth when Ruth's car accidentally slides into a ditch."
Imogene's Last Stand by Candace Fleming
"Meet Imogene Tripp, a plucky girl with a passion for history. As a baby, her first words were "Four score and seven years ago." In preschool, she finger-painted a map of the Oregon Trail. So it's not surprising that when the mayor wants to tear down the long-neglected Liddleville Historical Society to make room for a shoelace factory, Imogene is desperate to convince the town how important its history is. But even though she rides through the streets in her Paul Revere costume shouting, "The bulldozers are coming, the bulldozers are coming!" the townspeople won't budge. What's a history-loving kid to do?"
Chapter books Set in New Hampshire
Miss Hickory by Carolyn Sherwin Bailey
"Most dolls lead a comfortable but unadventurous life. This was true of Miss Hickory until the fateful day that her owner, Ann, moves from her New Hampshire home to attend school in Boston—leaving Miss Hickory behind. For a small doll whose body is an apple-wood twig and whose head is a hickory nut, the prospect of spending a New Hampshire winter alone is frightening indeed. In this classic modern day fairy tale, what's a doll to do?"
"A quirky, imaginative tale about creative thought and the power of words that will have readers inventing their own words. Is Nick Allen a troublemaker? He really just likes to liven things up at school — and he's always had plenty of great ideas. When Nick learns some interesting information about how words are created, suddenly he's got the inspiration for his best plan ever…the frindle. Who says a pen has to be called a pen? Why not call it a frindle? Things begin innocently enough as Nick gets his friends to use the new word. Then other people in town start saying frindle. Soon the school is in an uproar, and Nick has become a local hero. His teacher wants Nick to put an end to all this nonsense, but the funny thing is frindle doesn't belong to Nick anymore. The new word is spreading across the country, and there's nothing Nick can do to stop it."
Amos Fortune, Free Man by Elizabeth Yates
"When Amos Fortune was only fifteen years old, he was captured by slave traders and brought to Massachusetts, where he was sold at auction. Although his freedom had been taken, Amos never lost his dinity and courage. For 45 years, Amos worked as a slave and dreamed of freedom. And, at age 60, he finally began to see those dreams come true."
The Enormous Egg by Oliver Butterworth
"When twelve-year-old Nate Twitchell takes care of an gigantic egg laid by one of his hens, he is shocked to find that it hatches into a triceratops." This was the book we read during our New Hampshire unit study and I have to say it's in the top five books we read!
Young Adult Literature Set in New Hampshire
Our Town: A Play in Three Acts by Thornton Wilder
"Our Town was first produced and published in 1938 to wide acclaim. This Pulitzer Prize-winning drama of life in the small village of Grover's Corners, an allegorical representation of all life, has become a classic. It is Thornton Wilder's most renowned and most frequently performed play."
Children's Books by Authors From New Hampshire
Papa Is a Poet: A Story About Robert Frost by Natalie S. Bober
"When Robert Frost was a child, his family thought he would grow up to be a baseball player. Instead, he became a poet. His life on a farm in New Hampshire inspired him to write "poetry that talked," and today he is famous for his vivid descriptions of the rural life he loved so much. There was a time, though, when Frost had to struggle to get his poetry published. Told from the point of view of Lesley, Robert Frost's oldest daughter, this is the story of how a lover of language found his voice."
Poetry for Kids: Robert Frost by Robert Frost
"Whether capturing a cold New England winter's evening, or the beauty of an old, abandoned house, four-time Pulitzer Prize-winning poet Robert Frost left an indelible mark on our consciousness. This stunning celebration of his best-loved work includes 35 poems specially chosen for children ages 8 to 14 by author and historian Jay Parini.
This collection is the perfect introduction for young readers. In addition to a carefully chosen line-up of poems, Poetry for Kids: Robert Frost also includes commentary and definitions of key words for each poem, and an introduction to Frost's life."
Children's Books about Famous People From New Hampshire
Thank You, Sarah: The Woman Who Saved Thanksgiving by Laurie Halse Anderson
"Thanksgiving might have started with a jubilant feast on Plymouth's shore. But by the 1800s America's observance was waning. None of the presidents nor Congress sought to revive the holiday. And so one invincible "lady editor" named Sarah Hale took it upon herself to rewrite the recipe for Thanksgiving as we know it today. This is an inspirational, historical, all-out boisterous tale about perseverance and belief. This story is a tribute to Hale, her fellow campaigners, and to the amendable government that affords citizens the power to make the world a better place!"
Alan Shepard: Higher and Faster by Janet Benge
"Alan Shepard's boyhood fascination with flight led him from constructing model airplanes in his grandfather's basement to attaining national hero status in the race to space. Rooted in hard work and education, this pioneer's dreams of flight came true as he became not only the first American launched into space but, later, one of the privileged few to walk on the moon. The achievements of this high flyer — America's "Lindbergh of Space" — inspire all who dare to live their dreams."
Books Set in New Hampshire (for Mom!)
I love to read, and I love a good theme or challenge for a reading list. So my final two books on this book list are one adult fiction and one adult non-fiction.
Fiction Book Set in New Hampshire
The Weight of Water by Anita Shreve
"Jean, a photographer, arrives on Smuttynose Island, off the coast of New Hampshire, to research a century-old crime. As she immerses herself in the details of the case–an outburst of passion that resulted in the deaths of two women–Jean herself enters precarious emotional territory. The suspicion that her husband is having an affair burgeons into jealousy and distrust, and ultimately propels Jean to the verge of actions she had not known herself capable of–actions with horrific consequences. Everywhere hailed for its beauty and power, The Weight of Water takes us on an unforgettable journey through the furthest extremes of emotion."
Non-fiction Book Set In New Hampshire
"Gloria Norris's KooKooLand is a memoir written on the edge of a knife blade. Chilling, intensely moving, and darkly funny, it cuts to the heart and soul of a troubled American family. One night, a brutal act changes the course of all their lives. The story that unfolds is a profound portrait of how violence echoes through a family, and through a community. From the tragedy, Gloria finds a way to carve out a future on her own terms and ends up just where she wants to be. Gripping and unforgettable, KooKooLand is a triumph.and announces the arrival of a startlingly original voice."
And there you have it! 20 living books about New Hampshire. It is my hope that this book list provides you with JUST ONE book to share with your kids.
From Our Town to Robert Frost, and from the politics to the mountains, I hope you find some fun things to learn about New Hampshire!