Keep reading for 20 of the best books about Oregon and the Oregon Trail!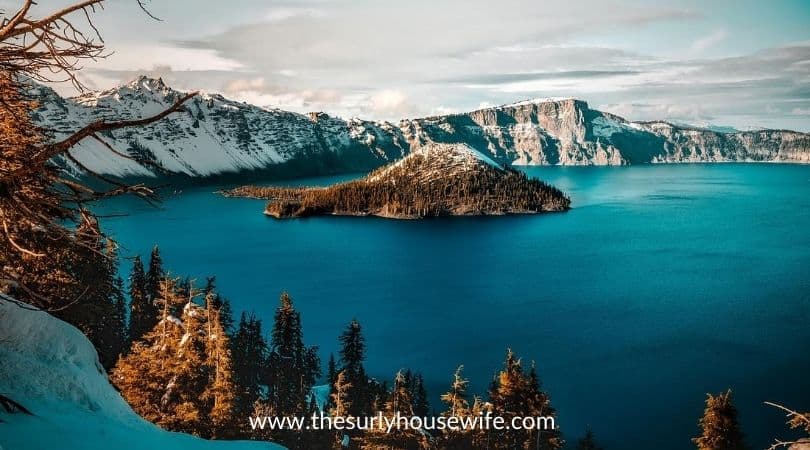 Oregon has a special place in my heart. It's the setting of our first family connection around books. The first book series my kids fell in love with was the Ramona Quimby series by Beverly clearly. And thanks to Audible's awesome audio collection, they have listened to all the books several times.
The Ramona Quimby series takes place in Oregon and upon hearing that Portland has statues of Ramona, Henry Higgins, and Ribsy in one of their parks my oldest exclaims: WE GOTTA GO THERE!!
I grew up loving Ramona, and I'm glad my kids love her too. That's one of the amazing things about books. Neil Gaiman said, "Stories you read when you're the right age never quite leave you. You may forget who wrote them or what the story was called. Sometimes you'll forget precisely what happened. But if a story touches you, it will stay with you."
That's the power of living books, a term Charlotte Mason coined referring to books that make the subject you are studying come alive and are written by people who love the subject. It's how I choose books for my homeschool, and how I chose books for our 50 states study because studying and learning about Oregon is more than learning about its famous authors.
The books on this list make Oregon come alive to the reader. They include nonfiction books as well as picture books and chapter books that are set in Oregon. And also features some books about the Oregon Trail, a roughly 2,000-mile route from Independence, Missouri, to Oregon City, Oregon. It was used by hundreds of thousands of American pioneers in the mid-1800s to emigrate west. Let's get started!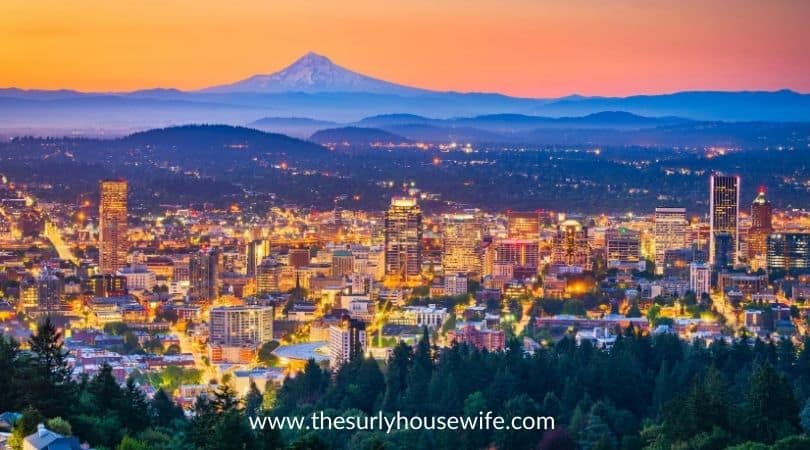 ICYMI, click HERE for all the other state book lists!
Oregon History and Facts
Oregon is nicknamed the Beaver State.
Motto – She flies with her own wings.
Oregon entered the Union on February 14, 1859. It was the 33rd state.
Origin of name unknown.
Herbert Hoover, the thirty-first president of the United States, spent six years in Oregon as a boy.
Salem is the capital of Oregon.
This post contains affiliate links. If you click and make a purchase, we earn a commission at NO extra cost to you. For more information, please read my full disclosure policy.
Descriptions come from Amazon; some are edited for length
Living Books about Oregon
Children's Books about Oregon
B is for Beaver: An Oregon Alphabet by Marie and Roland Smith
"Join authors Roland and Marie Smith and illustrator Michael Roydon as they take you on a journey across the Oregon Trail and through the picturesque Beaver State. In B is for Beaver, the Smiths' rhyming verse and sidebar expository text illuminate the wonders of Hell's Canyon, the lush lands of the Willamette Valley, and the surging seas of the neighboring Pacific Ocean. An effective educational tool inside the classroom and out, readers of all ages in the state of Oregon and beyond can embark on this journey any time they wish."
This series of books called Discover America State By State are some of my favorites for introducing a state to kids. Each letter states a fact or a thing about that state. For example, for Oregon letter A is for Astoria, B is for Beaver State and so on. Each letter comes with a four line rhyme about that respective letter's fact or subject. What I love most is on the side of the page it gives more in-depth description about each subject. It's a great jumping off point for what sparks an interest in your child!
"Beavers are fascinating animals. They build their own homes and live in family groups. They keep busy with their sharp teeth, powerful tails, and big webbed feet. Their work helps to preserve wetlands. Gibbons explores where they live, what they eat, how they raise their young, and much more."
Three Bears of the Pacific Northwest by Richard Vaughan
"Based on the best-selling children's picture book, this story follows two bears on a journey to help a little blue bear find his way home in this board book adaption. This is a charming story with a happy ending and no Goldilocks. The book features Jeremiah Trammel's beautiful oil-painted illustrations, which are sure to engage children and parents alike."
10 Little Monsters Visit Oregon  by Rick Walton 
"From the Astoria Column and Crater Lake to Tillamook Cheese and Powell's Books, these 10 Little Monsters discover some of the most unique and interesting things about Oregon and what it has to offer. Silly, over-the-top fun, and a bit macabre, 10 Little Monsters Visit Oregon is the perfect book for every little boy and ghoul!"
Thirty Minutes over Oregon: A Japanese Pilot's World War II Story by Marc Tyler Nobleman
"The devastating attack on Pearl Harbor, Hawaii, drew the United States into World War II in 1941. But few are aware that several months later, the Japanese pilot Nobuo Fujita dropped bombs in the woods outside a small town in coastal Oregon. This is the story of those bombings, and what came after, when Fujita returned to Oregon twenty years later, this time to apologize."

Chapter Books Set in Oregon
Roller Girl by Victoria Jamieson
"A heartwarming graphic novel about friendship and surviving junior high through the power of roller derby. For most of her twelve years, Astrid has done everything with her best friend Nicole. But after Astrid falls in love with roller derby and signs up for derby camp, Nicole decides to go to dance camp instead. And so begins the most difficult summer of Astrid's life as she struggles to keep up with the older girls at camp, hang on to the friend she feels slipping away, and cautiously embark on a new friendship. As the end of summer nears and her first roller derby bout (and junior high!) draws closer, Astrid realizes that maybe she is strong enough to handle the bout, a lost friendship, and middle school… in short, strong enough to be a roller girl."
Ramona Quimby, Age 8 by Beverly Cleary
"Ramona likes that she's old enough to be counted on, but must everything depend on her? Mrs. Quimby has gone back to work so that Mr. Quimby can return to school, and Ramona is expected to be good for Mrs. Kemp while her parents are away, to be brave enough to ride the school bus by herself, and to put up with being teased by Danny the Yard Ape. In Ramona's world, being eight isn't easy, but it's never dull!"
A Girl from Yamhill: A Memior by Beverly Cleary
"Told in her own words, A Girl from Yamhill is author Beverly Cleary's heartfelt and relatable memoir. Beverly Cleary tells a more personal story, her story, of what adolescence was like. In warm but honest detail, Beverly describes life in Oregon during the Great Depression, including her difficulties in learning to read, and offers a slew of anecdotes that were, perhaps, the inspiration for some of her beloved stories. For everyone who has enjoyed the pranks and schemes, embarrassing moments, and all of the other poignant and colorful images of childhood brought to life in Beverly Cleary's books, here is the fascinating true story of the remarkable woman who created them."
Piecing Me Together by Renée Watson
"A powerful story about a girl striving for success in a world that too often seems like it's trying to break her. Jade believes she must get out of her poor neighborhood if she's ever going to succeed. Her mother tells her to take advantage of every opportunity that comes her way. And Jade has: every day she rides the bus away from her friends and to the private school where she feels like an outsider, but where she has plenty of opportunities. But some opportunities she doesn't really welcome, like an invitation to join Women to Women, a mentorship program for 'at-risk' girls. Just because her mentor is black and graduated from the same high school doesn't mean she understands where Jade is coming from. She's tired of being singled out as someone who needs help, someone people want to fix. Jade wants to speak, to create, to express her joys and sorrows, her pain and her hope. Maybe there are some things she could show other women about understanding the world and finding ways to be real, to make a difference."
Escaping the Giant Wave by Peg Kehret
"Thirteen-year-old Kyle thought spending a vacation on the Oregon coast with his family would be great. Kyle's perfect vacation becomes a nightmare while he's babysitting his sister, BeeBee. An earthquake hits the coast and starts a fire in their hotel. Can Kyle and BeeBee outwit and outrun nature's fury to save themselves from tsunami terror?"
"In Wildwood, Prue and her friend Curtis uncover a secret world in the midst of violent upheaval. A world full of warring creatures, peaceable mystics, and powerful figures with the darkest intentions. And what begins as a rescue mission becomes something much greater as the two friends find themselves entwined in a struggle for the very freedom of this wilderness. A wilderness the locals call Wildwood."
Young Adult Literature set in Oregon
"In the blink of an eye everything changes. Seventeen ­year-old Mia has no memory of the accident; she can only recall what happened afterwards, watching her own damaged body being taken from the wreck. Little by little she struggles to put together the pieces. To figure out what she has lost, what she has left, and the very difficult choice she must make. Heart wrenchingly beautiful, this will change the way you look at life, love, and family."
"Ryan Dean West is a fourteen-year-old junior at a boarding school for rich kids in the Pacific Northwest. He's living in Opportunity Hall, the dorm for troublemakers, and rooming with the biggest bully on the rugby team. And he's madly in love with his best friend Annie, who thinks of him as a little boy. With the help of his sense of humor, rugby buddies, and his penchant for doodling comics, Ryan Dean manages to survive life's complications and even find some happiness along the way. But when the unthinkable happens, he has to figure out how to hold on to what's important, even when it feels like everything has fallen apart."
Children's Books about The Oregon Trail
Oregon Trail Picture Books
Apples to Oregon by Deborah Hopkinson
"When Papa decides to pull up roots and move from Iowa to Oregon, he can't bear to leave his precious apple trees behind. Or his peaches, plums, grapes, cherries, and pears. Oh, and he takes his family along too. But the trail is cruel. First there's a river to cross that's wider than Texas, then there are hailstones as big as plums, and then there's even a drought, sure to crisp the cherries. Luckily Delicious (the non0-edible apple of Daddy's eye) won't let anything stop her father's darling saps from tasting the sweet Oregon soil. A hilarious tall tale from the team that brought you Fannie in the Kitchen that's loosely based on the life of a real fruiting pioneer."
Rachel's Journal: The Story of a Pioneer Girl by Marissa Moss
"Traveling by covered wagon, young Rachel and her family follow the Oregon Trail from Illinois all the way to California. The terrain is rough and the seven-month trip is filled with adventure. Rachel's own handwritten journal chronicles every detail and features cherished 'pasted-in' mementos gathered along the way."
If You Were a Kid on the Oregon Trail by Josh Gregory
"As Josephine Jenkins sets off on the Oregon Trail with her mother and younger brothers to reunite with her father out West, she realizes that her beloved diary has gone missing. Meanwhile, her fellow traveler Stephen Byrd is sad to be leaving his friends behind as his family makes the move to Oregon. Follow Josephine and Stephen along the trail as they camp in the wilderness, look out over incredible landscapes, and prepare for their new lives in the West."
Minnow and Rose: An Oregon Trail Story by Judy Young
"In the mid-1800s thousands of pioneers crossed the western plains of the United States using the 2,000-mile pathway called the Oregon Trail. Minnow and her family live in one of the many native villages scattered across the plains. She has a lively sense of adventure and her favorite pastime is swimming in the nearby river where she rightly earns her nickname. Rose and her family are traveling in one of the many wagon trains making their way west. It's been a tedious journey with little excitement. Rose can't wait for something thrilling to happen. And one day it does. On the banks of a rushing river that divides one way of life from another, two very different cultures come face-to-face, with life-changing results."
Chapter Books About The Oregon Trail
"Fourteen-year-old Francis Tucket is heading west on the Oregon Trail with his family by wagon train. When he receives a rifle for his birthday, he is thrilled that he is being treated like an adult. But Francis lags behind to practice shooting and is captured by Pawnees. It will take wild horses, hostile tribes, and a mysterious one-armed mountain man named Mr. Grimes to help Francis become the man who will be called Mr. Tucket."
Bound for Oregon by Jean Van Leeuwen
"Basing her story on the published accounts of her true-life heroine, Mary Ellen Todd, Van Leeuwen describes a family's tumultuous journey along the Oregon Trail in 1852."
The Oregon Trail Trailblazer by Jesse Wiley
"Ford rivers, hike mountains, and trek the Oregon Trail, young pioneer! On your way, you'll face wild animals, natural disasters, famine, sickness, unpredictable weather, and more. You'll also meet helpful strangers and encounter dishonest people—who will you choose to trust? With more than twenty possible endings in each standalone book, each decision counts. Make the right choices and blaze a trail out west! This paperback box set includes four Oregon Trail adventures where you choose the path to Oregon City. Featuring 8-bit black-and-white illustrations throughout, each book is its own unique journey west with more than twenty possible endings!"
Books Set in Oregon (for Mom!)
I love to read, and I love a good theme or challenge for a reading list. So my final two books on this book list are one adult fiction and one adult non-fiction.
Fiction Book Set in Oregon
Sometimes a Great Notion by Ken Kesey
"A bitter strike is raging in a small lumber town along the Oregon coast. Bucking that strike out of sheer cussedness are the Stampers: Henry, the fiercely vital and overpowering patriarch; Hank, the son who has spent his life trying to live up to his father; and Viv, who fell in love with Hank's exuberant machismo but now finds it wearing thin. And then there is Leland, Henry's bookish younger son, who returns to his family on a mission of vengeance. And finds himself fulfilling it in ways he never imagined. Out of the Stamper family's rivalries and betrayals, Ken Kesey crafted a novel with the mythic impact of Greek tragedy."
Non-fiction Book Set In Oregon
Stubborn Twig: Three Generations in the Life of a Japanese American Family by Lauren Kessler
Stubborn Twig is a classic American story, a story of immigrants making their way in a new land. Masuo Yasui traveled from Japan across the other Oregon Trail. Like most immigrants, he came with big dreams and empty pockets. Working on the railroads, in a cannery, and as a houseboy before settling in Hood River, Oregon, he opened a store, raised a large family, and became one of the area's most successful orchardists. As Masuo broke the race barrier in the local business community, his American-born children broke it in school, scouts and sports, excelling in most everything they tried. It was a classic tale of the American dream come true until December 7, 1941. The Yasuis were among the more than 110,000 people of Japanese ancestry who were interned in vast inland relocation camps. Masuo was arrested as a spy and imprisoned for the rest of the war; his family was shamed and broken. Yet the Yasuis endured, as succeeding generations took up the challenge of finding their identity as Americans. Stubborn Twig is their story, one that bears eloquent witness to both the promise and the peril of America."
And there you have it! 20 living books about Oregon. It is my hope that this book list provides you with JUST ONE book to share with your kids.
From the Oregon Trail to Portland and from beavers to bears, I hope you find some fun things to learn about Oregon!
Don't forget to check out the other states!