Keep reading for 20 amazing books about Montana!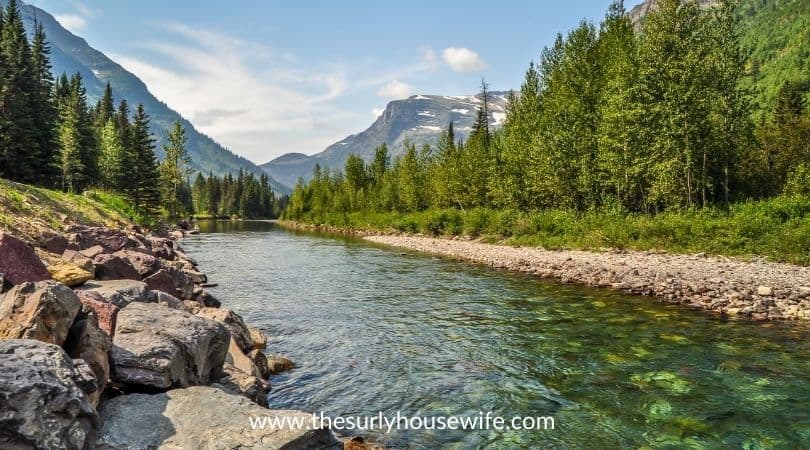 Did you know that the first woman to hold federal office was from Montana? Jeannette Rankin was elected to the U.S. House of Representatives in 1916. She advocated for women's suffrage and pacifism. During her two separate terms, Rankin helped pass the 19th Amendment and was the only Congressperson to vote against both WWI and WWII.
I love learning about what I call, "Who knew?!" moments or people in history. However, doing a 50 states study is more than just learning about famous residents. My approach to studying the 50 states involves what as Charlotte Mason coined, living books. Living books are books that make the subject you are studying come alive and are written by people who love the subject.
You learn about the state by immersing yourself in what that state looks and feels like. And the books on this list fit the living books standard! It contains picture and chapter books set in Montana as well as children's books about famous Montanans and the Battle Of Little Big Horn. Let's get to it!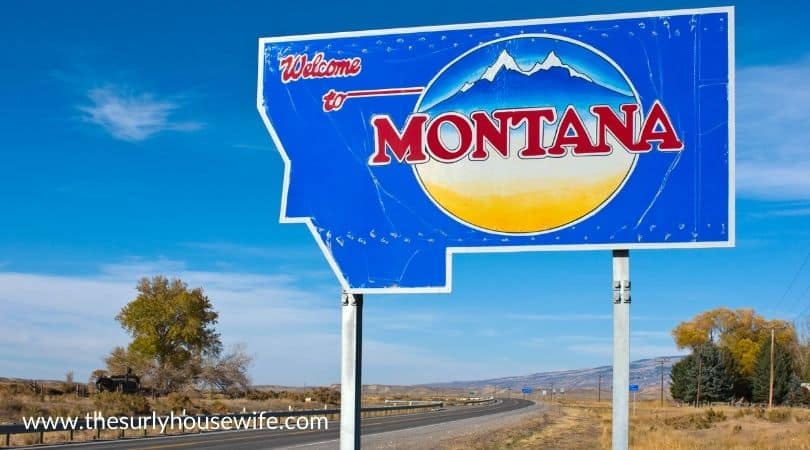 ICYMI, click HERE for all the other state book lists!
Montana History and Facts
Montana is nicknamed the Treasure State.
Motto – Gold and silver
Montana entered the Union on November 8, 1889. It was the 41st state.
Montana is named from the Spanish word meaning "mountain."
The first woman congressman, Jeannette Rankin, was from Montana.
Helena is the capital of Montana
This post contains affiliate links. If you click and make a purchase, we earn a commission at NO extra cost to you. For more information, please read my full disclosure policy.
Descriptions come from Amazon; some are edited for length
Living Books about Montana
Picture Books About Montana
B is for Big Sky: A Montana Alphabet by Sneed B. Collard III 
"'The sky in Montana somehow seems bigger, bluer, and more spectacular than in any other state.' Author Sneed B. Collard, III writes, 'it's simply because our sky stretches over such an abundance of beauty.' In B is for Big Sky Country readers will find out where the Going-to-the-Sun Road really takes you and what city the copper capitol dome calls home."
This series of books called Discover America State By State are some of my favorites for introducing a state to kids. Each letter states a fact or a thing about that state. For example, for Montana letter A is for Anaconda and the letter B is for Big Sky Country and so on. Each letter comes with a four line rhyme about that respective letter's fact or subject. What I love most is on the side of the page it gives more in-depth description about each subject. It's a great jumping off point for what sparks an interest in your child!
Shep: Our Most Loyal Dog by Sneed B. Collard III
"Reliability, devotion and faithfulness: endearing qualities shared between people and their canine companions. Shep is the true story of a dog that became an inspiration to people around the world. Following the death of his owner in 1936, Shep watched as his body was placed on a train and shipped east. For more than five years, through rain and snow, Shep met every incoming train with hopes that he would see the man who had cared for him. Even today, people visit Fort Benton, Montana, to stand at the grave of a dog whose actions remind us of the true meaning of loyalty and heart."
"Swamp Angel has a reputation as the greatest woodswoman and wildest wildcat in all of Tennessee. But when she grows too big for that state, she moves to Montana, a place so sizable, even Angel can fit in. It's there that she wrestles a raging storm to the ground and, at its center, finds herself a sidekick: a horse she names Dust Devil. And when Backward Bart, the orneriest, ugliest outlaw ever known, starts terrorizing the prairie, seems like Angel and Dust Devil may be the only ones strong enough to stop him. Here is an original folktale starring an extraordinary gal who is as feisty as she is funny and as courageous as she is kind."
Children's Books about Montana History
Buffalo Song by Joseph Bruchac
"The story of Salish Indian Walking Coyote and his efforts to save the vanishing buffalo herds from extinction in the United States during the 1870s and 1880s."
Digging Up Dinosaurs by Jack Horner 
"Digging Up Dinosaurs, by world-renowned paleontologist Jack Horner, is chock full of fun and fascinating information about fossils in Montana, Colorado, Utah, Wyoming, Idaho, North Dakota, and South Dakota. Montana resident Horner takes kids along on the dig, explaining step by step how fossils are formed, the best places to find them, what it takes to get them out of the ground, and what the fossils tell us about the dinosaurs that roamed the Rocky Mountain states and the Dakotas. We even get to look back in time at what the region looked like during the Mesozoic Era and what dinosaurs ruled in what are now Montana, Colorado, Utah, Wyoming, Idaho, North Dakota, and South Dakota."
Fearless Mary: Mary Fields, American Stagecoach Driver by Tami Charles
"A little-known but fascinating and larger-than-life character, Mary Fields is one of the unsung, trailblazing African American women who helped settle the American West. A former slave, Fields became the first African American woman stagecoach driver in 1895, when, in her 60s, she beat out all the cowboys applying for the job by being the fastest to hitch a team of six horses. She won the dangerous and challenging job, and for many years traveled the badlands with her pet eagle, protecting the mail from outlaws and wild animals, never losing a single horse or package. Fields helped pave the way for other women and people of color to become stagecoach drivers and postal workers."
Counting Coup: Becoming a Crow Chief on the Reservation and Beyond by Joseph Medicine Crow
"National Geographic presents the amazing life story of Joseph Medicine Crow, the man who begins life as Winter Man. Trained as a warrior by his grandfather, Yellowtail, he bathes in icy rivers and endures the ceremony of 'counting coup:' facing fierce combat with an enemy Sioux boy. Counting Coup is a vibrant adventure narrative, bringing Native American history and culture alive for young readers. Joseph Medicine Crow's story illuminates the challenges faced by the Crow people as hurricanes of change raged through America. His epic story and its lessons are an essential legacy for us all."
Cowboy Charlie: The Story of Charles M. Russell by Jeanette Winter
"Young Charles Russell wanted to be a cowboy, so just two weeks shy of his sixteenth birthday, the determined Charlie boarded a train heading to the frontier. There, in 1880, in the land of buffalo, Indians, and open prairie, Charlie found his home. And there he became a painter, but not just any painter. Today Charles M. Russell is considered one of the greatest artists of the American West and one who opened its door to so many."
Chapter books Set in Montana
Hattie Big Sky by Kirby Larson
"For most of her life, sixteen-year-old Hattie Brooks has been shuttled from one distant relative to another. Tired of being Hattie Here-and-There, she summons the courage to leave Iowa and move all by herself to Vida, Montana, to prove up on her late uncle's homestead claim. Under the big sky, Hattie braves hard weather, hard times, a cantankerous cow, and her own hopeless hand at the cookstove. Despite daily trials, Hattie continues to work her uncle's claim until an unforeseen tragedy causes her to search her soul for the real meaning of home."
Max, the Mighty by Rodman Philbrick
"Fourteen-year-old Max is back, and he finds himself defending a solitary girl nicknamed 'Worm' against a cruel man known as the Undertaker. Against all odds, the teens embark on a perilous journey in search of Worm's father and must face something more frightening than death itself."
Out in Left Field by Don Lemna
"The laugh-aloud adventures of eleven-year-old Donald growing up in post-World War II Montana. Donald is sure that his life is ruined when a pop fly beanball knocks him senseless out in left field. The error costs his team the game, and Donald is desperate to redeem himself. But all of his efforts end in disaster."
"Help Dink, Josh, and Ruth Rose solve mysteries from A to Z! N is for Nugget and Howdy from Montana, pardners! Dink, Josh, and Ruth Rose are spending a week at a dude ranch. When they pan for gold, Josh finds a huge nugget. But gold fever has struck, and soon the nugget is stolen. It's up to the kids to round up the thief."
Naya Nuki: Shoshoni Girl Who Ran by Kenneth Thomasma
"Naya Nuki was only eleven when she was taken captive by a rival Indian tribe. She and her best friend, Sacajawea, were forced to march 1000 miles from Montana to a North Dakota Indian village, where Naya Nuki became a slave. Escape and reunion with her Shoshoni people was the only thing on Naya Nuki's mind. She secretly began to prepare for her escape along the Missouri River. All during the long march east she had been watching for landmarks and hiding places. Finally the opportunity to run away came. Naya Nuki traveled alone in the wilderness for more than a month. Her journey presents an amazing story of danger, courage and survival skills."
Rescue Josh McGuire by Ben Mikaelsen
"When thirteen-year-old Josh runs away to the mountains of Montana with an orphaned bear cub destined for laboratory testing, they both must fight for their lives in a sudden snowstorm."
When the Circus Came to Town by Laurence Yep
"Ursula always wanted to see the circus. That is, until she caught smallpox. Now all she wants is to hide her scarred face. But Ah Sam, her parents' Chinese cook, has other ideas. He brings to town a magical circus and finds a way to give Ursula the confidence she needs to face the world. In return, Ursula finds a way to make Ah Sam happy. She creates the biggest, best Chinese New Year celebration that Whistle, Montana, has ever seen! Based on actual events that occurred in the early twentieth century, Laurence Yep's novel captures both the overwhelming pain of being different and the simple comfort in finding the community to which you belong."

"Wolves. Predators of the wild. Stalkers of the forests. Born into rankings and expected to live up to their roles. Blue Boy, the alpha male of his pack, is the largest wolf many have ever seen, and his dream is to have a firstborn son who will take after him in every way. But Lamar is not turning out the way his father hoped. Lamar likes to watch butterflies. He worries if his younger siblings fall behind in the hunt. He has little interest in peacocking in front of other clans. Blue Boy grows increasingly dismayed at Lamar's lack of wolf instincts, and then Lamar does the intolerable: he becomes attracted to a coyote. While the other infractions can be begrudgingly tolerated, this one cannot, and the unity of the pack is in jeopardy. Lamar wants to make his family happy, but is doing what is expected of him worth losing the only true friend he's ever had?"
YA Books Set in Montana
The Big Burn by Jeanette Ingold
"On a hot summer day in 1910 a teenage soldier assembled his rifle. A girl argued to save trees on a mountain homestead. A young man set out to fight fire. None knew that soon the many blazes burning across northern Idaho would blow up and send a wall of flame racing their way. Portraying a natural disaster that would dictate how the United States would fight wildfire in the 20th century, The Big Burn brings to life a turning point in fire science, forestry, and history. Richly drawn characters doing their best against gigantic odds will grip your heart. The realistic depiction of wildfire will make you feel you were there."
Historical fiction at its best! The captivating story of a boy striving to become a man amidst the hard times of the 1930s Great Depression. Teenager Moss Trawnley is on his own and desperate when he joins Franklin Roosevelt's Civilian Conservation Corps. The CCC means a job at a Montana camp and money for his family. Self-esteem and self-reliance. Friends and being a leader. A crash course in living with nature. And it means facing hard times and building something good. Includes reader's guide."
Children's Books about Little Big Horn
Remember Little Bighorn: Indians, Soldiers, and Scouts Tell Their Stories by Paul Robert Walker
"Author Paul Robert Walker draws on scores of eyewitness accounts of the Battle of the Little Bighorn from Indians, soldiers, and scouts, measuring their testimony against the archaeological evidence to separate fact from fiction. From this wide kaleidoscope of testimony, the author focuses his narrative into an objective and balanced account of one of the most contentious chapters of American history. In the finest National Geographic tradition, the book illuminates this controversial period in American history with extensive use of primary sources. Some 50 archival images are included, several by Native Americans, plus a map showing troop and Indian movement. Remember Little Bighorn also features a comprehensive time line of Indian Wars, web sites, student-friendly resources, and a quick-reference index that make it an ideal source for writing reports."
Custer's Last Battle: Red Hawk's Account of the Battle of the Little Bighorn by Paul Goble
"On the morning of June 25, 1876, a force of 700 men from the 7th US Calvary led by General George Armstrong Custer attacked an Indian encampment on the banks of the Little Big Horn River. Unbeknownst to Custer, he faced the combined might of the Lakota, Cheyenne, and Arapaho tribes, led by their greatest chiefs, Sitting Bull and Crazy Horse. Goble recounts the tale of Custer's last battle through the eyes of Red Hawk, a fictional young Lakota warrior."
Books Set in Montana(for Mom!)
I love to read, and I love a good theme or challenge for a reading list. So my final two books on this book list are one adult fiction and one adult non-fiction.
Fiction Book Set in Montana
A River Runs Through It by Norman Maclean
"From its first magnificent sentence, 'In our family, there was no clear line between religion and fly fishing,' to the last, 'I am haunted by waters,' A River Runs Through It is an American classic. Based on Norman Maclean's childhood experiences, A River Runs Through It has established itself as one of the most moving stories of our time; it captivates readers with vivid descriptions of life along Montana's Big Blackfoot River and its near magical blend of fly fishing with the troubling affections of the heart."
Non-fiction Book Set In Montana
This House of Sky: Landscapes of a Western Mindby Ivan Doig
"Ivan Doig grew up in the rugged wilderness of western Montana among the sheepherders and denizens of small-town saloons and valley ranches. What he deciphers from his past with piercing clarity is not only a raw sense of land and how it shapes us but also of the ties to our mothers and fathers, to those who love us, and our inextricable connection to those who shaped our values in our search for intimacy, independence, love, and family. A powerfully told story, This House of Sky is at once especially American and universal in its ability to awaken a longing for an explicable past."
And there you have it! The ultimate list of living books about Montana. It is my hope that this book list provides you with JUST ONE book to share with your kids.
We read Hattie Big Sky during our 50 state study, and it's a wonderful example of a living historical fiction book. So good!
If you enjoyed this book list, check out all the other book lists below!