Keeping Reading for 15 of the Best Children's Books About Rhode Island!
Rhode Island is our smallest state at only 1212 square miles! Half the size of the next biggest state Delaware which is 2491 square miles. You could fit 425 Rhode Islands into Alaska!
However, studying and learning about Rhode Island is more than memorizing all the size comparisons. My approach to homeschooling involves what as Charlotte Mason coined, living books. Living books are books that make the subject you are studying come alive and are written by people who love the subject.
While this book list might not entirely filled nonfiction books filled with facts and figures about Rhode Island they DO make the state come alive to the reader. Some books about Rhode Island and its history, while others are set in Rhode Island, or about famous people from Rhode Island.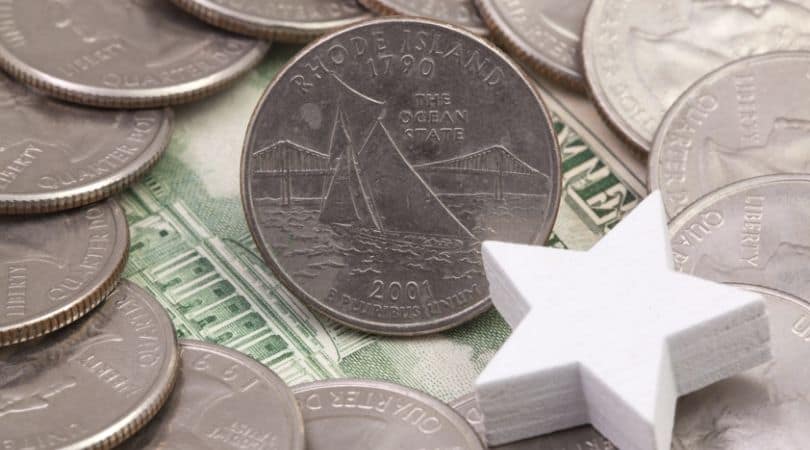 ICYMI! Here are the lists for the other states.
Rhode Island History and Facts
Rhode Island is nicknamed the Ocean State because of its 400 miles of coastline and 35 islands.
Motto – Hope
Rhode Island entered the Union on May 29, 1790. It was the 13th state
Rhode Island is named from the Greek Island of Rhodes.
Providence is the capital of Rhode Island.
This post contains affiliate links. If you click and make a purchase, we earn a commission at NO extra cost to you. For more information, please read my full disclosure policy.
Living Books about Rhode Island
Picture Books about Rhode Island
Hello, Rhode Island! by Martha Zschock
"In Hello, Rhode Island! join a pair of Rhode Island Red Chickens as they tour the Ocean state! They visit the Roger Williams Park Zoo, the Green Animals Topiary Garden, and the Beavertail Lighthouse. Along the way they ride the Flying Horse Carousel in Watch Hill, play on Narragansett Beach, celebrate July 4th in Bristol, and see the amazing WaterFire in Providence!"
R is for Rhode Island Red: A Rhode Island Alphabet by Mark R. Allio
"It may be our smallest state but its presence is unmistakable — rich in history, breathtaking beauty, and famous for its neighborhoods filled with character. With every turned page readers will be treated to Rhode Island's incredible scenery and have their many questions answered about our thirteenth state. Rhode Island has how many miles of coastline? The breathtaking beauty of Block Island is one of the state's how many islands? Readers will also learn how Rhode Island native Samuel Slater started the American Industrial Revolution, and what the quahog is."
This series of books called Discover America State By State are some of my favorites for introducing a state to kids. Each letter states a fact or a thing about that state. For example, for Rhode Island letter A is for apple and letter B is Block Island, and so on. Each letter comes with a four line rhyme about that respective letter's fact or subject. What I love most is on the side of the page it gives more in-depth description about each subject. It's a great jumping off point for what sparks an interest in your child!
Children's Books about Rhode Island History
Finding Providence: The Story of Roger Williams by Avi
"The year is 1635, and Mary Williams and her family live in the Massachusetts Bay Colony. Her father, Roger, is on trial for preaching new ideas about freedom. When found guilty, he flees into the cold, telling Mary that she must trust in God's providence to see him to safety. Roger's only hope of survival lies with the Narragansett Indians. Will Mary ever see her father again?"
Rhode Island was an intragal part of the Industrial Revolution. A state poor in agriculture had to find a way to make money so they build factories. Mill "takes readers of all ages on a journey through a fictional mill town called Wicksbridge. With words and pictures, David Macaulay reveals fascinating details about the planning, construction, and operation of the mills—and gives us a powerful sense of the day-to-day lives of Americans in this era."
"Katie's Trunk gives an unusual and arresting glimpse of the beginnings of the American Revolution. Katie could feel it in the air—something was wrong. Neighbors didn't speak to each other anymore, and someone even hissed "Tory!" at her. All around Katie, men were arming themselves for war. Then one day it happened—the rebels came! Katie's father told the family to hide in the woods. At first Katie obeyed, but as she crouched in the underbrush she got mad and ran back to defend her home. It wasn't right for people to treat one another this way. But what could one little girl do about it?"
Chapter Books Set in Rhode Island
The Art of Keeping Cool by Janet Taylor Lisle
"Fear permeates the Rhode Island coastal town where Robert, his mother, and sister are living out the war with his paternal grandparents: Fear of Nazi submarines offshore. Fear of Abel Hoffman, a German artist living reclusively outside of town. And for Robert, a more personal fear, of his hot-tempered, controlling grandfather.
As Robert watches the townspeople's hostility toward Hoffman build, he worries about his sensitive cousin Elliot's friendship with the artist. And he wonders more and more about the family secret everyone seems to be keeping from him—a secret involving Robert's father, a bomber pilot in Europe. Will Elliot's ability to detach himself from the turmoil around him be enough to sustain him when prejudice and suspicions erupt into violence? And can Robert find his own way to deal with the shocking truth about his family's past?"
Born to Fly by Michael Ferrari
"Ever since she can remember, Bird has loved flying in small propeller airplanes with her mechanic dad. When the local airstrip is turned into a military flight school, Bird is in heaven—and she manages to turn one young airman's interest in her older sister into some personal flight lessons.
Then a young Japanese American student named Kenji Fujita joins Bird's class, and the entire school seems to be convinced that he's a spy, a secret agent, or at the very least, that he and his uncle want the Japs to win.
But through a class project, Bird and Kenji befriend each other and accidentally discover real spy activity in the area. So begins an adventure that will shake the town and may even change the future of the United States."
---
"When 12-year-old Kenny Huldorf moves to Providence, Rhode Island, he soon discovers that his attic bedroom is haunted by the ghost of a teenage slave named Caleb. Before long, Caleb summons Kenny back in time, where Kenny finds himself entangled in Caleb's murder and deeply troubled by the century-old injustice. Ultimately, it is up to Kenny to solve Caleb's murder or remain forever trapped in history. Part ghost story, part social commentary, this thought-provoking, hair-raising page turner from master tale spinner, Avi, is a perfect chilling summer read!"
Riding Freedom by Pam Munoz Ryan
"Charlotte Parkhurst is raised in an orphanage for boys, which suits her just fine. She doesn't like playing with dolls, she can hold her own in a fight, and she loves to work in the stables. Charlotte has a way with horses and wants to spend her life training and riding them on a ranch of her own.
The problem is, as a girl in the mid-1800s, Charlotte is expected to live a much different life – one without freedom. But Charlotte is smart and determined, and she figures out a way to live her dreams with a plan so clever and so secret – almost no one figures it out."
Whisper in the Dark by Joseph Bruchac
"Maddy has always loved scary stories, especially the spooky legends of her Native American ancestors. But that was before she heard about the Whisperer in the Dark, the most frightening legend of all. Now there's an icy voice at the other end of the phone and a terrifying message left on Maddy's door. Suddenly this ancient tale is becoming just a bit too real. Once, twice, three times he's called out to her. If he calls to her a fourth time, she's done for. Where will she be when he calls her name again?"
Young Adult Literature Set in Rhode Island
The True Confessions of Charlotte Doyle by Avi
"Thirteen-year-old Charlotte Doyle is excited to return home from her school in England to her family in Rhode Island in the summer of 1832. But when the two families she was supposed to travel with mysteriously cancel their trips, Charlotte finds herself the lone passenger on a long sea voyage with a cruel captain and a mutinous crew. Worse yet, soon after stepping aboard the ship, she becomes enmeshed in a conflict between them! What begins as an eagerly anticipated ocean crossing turns into a harrowing journey, where Charlotte gains a villainous enemy… and is put on trial for murder!"
Black Duck by Janet Taylor Lisle
"It is spring 1929, and Prohibition is in full swing. So when Ruben and Jeddy find a dead body washed up on the shore of their small coastal Rhode Island town, they are sure it has something to do with smuggling liquor. Soon the boys, along with Jeddy's strongwilled sister, Marina, are drawn in, suspected by rival bootlegging gangs of taking something crucial off the dead man. Then Ruben meets the daring captain of the Black Duck, the most elusive smuggling craft of them all, and it isn't long before he's caught in a war between two of the most dangerous prohibition gangs."
Books by Rhode Island Authors
Rhode Island native Chris Van Alsburg wrote the classic children's book Jumanji. "Left on their own for an afternoon, two bored and restless children find more excitement than they bargained for in a mysterious and mystical jungle-adventure board game. "
Children's Books about Famous People from Rhode Island
The Bravest Woman in America by Marissa Moss
"Ida Lewis loved everything about the sea, so when her father became the official keeper of Lime Rock Lighthouse in Newport, Rhode Island, she couldn't imagine anything better.Under her father's watchful eye, she learned to polish the lighthouse lens so the light would shine bright. She learned to watch the sea for any sign of trouble. And, most importantly, she learned to row.
Based on the true story of Ida Lewis, who was dubbed 'the Bravest Woman in America" and who was recognized with the Congressional Life Saving Medal and the American Cross of Honor, this inspiring and unforgettable tale of courage and real-life heroism is a tribute to brave women everywhere. '"
You're a Grand Old Flag Hardcover lyrics by George M. Cohan
"Written in 1906 by George M. Cohan, 'You're a Grand Old Flag' has been a favorite celebration song for generations of Americans. Now see it brought to life like never before as it is set with images of Americana, by the master of all things patriotic, Norman Rockwell. With a foreword by Norman Rockwell's grandson, John Rockwell, this book is a treasure that families will love to sing along with."
Books Set in Rhode Island (for Mom!)
I love to read, and I love a good theme or challenge for a reading list. So my final two books on this book list are one adult fiction and one adult non-fiction.
Fiction Book Set in Rhode Island
She's Come Undone by Wally Lamb
"Meet Dolores Price. She's 13, wise-mouthed but wounded, having bid her childhood goodbye. Beached like a whale in front of her bedroom TV, she spends the next few years nourishing herself with the Mallomars, potato chips, and Pepsi her anxious mother supplies. When she finally rolls into young womanhood at 257 pounds, Dolores is no stronger and life is no kinder. But this time she's determined to rise to the occasion and give herself one more chance before really going belly-up.
In this extraordinary coming-of-age odyssey, Wally Lamb invites us to hitch a wild ride on a journey of love, pain, renewal with the most heartbreakingly comical heroine to come along in years."
Non-fiction Book Set In Rhode Island
Down City: A Daughter's Story of Love, Memory, and Murder by Leah Carroll
"Leah Carroll's mother, a gifted amateur photographer, was murdered by two drug dealers with Mafia connections when Leah was four years old. Her father, a charming alcoholic who hurtled between depression and mania, was dead by the time she was eighteen. Leah was left to put together her own future and, now in her memoir, she explores the mystery of her parents' lives, through interviews, photos, and police records. DOWN CITY is a raw, wrenching memoir of a broken family and an indelible portrait of Rhode Island- a tiny state where the ghosts of mafia kingpins live alongside the feisty, stubborn people working hard just to get by. "
And there you have it! 15 living books about Rhode Island. It is my hope that this book list provides you with JUST ONE book to share with your kids.
From the grand ol' flag to chickens, and from Providence to Newport, I hope you find some fun things to learn about Rhode Island!
---
WANT TO SAVE THIS FOR LATER? SAVE THIS BOOK LIST TO YOUR FAVORITE PINTEREST BOARD!!