Keep reading for 20 living books about the friendly state of Iowa!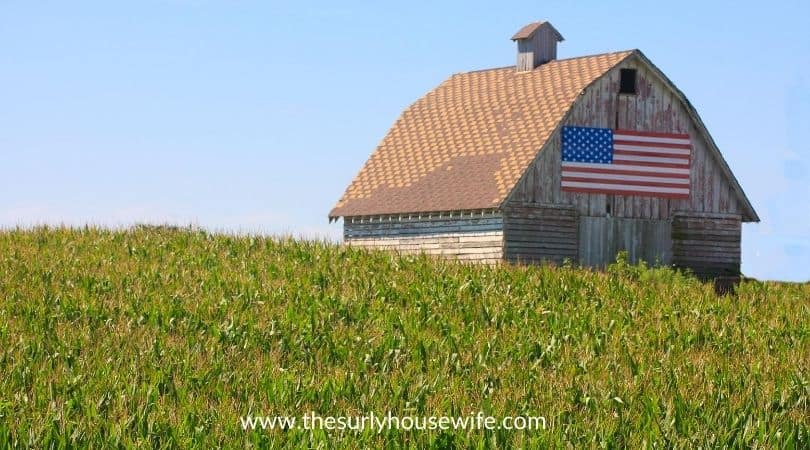 I was born and raised in Iowa, so I think I have a good handle on what makes a good living book about Iowa. Living books were coined by Charlotte Mason and they are books that make the subject you are studying come alive and are written by people who love the subject. And they are also the approach I took when we were doing our 50 states study. One picture book and one chapter book from each state.
On the surface it seems like Iowa would be a pretty straightforward state. It is just farms after all, right?! However, there is a friendliness to Iowans that is hard to capture in any book. As well as a work ethic and pride in a job well done. And as someone who did NOT grow up on a farm, I can assure you that people do live in cities and towns in Iowa.
While this book list might not containonly nonfiction books filled with facts and figures about Iowa, they DO make the state come alive to the reader. This list includes picture and chapter books set in Iowa, books about Iowa, as well as books about famous Iowans. Let's get started!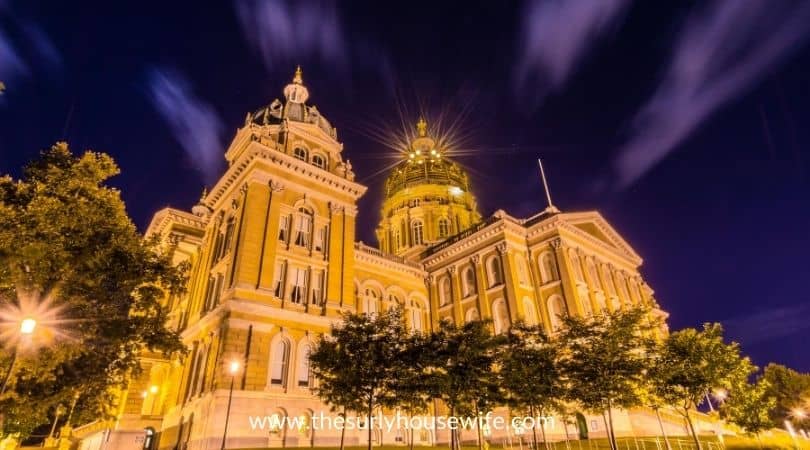 ICYMI, click HERE for all the other state book lists!
Iowa History and Facts
Iowa is nicknamed the Hawkeye State.
Motto – Our liberties we prize and our rights we will maintain.
Iowa entered the Union on December 28, 1846. It was the 29th state.
Iowa is named after the Iowa tribe meaning "beautiful land."
Herbert Hoover, the 31st President of the United States was born in West Branch, Iowa on August 10, 1874
Des Moines is the capital of Iowa
This post contains affiliate links. If you click and make a purchase, we earn a commission at NO extra cost to you. For more information, please read my full disclosure policy.
Descriptions come from Amazon; some are edited for length
Living Books about Iowa
Children's Books Set in Iowa
Iowa Picture Books
Tomás and the Library Lady by Pat Mora
"Tomás is a son of migrant workers. Every summer he and his family follow the crops north from Texas to Iowa, spending long, arduous days in the fields. At night they gather around to hear Grandfather's wonderful stories. But before long, Tomás knows all the stories by heart. 'There are more stories in the library,' Papa Grande tells him. The very next day, Tomás meets the library lady and a whole new world opens up for him. Raul Colón's warm, expressive paintings perfectly interweave the harsh realities of Tomás's life, the joyful imaginings he finds in books, and his special relationships with a wise grandfather and a caring librarian."
Creekfinding: A True Story by Jacqueline Briggs Martin
"Once upon a time a creek burbled up and tumbled across a prairie valley. It was filled with insects and brook trout that ate them, frogs that chirruped and birds watching for bugs and fish. This is a true story about a man named Mike who went looking for that creek long after it was buried under fields of corn. It is the story of how a creek can be brought back to life, and with it a whole world of nature. In the words of award-winning author Jacqueline Briggs Martin and the enchanting illustrations by Claudia McGehee, this heartening tale of an ecosystem restored in the Driftless Area of northeast Iowa unfolds in a way that will charm and inform young readers who are drawn to a good mystery, the wonders of nature—and, of course, big earth-moving machines."
Easy Chapter Books set in Iowa
McBroom's Wonderful One-Acre Farm: Three Tall Tales by Sid Fleischman
"When Josh McBroom learns that the eighty acres of Iowa farmland he's purchased are all stacked up on top of each other at the bottom of a muddy little pond, he thinks he's been bamboozled. But McBroom knows he's got the better of the bargain when the pond dries up to reveal an acre of soil so rich that seeds spring up into full-grown plants in no time and even nickels grow into quarters."
Cora Frear: A True Story by Susan E. Goodman
"Cora loves riding through the wild prairie with her doctor father on his house calls. One day, they have a bigger adventure than they bargained for. Prairie Fire! Their old horses will never outrun the flames that are galloping right toward them! What will Cora and Papa do to save their lives?"
Chapter Books set in Iowa
The Luck of the Buttons by Anne Ylvisaker
"Tomboy Tugs Button was born to a luckless family. And when she looks at them, all she sees is her own reflection looking back. Until she befriends popular Aggie Millhouse, wins a new camera in the Independence Day raffle, and stumbles into a mystery only she can solve. Suddenly this is a summer of change. And by its end, being a Button may just turn out to be what one clumsy, funny, spirited, and very observant young heroine decides to make of it."
Dewey the Library Cat: A True Story by Vicki Myron with Bret Witter
"Now everyone's favorite library cat can inspire a new audience of young readers with his story of courage and love. Abandoned in a library book drop slot in the dead of winter, this remarkable kitten miraculously endured the coldest night of the year. Dewey Readmore Books, as he became known, quickly embraced his home inside Spencer's public library, charming the struggling small town's library-goers, young and old. As word of Dewey's winning tail (or rather his tale) spread, the library cat gained worldwide fame as a symbol of hope and proof positive that one small cat could change a town, one reader at a time."
The Mostly True Story of Jack by Kelly Barnhill
"When Jack is sent to Hazelwood, Iowa, to live with his strange aunt and uncle, he expects a summer of boredom. Little does he know that the people of Hazelwood have been waiting for him for quite a long time. When he arrives, he begins to make actual friends for the first time in his life, but the town bully beats him up and the richest man in town begins to plot Jack's imminent, and hopefully painful, demise. It's up to Jack to figure out why suddenly everyone cares so much about him. Back home he was practically… invisible."
"Jewel never knew her brother Bird, but all her life she has lived in his shadow. Her parents blame Grandpa for the tragedy of their family's past: they say that Grandpa attracted a malevolent spirit, a dupp, into their home. Grandpa hasn't spoken a word since. Now Jewel is twelve, and she lives in a house full of secrets and impenetrable silence. Jewel is sure that no one will ever love her like they loved Bird, until the night that she meets a mysterious boy in a tree. Grandpa is convinced that the boy is a duppy, but Jewel knows that he is something more. And that maybe, just maybe, the time has come to break through the stagnant silence of the past."
Blue Jasmine by Kashmira Sheth
"When twelve-year-old Seema Trivedi learns that she and her family must move from their small Indian town to Iowa City, she realizes she'll have to say good-bye to the purple-jeweled mango trees, sweet-smelling jasmine, to the monsoon rains, and the bustling market. More important, she must leave behind her best friend and cousin, Raju. Everything is different in Iowa City, where Seema feels like an outsider to the language and traditions. As she begins to plant roots in the foreign soil, however, her confidence starts to bloom, and she learns she can build a bridge between two homes."
Mary Ingalls on Her Own by Elizabeth Cody Kimmel
"Mary Ingalls lost her sight after a devastating bout of scarlet fever. Now Mary has the opportunity to attend the Iowa College for the Blind, where she will get a fresh start with her education and can learn the skills she needs for an independent future as well. It seems like a dream come true. But it also means leaving her cherished family behind in Dakota Territory, including her sister Laura. Laura's feisty personality has always complemented Mary's quiet nature, and ever since Mary lost her sight, Laura has served as Mary's 'eyes' to the world. Now that she's on her own, Mary must learn to get along without her beloved sister, and in the process realizes that she may have a bit of Laura's spunk in her after all. For the first time, readers will get a glimpse into the life of Mary Ingalls and will discover a whole new side of this Little House sister they've gotten to know through Laura Ingalls Wilder's classic Little House books."
"When 12-year-old Linc Crenshaw decides he wants to go to public school, his professor mom isn't so happy with the idea. He's convinced it will be the ticket to a new social life. Instead, it's a disaster when his mom shows up at their field trip to the local cemetery to lecture them on gravestones, and Linc sees her through his fellow-students' eyes. He's convinced his chances at a social life are over until a cemetery-related project makes him sought-after by fellow students he's not so sure he wants as friends."
Young Adult Literature Set in Iowa
"Humor, agriculture and young love all come together in Joan Bauer's first novel, set in rural Iowa. Sixteen-year-old Ellie Morgan's life would be almost perfect if she could just get her potentially prize-winning pumpkin to put on about 200 more pounds. And if she could take off 20 herself…in hopes of attracting Wes, the new boy in town."
Children's Books about Iowa
Picture Books about Iowa
H is for Hawkeye: An Iowa Alphabet by Patricia A. Pierce 
"Did you know the Hawkeye State got its nickname from Chief Black Hawk of the Sauk tribe? Or that D is for Des Moines, the capital with the golden dome? Or that Iowa is bordered on each side by navigable rivers? The Missouri marks the western border and the Mississippi forms its eastern border. H is for Hawkeye presents these and many other interesting facts about the great state of Iowa."
This series of books called Discover America State By State are some of my favorites for introducing a state to kids. Each letter states a fact or a thing about that state. For example, for Iowa letter A is for American Gothic and B is for Bix Beiderbecke and so on. Each letter comes with a four line rhyme about that respective letter's fact or subject. What I love most is on the side of the page it gives more in-depth description about each subject. It's a great jumping off point for what sparks an interest in your child!
Numbers in a Row: An Iowa Number Book by Patricia A. Pierce 
"There is more to love about Iowa than cornfields and livestock. It's true there are five pigs for every citizen in Iowa, but it is also home to the ice cream capital of the world and the place where trampolines were invented. Explore Iowa and find the National Farm Toy Museum, the world's "crookedest" street, the birthplace of Eskimo Pies and bandleader Glenn Miller. With lively text, engaging rhymes and appealing illustrations, Numbers in a Row makes the history of this great state real and relevant to children everywhere."
"Explore the natural world with Gail Gibbons in this introduction to farming and the work done on a farm throughout the seasons. Farms are busy places throughout the year. Animals are born, fields are plowed and planted, and crops are harvested. The winters are quiet, but there are always chores to be done, and soon spring will come again."
Children's Books about Famous Iowans
Picture Books about Historic People from Iowa
Two Scarlet Songbirds: A Story of Anton Dvorak by Carole Lexa Schaefer
"Fact and fiction come together in a magically imagined tale of the composer Anton Dvorák's inspiration for 'American Quartet.' Transfixed by the birdsong of the little Iowa river town where he and his family are spending the summer, Dvorák seeks out the beautiful song of the scarlet tanager. And as the tanager woos a mate and begins to build a nest, Dvorák writes the bird's music down on everything from paper to shirtsleeves. At the end of one long summer evening, the scarlet tanager hears familiar music from the town's schoolhouse and settles on a branch nearby to listen. Inside, Dvorák and his friends play the first rehearsal of 'American Quartet,' inspired by the little songbird. Then, while one plays on, the other flies home."
Kate Shelley and the Midnight Express by Margaret K. Wetterer
"Kate stared at the rickety wooden bridge. There were boards loose on its narrow walkway. There was no railing to hold on to. She was afraid to cross this bridge even in daylight. But she had to cross it now. She had to get to the train station in time to stop the midnight express. When a heavy storm destroyed the bridge over Honey Creek, near Kate Shelley's home in Moingona, Iowa, the fifteen-year-old bravely rushed out into the storm, saving the lives of two men and preventing hundreds of other lives from being lost. This is the true story of a young girl's resourcefulness and courage in the face of great danger."
Kids Books about Grant Wood
Artist in Overalls, The Life of Grant Wood by John Duggleby
"The renowned painting American Gothic is famous around the world, but what do we know about the artist? This lively biography follows Grant Wood as he develops from a shy farm boy into a celebrated artist. This is the first published biography of this American artist specifically geared to young readers."
American Gothic: The Life of Grant Wood by Susan Wood
"Grant Wood was the father of regionalism, an artistic movement that celebrated the simple and real-life surroundings of the people. When studying art in Europe in the early 20th century, Grant couldn't find a style that touched his heart quite right. Impressionism, cubism, and abstract art didn't reflect his view of the world. It wasn't until he stumbled upon Gothic art that Grant recognized something familiar. Back home in America, Grant asked his sister and his dentist to pose for what would become the founding, iconic image of regionalism and a uniquely American work of art. Grant's art celebrated hard-working Americans who finally saw themselves in fine art. American Gothic is a picture-book biography that explores the birth of the famous painting, the movement that made it possible, and the artist who created it all."
Grant and Tillie Go Walking by Monica Kulling 
"Grant Wood believed that to be a real artist, he had to live in Paris. But once he got there, he realized that to be a great painter he needed to return to the people and places that he knew and loved the best. Inspired by the life of artist Grant Wood, this is the sensitively imagined story of the great American painter and a cow named Tillie. A gently wise picture book that will encourage young readers and artists to trust the love that is sometimes only found close to home."
Books Set in Iowa (for Mom!)
I love to read, and I love a good theme or challenge for a reading list. So my final two books on this book list are one adult fiction and one adult non-fiction.
Fiction Book Set in Iowa
What's Eating Gilbert Grape by Peter Hedges
"Just about everything in Endora, Iowa (pop. 1,091 and dwindling) is eating Gilbert Grape, a twenty-four-year-old grocery clerk who dreams only of leaving. His enormous mother, once the town sweetheart, has been eating nonstop ever since her husband's suicide, and the floor beneath her TV chair is threatening to cave in. Gilbert's long-suffering older sister, Amy, still mourns the death of Elvis, and his knockout younger sister has become hooked on makeup, boys, and Jesus: in that order. But the biggest event on the horizon for all the Grapes is the eighteenth birthday of Gilbert's younger brother, Arnie, who is a living miracle just for having survived so long. As the Grapes gather in Endora, a mysterious beauty glides through town on a bicycle and rides circles around Gilbert, until he begins to see a new vision of his family and himself."
Non-fiction Book Set In Iowa
Midnight Assassin: A Murder in America's Heartland by Patricia L. Bryan
"In 1900, Margaret Hossack, the wife of a prominent Iowa farmer, was arrested for bludgeoning her husband to death with an ax while their children slept upstairs. The community was outraged: How could a woman commit such an act of violence? Newspapers across the country carried the story, and community sentiment was divided over her guilt. Patricia Bryan and Thomas Wolf examine the harsh realities of farm life at the turn of the century and look at the plight of women, legally, socially, and politically, during that period. What also emerges is the story of early feminist Susan Glaspell, who covered the Hossack case as a young reporter and later used it as the basis for her acclaimed work 'A Jury of Her Peers.'
And there you have it! 20 living books about Iowa. It is my hope that this book list provides you with JUST ONE book to share with your kids. For our homeschool unit we read The Luck of the Buttons. If you love The Music Man, then you will love this book!
From the Missouri River to the Mississippi River, and from Grant Wood to Kate Shelley, I hope you find some fun things to learn about Iowa!
Don't forget to check out the other states!