Keep reading for 20 of the best books about Vermont!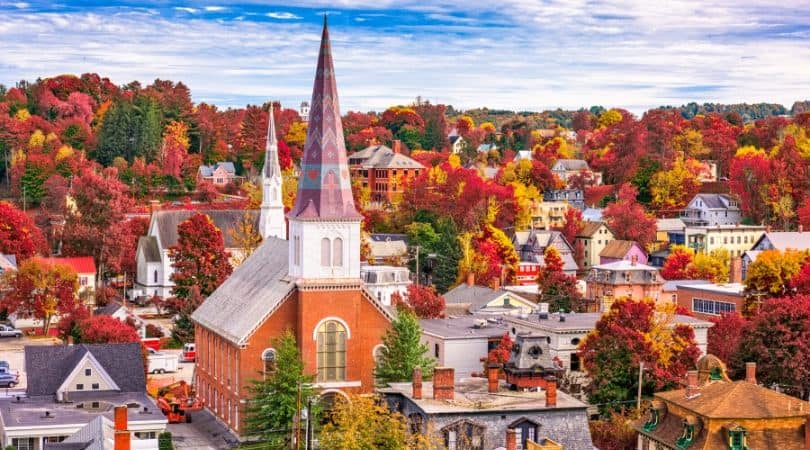 Did you know that Vermont was it's own country from 1777-1791? And that it was the first state AFTER the original 13 colonies? During the American Revolution, Vermonters declared independence both from Great Britain and from New York (who was claiming Vermont as part of New York). It was until 1791 Vermont negotiated its way into the union. Fascinating history our country has!
Studying and learning about Vermont and its history can be achieved without bland nonfiction textbooks. My approach to homeschooling involves what as Charlotte Mason coined, living books. Living books are books that make the subject you are studying come alive and are written by people who love the subject.
While this book list might not entirely filled nonfiction books filled with facts and figures about Vermont they DO make the state come alive to the reader. Some books are about Vermont and its history, while others are set in Vermont, or famous people from Vermont.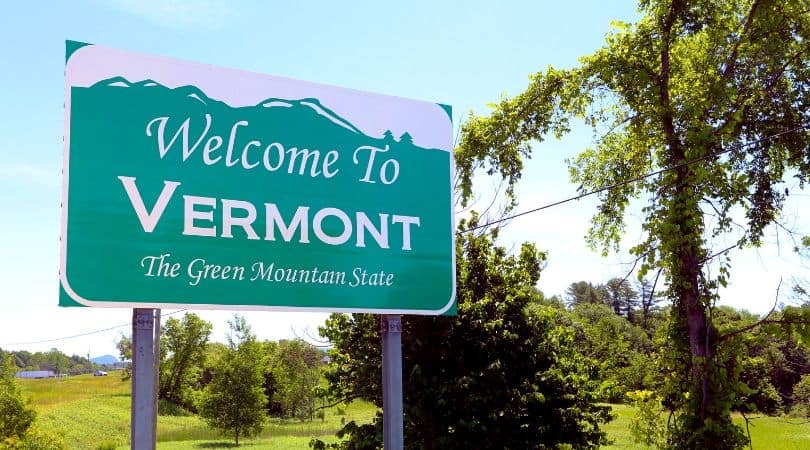 ICYMI, click HERE for all the other state book lists!
Vermont History and Facts
Vermont is nicknamed the Green Mountain State because when French explorer Samuel de Champlain first viewed the state's deep blue-green mountain ranges and white pine trees he dubbed it "the green mountain."
Motto – Freedom and Unity
Vermont entered the Union on March 4, 1791. It was the 14th state.
Vermont is named from the French words "vert mont" which means "green mountain."
Chester Arthur, the 20th President of the United States, was born in Fairfield, VT on October 5, 1829. Calvin Coolidge, the 29th President was born on July 4, 1872 in Plymouth, Vermont.
Montpelier is the capital of Vermont.
This post contains affiliate links. If you click and make a purchase, we earn a commission at NO extra cost to you. For more information, please read my full disclosure policy.
Descriptions come from Amazon; some are edited for length
Living Books about Vermont
Books Set in Vermont
Illustrated Chapter Books set in Vermont
Kitty and Mr. Kipling: Neighbors in Vermont by Lenore Blegvad
"After the world-famous author, Rudyard Kipling, and his wife move into the house next to their farm in rural Vermont, young Kitty is excited by her new and interesting creative neighbor from whom she learns a lot about the world, yet when the community turns on their new resident, Kitty isn't so quick to join the crowd despite the things that are being said."
America's Ethan Allen by Dr. Stewart Holbrook
"A biography of the patriot and soldier who led the Green Mountain Boys in the capture of Fort Ticonderoga from the British in 1775."
Many of the books about Ethan Allen and the Green Mountain Boys are out of print but hopefully you will have luck at your local library. My library has several of the following:
Ethan Allen and the Green Mountain Boys by Slater Brown
The Story of the Green Mountain Boys by Susan Clinton
Ethan Allen and the Green Mountain Boys by Conrad Stein
Ethan Allen: The Green Mountain boys and Vermont's path to statehood by Emily Raabe
Ethan Allen: Green Mountain Rebel by Brenda Haugen
Aaron and the Green Mountain Boys by Patricia Gauch
Rabbits and Redcoats by Robert Newton Peck
The Canada Geese Quilt by Natalie Kinsey-Warnock
"The spring brings many changes to ten-year-old Ariel's life. The prospect of a new baby in the house leaves her feeling strange and left out. But Grandma knows how to make Ariel feel a part of things. Together, secretly, they will make a beautiful quilt as a special gift for the baby. Then Grandma suffers a stroke, and Ariel is left lost and afraid. Determined to complete their gift, Ariel struggles to piece the quilt together. But will that inspire her grandmother to get better and share in her efforts?"
Chapter books set in Vermont
Justin Morgan Had a Horse by Marguerite Henry
"Joel Goss knows that Little Bub is a special colt, even though he's a runt. And when schoolteacher Justin Morgan asks Joel to break the colt in, Joel is thrilled! Soon word about Little Bub has spread throughout the entire Northeast. This spirited colt can pull heavier loads than a pair of oxen. And run faster than thoroughbreds! This is the story of the little runt who became the father of the world-famous breed of American horses: the Morgan."
Pollyanna by Eleanor H. Porter
"The orphan girl Pollyanna moves in with her strict aunt in New England. Despite a difficult start, Pollyanna's exuberance and positivity affects everyone who meets her, and she spreads joy and love wherever she goes. But when tragedy strikes, Pollyanna finds her optimistic attitude tested, and she must learn to find happiness again."
"Robert Newton Peck started his famous Soup series with this hilarious account of the nonstop mischief he and his best friend Soup got into as children in 1920s Vermont. You'll learn all about the time Soup taught Rob how to whack apples, only to wind up breaking a church's stained-glass window! Sure, the 2 pals have lots of fun doing things like rolling down a steep hill in barrels, but they just can't seem to stay out of trouble."
The Brilliant Fall of Gianna Z. by Kate Messner
"In the mountains of rural Vermont, fall is a season of beauty and transformation . . . but not for Gianna Z. With less than one week to collect twenty-five leaves for a science project, her spot at cross-country sectionals is in serious peril. Plus with a dad who runs a funeral parlor out of the basement, a grandma who keeps losing her teeth, and a rival trying to steal her spot on the team, Gee just wishes life could leave her alone to finish her project. But when Nonna disappears one afternoon, suddenly some things seem more important than projects and races."
Understood Betsy by Dorothy Canfield Fisher
"For all of her nine years, fragile Elizabeth Ann has heard her Aunt Frances refer in whispers to her 'horrid Putney cousins.' But when her aunt can no longer care for her, Elizabeth Ann must leave her sheltered life to live in the wilds of Vermont with those distant relatives. In the beginning, Elizabeth Ann is shocked by country living: pets are allowed to sleep in the house and children are expected to do chores! But with country living comes independence and responsibility, and in time, Elizabeth Ann finds herself making friends and enjoying her new family. When the year is up and Aunt Frances comes to get her niece, she finds a healthier, prouder girl with a new name, Betsy, and a new outlook on life."
Young Adult Literature Set in Vermont
Return to Sender by Julia Alvarez
"After Tyler's father is injured in a tractor accident, his family is forced to hire migrant Mexican workers to help save their Vermont farm from foreclosure. Tyler isn't sure what to make of these workers. Are they undocumented? And what about the three daughters, particularly Mari, who is proud of her Mexican heritage but also increasingly connected to her American life. Her family lives in constant fear of being discovered by the authorities and sent back to the poverty they left behind in Mexico. Can Tyler and Mari find a way to be friends despite their differences?"
A Day No Pigs Would Die by Robert Newton Peck
"While skipping school one day, twelve-year-old Rob Peck finds himself assisting a neighbor's cow through the delivery of a pair of calves (and saving her life from her goiter), an action that earns him a piglet he names Pinky. Pinky quickly becomes Rob's best friend and closest companion. Rob's father is named Haven, and he is a butcher working to save money to pay off the Peck family's farm. Rob raises Pinky to be a prize-winning animal, while learning lessons about hard work, acceptance, and the importance of education from his family and friends in rural Vermont during the late 1920s. Ultimately, tragic circumstances force Rob to learn that life is heartbreakingly impermanent and that wealth should never be measured in material goods alone."
Picture Books set in Vermont
Nora's Ark Hardcover by Natalie Kinsey-Warnock
"A flood is coming! When the water climbs to the rooftops, where will everybody go? To Grandma's house, of course, high up on a hill. Before long, the house is full of people, chickens, ducks, pigs, horses, cats, and even a cow. There's only one person missing, Grandpa! This heartwarming story by Natalie Kinsey-Warnock is based on a real-life event: the Vermont Flood of 1927. Watercolors by Caldecott Medal-winning artist Emily Arnold McCully capture both the sweeping drama of the flood and the comfort of a cozy kitchen filled with friends, neighbors, and good cheer."
The Two Brothers by William Jaspersohn
"Two brothers, Heinrich and Friedrich, immigrate separately to America, following each other by several years. Neither knows what has become of the other. One day the elder brother, Heinrich, is sent to mend fence with the neighboring farmer's hired man. To his delight he discovers the man he is to work with is none other than his younger brother, Friedrich!"
Tricking the Tallyman by Jacqueline Davies
"Are kids interested in learning about the very first American census? Probably not. Do young readers clamor for stories set in the very, very olden days of the late 18th century? Uh, not really. Okay, but do they like nutty cat-and-mouse trickery, wacky slapstick, and animals disguised as people? You bet! Tricking the Tallyman accomplishes the tricky task of showing kids the way the 1790 census was tabulated (or tallied) and how the country's new citizens came to understand (after much misunderstanding) how it worked to help them and the country."
Champ and Me by the Maple Tree: A Vermont Tale by Ed Shankman
"Author Ed Shankman and illustrator Dave O'Neill turn their attention to Vermont and one of that state's great legends: Champ, the Monster of Lake Champlain. Champ is seen through the eyes of a likable tomboy, who sets out from her favorite spot by a maple tree and finds herself by the lakeshore. She meets Champ, who turns out to be a very kid-friendly monster: inviting the girl to sit on his head and ride with him through the Vermont countryside. Together, these unlikely friends dash past farms and mills and over covered bridges, meet some cows, eat some maple syrup-covered cheese, and eventually return to the girl's favorite maple tree."
Chapter Books about Vermont History
Counting on Grace by Elizabeth Winthrop
"At 12, Grace and her best friend Arthur must leave school and go to work as 'doffers' on their mothers' looms in the mill. Grace's mother is the best worker, fast and powerful, and Grace desperately wants to help her. But she's left handed and doffing is a right-handed job. Grace's every mistake costs her mother, and the family. She only feels capable on Sundays, when she and Arthur receive special lessons from their teacher. Together they write a secret letter to the Child Labor Board about underage children working in the mill. A few weeks later a man from the Child Labor Board shows up with a camera! It is the famous reformer Lewis Hine, undercover and collecting evidence. Grace's brief acquaintance with Hine and the photos he takes of her are a gift that changes her sense of self, her future, and her family's future."
Love, Aubrey by Suzanne LaFleur
"A beautifully written and deeply moving middle-grade novel with characters to cherish and a story that deals with tragedy and loss in a fresh way. Aubrey has suffered an unbelievable loss, and goes to live with her grandmother in Vermont in order to heal. There she makes new friends, learns to cope with what has happened, and begins to figure out how to move on. Readers will fall in love with Aubrey from page one, and hold their breath until the very end, when she has to make one of the biggest decisions of her life."
Children's Books about Vermont
M is for Maple Syrup by Cynthia Furlong Reynolds
This series of books called Discover America State By State are some of my favorites for introducing a state to kids. Each letter states a fact or a thing about that state. For example, for Vermont letter B is for bridge, and Letter C is for capital. Each letter comes with a four line rhyme about that respective letter's fact or subject. What I love most is on the side of the page it gives more in-depth description about each subject. It's a great jumping off point for what sparks an interest in your child!
"Nora and Gramp are collecting sap from maple trees to make maple syrup. The horses, Bonnie and Stella, are working hard, too, pulling the heavy sap tank through the snow from tree to tree. This third story about Nora and her grandparents brings the beauty of a Vermont farm in early spring vividly to life."
Children's Books about Famous People from Vermont
Snowflake Bentley by Jacqueline Briggs Martin
"From the time he was a small boy in Vermont, Wilson Bentley saw snowflakes as small miracles. And he determined that one day his camera would capture for others the wonder of the tiny crystal. Bentley's enthusiasm for photographing snowflakes was often misunderstood in his time, but his patience and determination revealed two important truths: no two snowflakes are alike; and each one is startlingly beautiful. His story is gracefully told and brought to life in lovely woodcuts, giving children insight into a soul who had not only a scientist's vision and perseverance but a clear passion for the wonders of nature."
John Deere, That's Who! by Tracy Nelson Maurer
"Back in the 1830s, who was a young blacksmith from Vermont, about to make his mark on American history? John Deere, that's who! Who moved to Illinois, where farmers were struggling to plow through the thick, rich soil they called gumbo? Who tinkered and tweaked and tested until he invented a steel plow that sliced into the prairie easy as you please? Long before the first tractor, who changed farming forever? John Deere, that's who! Beautiful illustrations, including spectacular landscapes, reflect the time period and bring John Deere's remarkable story to life."
Books Set in Vermont (for Mom!)
I love to read, and I love a good theme or challenge for a reading list. So my final two books on this book list are one adult fiction and one adult non-fiction.
Fiction Book Set in Vermont
The Secret History by Donna Tartt
"Under the influence of their charismatic classics professor, a group of clever, eccentric misfits at an elite New England college discover a way of thinking and living that is a world away from the humdrum existence of their contemporaries. But when they go beyond the boundaries of normal morality their lives are changed profoundly and forever, and they discover how hard it can be to truly live and how easy it is to kill?"
Non-fiction Book Set In Vermont
Bag Balm and Duct Tape: Tales of a Vermont Doctor by Beach Conger
"When young Dr. Beach Conger accepted a hospital appointment in rural Vermont, it was a mail-order marriage without either party seeing the other. He envisioned living out the rest of his days splitting wood, healing the sick, and being adored as a kindly country doctor. His new patients figured they had their work cut out for them, breaking in this whippersnapper M.D. from Berkeley, California. Beach Conger's tale of his training in the art of country doctoring is a joy."
And there you have it! 20 living books about Vermont. It is my hope that this book list provides you with JUST ONE book to share with your kids.
From the snowflakes to maple syrup, and from Ethan Allen to Kipling, I hope you find some fun things to learn about Vermont!
What kind of books does your child love best? What kind of books would you like to see in the future? Drop a comment below to let me know!
---
Don't forget to check out the other state book lists!