Keep reading for the best children's books about Tennessee!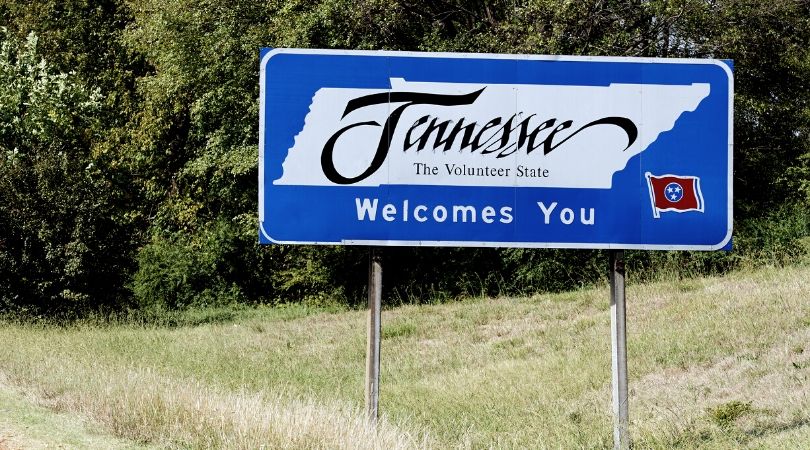 I don't talk about my husband much here at The Surly Housewife, but he is about the most adorable man on planet Earth. One reason (of many!) is that when driving in or around the Nashville/Franklin, TN area he looks in every Ford Raptor to see if Dave Ramsey is driving. I make fun but one of these days I'm sure he will see him!
Not only is Tennessee the home of Dave Ramsey and Ramsey Solutions, it is also the home of Graceland, the Appalachian Mountains, and three U.S. Presidents!
However, learning about Tennessee is more than learning about it's famous residents and memorizing the state capital. My approach to studying the 50 states involves what as Charlotte Mason coined, living books. Living books are books that make the subject you are studying come alive and are written by people who love the subject.
This book list contains non-fiction books about Tennessee, picture books and chapter books set in Tennessee, as well as books about Tennessee history and historical people from Tennessee. Let's get to it!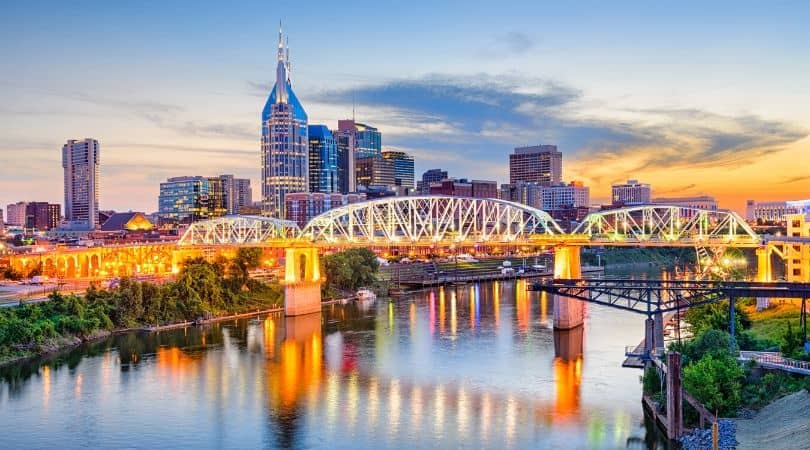 ICYMI, click HERE for all the other state book lists!
Tennessee History and Facts
Tennessee is nicknamed the Volunteer State.
Motto – Agriculture and commerce
Tennessee entered the Union on June 1, 1796. It was the 16th state.
Tennessee is named for a Yuchi word meaning "meeting place."
Andrew Jackson, James Polk, and Andrew Johnson all represented the state of Tennessee before becoming President.
Nashville is the capital of Tennessee.
This post contains affiliate links. If you click and make a purchase, we earn a commission at NO extra cost to you. For more information, please read my full disclosure policy.
Living Books about Tennessee
Picture Books about Tennessee
V is for Volunteer: A Tennessee Alphabet by Michael Shoulders
"From A to Z, you'll discover Tennessee's mountains, music, and mammals. V is for Volunteer stimulates children to learn about their state through familiar Tennessee icons like the Grand Ole Opry and Graceland. And even lifelong Tennesseans may learn something new about the Jubilee Singers and W.C. Handy. Illustrator Bruce Langton captures the beauty, natural wonder, and history of the Volunteer state through his colorful paintings. With poetry for younger children and expository text for older readers, author and Tennessee educator Mike Shoulders shares the important lessons of the Trail of Tears, Sequoyah and his alphabet and so much more. V is for Volunteer will intrigue and charm readers and Tennesseans of all ages!"
This series of books called Discover America State By State are some of my favorites for introducing a state to kids. Each letter states a fact or a thing about that state. For example, for Tennessee letter A is for Appalachian Mountains and the letter B is for Beale Street and so on. Each letter comes with a four line rhyme about that respective letter's fact or subject. What I love most is on the side of the page it gives more in-depth description about each subject. It's a great jumping off point for what sparks an interest in your child!
Count on Us: A Tennessee Number Book by Michael Shoulders
"This fun, colorful, and superbly informative book teaches children about numbers using recognizable places, events, and facts from this great state. As elementary students grasp the concept and visual of 30 purple passion flowers, they'll also learn that the passion flower is the state wildflower and that Native Americans in Tennessee used the plants to help heal cuts and bruises. Numbers throughout the book are explained with a simple rhyme for younger children and are accompanied by detailed expository text for older learners."
Picture Books set in Tennessee
John Phillip Duck by Patricia Polacco
"Based on the real-life tradition of the Hotel Peabody Ducks! Edward loves his pet duck more than anything. He raised it from a baby, and now it follows him everywhere, even to the big fancy hotel in Memphis where he works with his father. Everyone at the Peabody loves to watch that little duck do tricks; why, it can even waddle up and down in time to a John Philip Sousa march, which is why Edward decides to name it John Philip. But one day the hotel owner finds John Philip in his lobby fountain and he is NOT amused. Until Edward has an idea. What if he can train a bevy of ducks to march along behind him, swim in the fountain all day, and then march out every evening? If Edward can do that, the owner tells him, he and John Philip will have a permanent place at the Peabody. But can it really be done?"
Virgie Goes to School with Us Boys by Elizabeth Fitzgerald Howard
"All Virgie wants is to go to school with her brothers George, Will, Nelson, Val, and C. C. But they keep saying she's too little for the long, seven-mile walk, and that girls don't need school. Well, Virgie doesn't agree, and she's not gonna let anything stand in her way."
Memphis, Martin, and the Mountaintop: The Sanitation Strike of 1968 by Alice Faye Duncan
"In February 1968, two African American sanitation workers were killed by unsafe equipment in Memphis, Tennessee. Outraged, the sanitation workers went on strike. The strike lasted two months, during which Dr. Martin Luther King Jr. was called to help with the protests. While his presence was greatly inspiring to the community, this unfortunately would be his last stand for justice. He was assassinated in his Memphis hotel the day after delivering his 'I've Been to the Mountaintop' sermon in Mason Temple Church. Inspired by the memories of a teacher who participated in the strike as a child, author Alice Faye Duncan reveals the story of the Memphis sanitation strike from the perspective of nine-year-old Lorraine Jackson with a riveting combination of poetry and prose."
The Quickest Kid in Clarksville by Pat Zietlow Miller
"It's the day before the big parade. Alta can only think about one thing: Wilma Rudolph, three-time Olympic gold medalist. She'll be riding on a float tomorrow. See, Alta is the quickest kid in Clarksville, Tennessee, just like Wilma once was. It doesn't matter that Alta's shoes have holes because Wilma came from hard times, too. But what happens when a new girl with shiny new shoes comes along and challenges Alta to a race? Will she still be the quickest kid? The Quickest Kid in Clarksville is a timeless story of dreams, determination, and the power of friendship."
Chapter Books about Tennessee History
The Perilous Road by William O Steele
"Fourteen-year-old Chris, bitterly hating the Yankees for invading his Tennessee mountain home, learns a difficult lesson about the waste of war and the meaning of tolerance and courage when he reports the approach of a Yankee supply troop to the Confederates, only to learn that his brother is probably part of that troop."
Abby Takes a Stand by Patricia McKissack
"Why has their grandmother bothered keeping a menu from a restaurant that closed years ago, a restaurant that never served very good food in the first place? Three cousins listen to Gee's own story, set in the early days of lunch counter sit-ins in Nashville, a time when a black child could sit up front in a city bus but still could not get a milk shake at a downtown restaurant. Through the eyes of ten-year-old Abby, young readers see what it was like to live through those days, and they'll come to understand that, like a menu, freedom is about having choices. Each book in this series tells the story behind a different 'scrap of time'; together they form a patchwork quilt of one black family's past that stretches back for generations.
Chapter books Set in Tennessee
Autumn Winifred Oliver Does Things Different by Kristin O'Donnell Tubb
"Autumn Winifred Oliver prides herself on doing things her way. But she meets her match when she, her mama, and her pin-curled older sis, Katie, move in with her cantankerous Gramps. The Oliver gals were supposed to join Pop in Knoxville for some big-city living, but Gramps's recent sick spell convinced Mama to stay put in Cades Cove, a place of swishy meadows and shady hollers that lies on the crest of the Great Smoky Mountains. And it's not like there's nothing going on in the Cove. Folks are all aflutter about turning their land into a national park, and Autumn's not sure what to think. Loggers like Pop need jobs, but if things keep going at the current rate, the forests will soon be chopped to bits. And Gramps seems to think there's some serious tourist money to be made. Looks like something different is definitely in order. . . ."
A Snicker of Magic by Natalie Lloyd
"Midnight Gulch used to be a magical place, a town where people could sing up thunderstorms and dance up sunflowers. But that was long ago, before a curse drove the magic away. Twelve-year-old Felicity knows all about things like that; her nomadic mother is cursed with a wandering heart. But when she arrives in Midnight Gulch, Felicity thinks her luck's about to change. A 'word collector,' Felicity sees words everywhere, but Midnight Gulch is the first place she's ever seen the word 'home.' Felicity wants to stay in Midnight Gulch more than anything, but first, she'll need to figure out how to bring back the magic, breaking the spell that's been cast over the town and her mother's broken heart."
"An 11-year-old boy living in Memphis in 1959 throws the meanest fastball in town, but talking is a whole different ball game. He can barely say a word without stuttering, not even his own name. So when he takes over his best friend's paper route for the month of July, he knows he'll be forced to communicate with the different customers, including a housewife who drinks too much and a retired merchant marine who seems to know just about everything. The paper route poses challenges, but it's a run-in with the neighborhood junkman, that stirs up real trouble and puts the boy's life, as well as that of his family's devoted housekeeper, in danger."
Last in a Long Line of Rebels by Lisa Lewis Tyre
"Lou might be only twelve, but she's never been one to take things sitting down. So when her Civil War-era house is about to be condemned, she's determined to save it, either by getting it deemed a historic landmark or by finding the stash of gold rumored to be hidden nearby during the war. As Lou digs into the past, her eyes are opened when she finds that her ancestors ran the gamut of slave owners, renegades, thieves and abolitionists. Meanwhile, some incidents in her town show her that many Civil War era prejudices still survive and that the past can keep repeating itself if we let it. Digging into her past shows Lou that it's never too late to fight injustice, and she starts to see the real value of understanding and exploring her roots."
Picture books about Famous People from Tennessee
Coat of Many Colors by Dolly Parton
"Country music legend Dolly Parton's rural upbringing in the Smoky Mountains of Tennessee provides the backdrop for this special picture book. Using lyrics from her classic song 'Coat of Many Colors,' the book tells the story of a young girl in need of a warm winter coat. When her mother sews her a coat made of rags, the girl is mocked by classmates for being poor. But Parton's trademark positivity carries through to the end as the girl realizes that her coat was made with love 'in every stitch.' Beautiful illustrations pair with Parton's poetic lyrics in this heartfelt picture book sure to speak to all young readers."
Hammering for Freedom by Rita Lorraine Hubbard
"Born into slavery in Chattanooga, Tennessee, William 'Bill' Lewis learned the blacksmith trade as soon as he was old enough to grip a hammer. He proved to be an exceptional blacksmith and earned so much money fixing old tools and creating new ones that he was allowed to keep a little money for himself. With just a few coins in his pocket, Bill set a daring plan in motion: he was determined to free his family."
Step Right Up: How Doc and Jim Key Taught the World about Kindness by Donna Janell Bowman
"William 'Doc' Key had a special way with animals. Growing up an enslaved child in Tennessee, Doc was sent to plantations around the state to care for sick and wounded animals. When the Civil War ended and Doc was freed, he began to dream of breeding a winning racehorse. But those dreams were dashed when his colt was born weak and sickly. Although many people would have euthanized the colt, Doc nursed him back to health and named him Jim. Noticing a level of curiosity and eagerness in the horse, Doc began teaching Beautiful Jim Key first to recognize letters, then to read, write, add, subtract, and more. Doc soon took his talented horse on the road, spreading a message of patience and kindness, over cruelty, to all animals."
Wilma Unlimited: How Wilma Rudolph Became the World's Fastest Woman by Kathleen Krull
"Before Wilma Rudolph was five years old, polio had paralyzed her left leg. Everyone said she would never walk again. But Wilma refused to believe it. Not only would she walk again, she vowed, she'd run. And she did run! All the way to the Olympics, where she became the first American woman to earn three gold medals in a single olympiad."
A Band of Angels by Deborah Hopkinson
"Family history being told to young Beth by her aunt is the framework for this inspiring story of the Fisk University Jubilee Singers. Beth's great-great-grandmother Ella, who was born into slavery, and who struggled to save enough money to go to Fisk, is based on the real-life Ella Sheppard. Ella didn't save nearly enough, but she went to school anyway, and while there joined the chorus, which went on the road to raise money to repair Fisk's dilapidated buildings."
Richard Wright and the Library Card by William Miller
"As a young black man in the segregated South of the 1920s, Wright was hungry to explore new worlds through books, but was forbidden from borrowing them from the library. This touching account tells of his love of reading, and how his unwavering perseverance, along with the help of a co-worker, came together to make Richard's dream a reality. An inspirational story for children of all backgrounds, Richard Wright and the Library Card shares a poignant turning point in the life of a young man who became one of this country's most brilliant writers, the author of Native Son and Black Boy. "
Sequoyah: The Cherokee Man Who Gave His People Writing by James Rumford
"The story of Sequoyah is the tale of an ordinary man with an extraordinary idea: to create a writing system for the Cherokee Indians and turn his people into a nation of readers and writers. The task he set for himself was daunting. Sequoyah knew no English and had no idea how to capture speech on paper. But slowly and painstakingly, ignoring the hoots and jibes of his neighbors and friends, he worked out a system that surprised the Cherokee Nation (and the world of the 1820s) with its beauty and simplicity."
Who Was Davy Crockett? by Gail Herman
"Davy Crockett, the King of the Wild Frontier, is a man of legend. He is said to have killed his first bear when he was three years old. His smile alone killed another, and he skinned a bear by forcing him to run between two trees. Fact or fiction? Find out the real story of this folk hero, who did love to hunt bears, served as a congressman for Tennessee, and fought and died at the Alamo."
Books Set in Tenneessee (for Mom!)
I love to read, and I love a good theme or challenge for a reading list. So my final two books on this book list are one adult fiction and one adult non-fiction.
Fiction Book Set in Tennessee
Child of God by Cormac McCarthy
"In this taut and chilling book, Lester Ballard, a violent, dispossessed man falsely accused of rape, haunts the hill country of East Tennessee when he is released from jail. While telling his story, Cormac McCarthy depicts the most sordid aspects of life with dignity, humor, and characteristic lyrical brilliance."
Non-fiction Book Set In Tennessee
The Girls of Atomic City: The Untold Story of the Women Who Helped Win World War II by Denise Kiernan
"An incredible true story of the top-secret World War II town of Oak Ridge, Tennessee, and the young women brought there unknowingly to help build the atomic bomb. At the height of World War II, Oak Ridge, Tennessee, was home to 75,000 residents, and consumed more electricity than New York City, yet it was shrouded in such secrecy that it did not appear on any map. Thousands of civilians, many of them young women from small towns across the U.S., were recruited to this secret city, enticed by the promise of solid wages and war-ending work. What were they actually doing there? Very few knew. The purpose of this mysterious government project was kept a secret from the outside world and from the majority of the residents themselves. The women who kept this town running would find out at the end of the war, when Oak Ridge's secret was revealed and changed the world forever."
And there you have it! 20 living books about Tennessee. It is my hope that this book list provides you with JUST ONE book to share with your kids.
From the Nashville to Memphis, and from Wilma Rudolph to seeing eye dogs, I hope you find some fun things to learn about Tennessee!