Keep reading for the best list of children's books about Louisiana!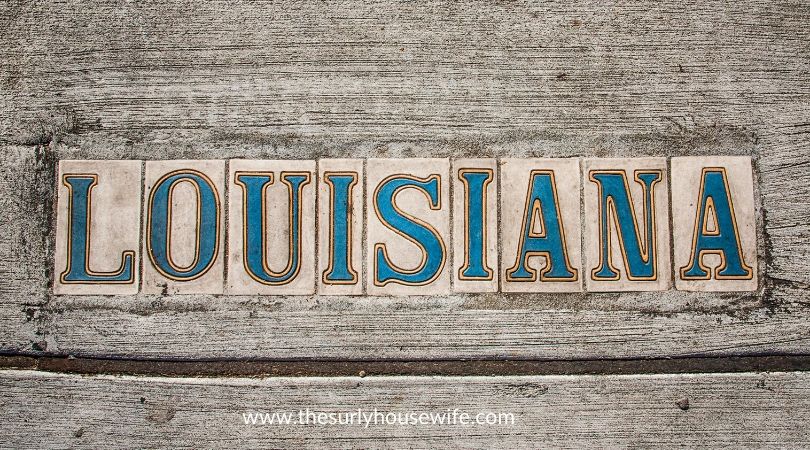 My husband and I love to laugh. We love stand-up comedy, podcasts with comedians, and just cracking jokes ourselves. One time when I really got it him good was when I texted him about our upcoming road trip to New Orleans to go on a cruise.
"WE WILL BE DRIVING BY THE HOMETOWN OF BRITNEY SPEARS!!!"
He thought I was serious. We were, in fact, driving by the hometown of Britney Spears, but I wasn't at all excited about it. Just trolling. And he was very scared that we were going to have to someone play homage to a pop star that I had never expressed interest in before. Maybe you had to be there.
Anyway, Louisiana is more than the home of Britney Spears. It's the home of New Orleans, Mardi Gras, beignets, jazz, the Mississippi Delta, and more!
However, learning about Louisiana is more than memorizing cities (and famous pop stars) along with the state's main industrial and agricultural products. My approach to studying the 50 states involves what as Charlotte Mason coined, living books. Living books are books that make the subject you are studying come alive and are written by people who love the subject.
This book list contains non-fiction books about Louisiana, picture books and chapter books set in Louisiana, as well as some books about Hurricane Katrina. Let's get to it!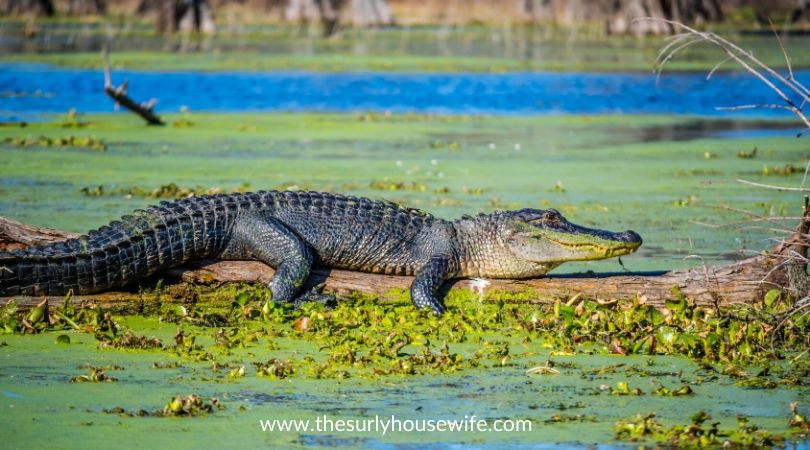 ICYMI! Here are the lists for the other states. And make sure to subscribe to my resource library for printable lists of each of the states!
Louisiana History and Facts
Louisiana is nicknamed the Pelican State.
Motto – Union, justice, confidence.
Louisiana entered the Union on April 30, 1812. It was the 18th state.
Louisiana is named in honor of Louis XIV of France.
Zachary Taylor, the 12th President, was a Louisiana citizen before he became President in 1848.
Baton Rouge is the capital of Louisiana.
This post contains affiliate links. If you click and make a purchase, we earn a commission at NO extra cost to you. For more information, please read my full disclosure policy.
Descriptions come from Amazon; some are edited for length
Living Books about Louisiana
Picture Books About Louisiana
P is for Pelican: A Louisiana Alphabet by Anita C. Prieto
"From its festive Mardi Gras parades to its wildlife-filled swamps, Louisiana is a state of great diversity. P is for Pelican: A Louisiana Alphabet is an alphabet book that introduces readers young and old to the culture, history, and wonders of this Gulf state. Author Anita C. Prieto's fun-filled rhymes and informative text are highlighted by artist Laura Knorr's vivid and descriptive artwork."
This series of books called Discover America State By State are some of my favorites for introducing a state to kids. Each letter states a fact or a thing about that state. For example, for Louisiana letter A is for Alligator and the letter B is for Beignet and so on. Each letter comes with a four line rhyme about that respective letter's fact or subject. What I love most is on the side of the page it gives more in-depth description about each subject. It's a great jumping off point for what sparks an interest in your child!
Petite Rouge: A Cajun Red Riding Hood by Mike Artel
"When her grand-mère comes down wit' de flu, this Cajun Little Red knows what she has to do. With her witty cat, TeJean, she sets off in a pirogue to bring Grand-mère some gumbo. Who should she meet upon the way, but that big ol' swamp gator, Claude! Mean ol' Claude may want to gobble up Petite Rouge, but she and TeJean have a better idea. Before long, they have Claude running back to the bayou where he belongs! A classic tale soaked in Cajun hot sauce!"
Bill and Pete to the Rescue by Tomie dePaola
"When Little Jane Allison Crocodile is kidnapped by the Bad Guy's Big Bad Brother from Louisiana, Bill and his bird buddy Pete head to the rescue. But Pete gets caught by the Rich Lady and it's up to Bill to save the day."
Mama Don't Allow by Thacher Hurd
"Saxophone-playing Miles and his Swamp Band find a bevy of sharp-toothed, long-tailed alligators who love to listen to their music. But little do Miles and his band know what the alligators plan for them at the close of their jubilant all-night ball! Inspired by a traditional song, this vibrant picture book is 'ebullient, fast-paced, and funny.'"
Children's Books about Louisiana History
The Story Of Ruby Bridges by Robert Coles
"The year is 1960, and six-year-old Ruby Bridges and her family have recently moved from Mississippi to New Orleans in search of a better life. When a judge orders Ruby to attend first grade at William Frantz Elementary, an all-white school, Ruby must face angry mobs of parents who refuse to send their children to school with her. Told with Robert Coles' powerful narrative you will learn about the first African American child to integrate a New Orleans school, and Ruby's story of courage, faith, and hope."
"When Mr. Williams was a boy growing up in Arcadia, Louisiana, Calvin Coolidge was president, Martin Luther King Jr. had just been born, and children worked hard in the fields for most of the year. Many years later, Karen Barbour grew up hearing Mr. Williams tell stories about his childhood. In this beautiful book, she not only shares the memories he passed on to her but also creates stunning paintings to illustrate them. The story of Mr. J. W. Williams, lovingly told by his friend, evokes a specific time and place in American history in a way that is immediate, intimate, and relevant."
Trombone Shorty by Troy Andrews
"Hailing from the Tremé neighborhood in New Orleans, Troy 'Trombone Shorty' Andrews got his nickname by wielding a trombone twice as long as he was high. A prodigy, he was leading his own band by age six, and today this Grammy-nominated artist headlines the legendary New Orleans Jazz Fest. Along with esteemed illustrator Bryan Collier, Andrews has created a lively picture book autobiography about how he followed his dream of becoming a musician, despite the odds, until he reached international stardom. Trombone Shorty is a celebration of the rich cultural history of New Orleans and the power of music."
Freedom in Congo Square by Carole Boston Weatherford
"As slaves relentlessly toiled in an unjust system in 19th century Louisiana, they all counted down the days until Sunday, when at least for half a day they were briefly able to congregate in Congo Square in New Orleans. Here they were free to set up an open market, sing, dance, and play music. They were free to forget their cares, their struggles, and their oppression. This story chronicles slaves' duties each day, from chopping logs on Mondays to baking bread on Wednesdays to plucking hens on Saturday, and builds to the freedom of Sundays. The special experience of an afternoon spent in Congo Square and demonstrates how New Orleans' Congo Square was truly freedom's heart."
Chapter books Set in Louisiana
The Million Dollar Shot by Dan Gutman
"Eddie 'Air' Ball wants to win the Finkle Foods poetry contest for a chance to sink a million-dollar free throw at halftime of the NBA finals. He knows he can make the shot, no problem. He's not so sure he can write a winning poem, though. Luckily, Eddie has the help of his best friend, Annie 'Oakley' Stokely. Not only is Annie as good at shooting baskets as Eddie is, she also knows a lot about writing poems. Together, the two friends might have a chance to win the money that will help their parents move them out of their trailer park homes."
Dear Hank Williams by Kimberly Willis Holt
"It's 1948 in Rippling Creek, Louisiana, and Tate P. Ellerbee's new teacher has just given her class an assignment: learning the art of letter-writing. Luckily, Tate has the perfect pen pal in mind: Hank Williams, a country music singer whose star has just begun to rise. Tate and her great-aunt and uncle listen to him on the radio every Saturday night, and Tate just knows that she and Hank are kindred spirits. Told entirely through Tate's hopeful letters, Dear Hank Williams is a beautifully drawn novel that gradually unfolds a story of family love, overcoming tragedy, and an insightful girl learning to find her voice."
"Ten-year-old Sugar lives on the River Road sugar plantation along the banks of the Mississippi. Slavery is over, but laboring in the fields all day doesn't make her feel very free. Thankfully, Sugar has a knack for finding her own fun, especially when she joins forces with forbidden friend Billy, the white plantation owner's son. Sugar has always yearned to learn more about the world, and she sees her chance when Chinese workers are brought in to help harvest the cane. The older River Road folks feel threatened, but Sugar is fascinated. As she befriends young Beau and elder Master Liu, they introduce her to the traditions of their culture, and she, in turn, shares the ways of plantation life. Sugar soon realizes that she must be the one to bridge the cultural gap and bring the community together. Here is a story of unlikely friendships and how they can change our lives forever."
The Year of the Sawdust Man by A. LaFaye
"Eleven-year-old Nissa's life has never been perfect. Living in the small town of Harper, Louisiana, with a mama like hers, circa 1933, has led to lots of mean rumors. But now Mama is gone, and all the townsfolk talk about is who she might have run off with. Nissa's memories of the Sundays her mama would come home smelling of sawdust lead her to suspect the rumors could be true. Did her mama go away with the Sawdust Man? And if so, does it mean she's never coming back?"
YA Books About Louisiana
The Pirate Lafitte and the Battle of New Orleans by Robert Tallant
"A public menace to some and a local hero to others, the Crescent City's most notorious pirate left behind tales and adventures that will give young readers an insight into the life and history of New Orleans during the early 19th century."
Alligator Bayou by Donna Jo Napoli
"Fourteen-year-old Calogero, his uncles, and his cousins are six Sicilians living in the small town of Tallulah, Louisiana, miles from any of their countrymen. They grow vegetables and sell them at their stand and in their grocery store. Some people welcome the immigrants; most do not. Calogero's family is caught in the middle of tensions between the black and white communities. As Calogero struggles to adapt to Tallulah, he is startled and thrilled by the danger of midnight gator hunts in the bayou and by his powerful feelings for Patricia, a sharp-witted, sweet-natured black girl. Meanwhile, every day, and every misunderstanding between the white community and the Sicilians, bring Calogero and his family closer to a terrifying, violent confrontation. An unforgettable novel, based on a true story, about racism against Italian Americans in the South in 1899."
My Louisiana Sky by Kimberly Willis Holt
"Tiger Ann Parker is smart in school and good at baseball, but she's forever teased about her family by the girls in class. Tiger Ann knows her folks are different from others in their small town of Saitter, Louisiana. They are mentally slow, and Tiger Ann keeps her pain and embarrassment hidden while her strong and smart Granny runs the household. Then tragedy strikes and Aunt Dorie Kay arrives, offering Tiger Ann a way out. Now Tiger Ann must make the most important decision of her life."
Children's Books about Hurricane Katrina
Picture Book about Hurricane Katrina
A Storm Called Katrina by Myron Uhlberg
"A moving story of the effects of Hurricane Katrina on the people of New Orleans, as seen through the eyes of a ten-year-old boy Louis Daniel hates it when Mama treats him like a baby. But when Hurricane Katrina blows through the Gulf Coast, Louis feels like a little kid again. With no time to gather their belongings (expect his beloved horn) Daddy leads the family into an unfamiliar, watery world of floating debris, lurking critters, and desperate neighbors. Taking shelter in the already-crowded Superdome, Louis and his parents wait…and wait. Conditions continue to worsen and when Daddy fails to return from a scouting mission within the Dome, Louis knows he's no longer a baby. It's up to him to find his father, with the help of his prized cornet."
Chapter Book About Hurricane Katrina
Zane and the Hurricane: A Story of Katrina by Rodman Philbrick
"Zane Dupree is a charismatic 12-year-old boy visiting a relative in New Orleans when Hurricane Katrina hits. Unexpectedly separated from all family, Zane and his dog experience the terror of Katrina's wind, rain, and horrific flooding. Facing death, they are rescued from an attic air vent by a kind, elderly musician and a scrappy young girl. The chaos that ensues as storm water drowns the city, shelter and food vanish, and police contribute to a dangerous, frightening atmosphere, creates a page-turning tale that completely engrosses the reader."
Comic-Style Book about Hurricane Katrina
Drowned City: Hurricane Katrina & New Orleans by Don Brown
"On August 29, 2005, Hurricane Katrina's monstrous winds and surging water overwhelmed the protective levees around low-lying New Orleans, Louisiana. Eighty percent of the city flooded, in some places under twenty feet of water. Property damages across the Gulf Coast topped $100 billion. One thousand eight hundred and thirty-three people lost their lives. The riveting tale of this historic storm and the drowning of an American city is one of selflessness, heroism, and courage. Don Brown's kinetic art and as-it-happens narrative capture both the tragedy and triumph of one of the worst natural disasters in American history."
Books Set in Louisiana (for Mom!)
I love to read, and I love a good theme or challenge for a reading list. So my final two books on this book list are one adult fiction and one adult non-fiction.
Fiction Book Set in Louisiana
Interview with the Vampire by Anne Rice
"Here are the confessions of a vampire. Hypnotic, shocking, and chillingly erotic, this is a novel of mesmerizing beauty and astonishing force. A story of danger and flight, of love and loss, of suspense and resolution, and of the extraordinary power of the senses. It is a novel only Anne Rice could write."
Non-fiction Book Set In Louisiana
Five Days at Memorial: Life and Death in a Storm-Ravaged Hospital by Sheri Fink
"Physician and reporter Sheri Fink reconstructs 5 days at Memorial Medical Center and draws the reader into the lives of those who struggled mightily to survive and maintain life amid chaos. After Katrina struck and the floodwaters rose, the power failed, and the heat climbed, exhausted caregivers chose to designate certain patients last for rescue. Months later, several of those caregivers faced criminal allegations that they deliberately injected numerous patients with drugs to hasten their deaths. Five Days at Memorial, the culmination of six years of reporting, unspools the mystery of what happened in those days, bringing the reader into a hospital fighting for its life and into a conversation about the most terrifying form of health care rationing."
And there you have it! The ultimate list of living books about Louisiana. It is my hope that this book list provides you with JUST ONE book to share with your kids.
From New Orleans to the bayou, and from pelicans to jazz, I hope you find some fun things to learn about Louisiana!