Keep reading for the best children's books about New Mexico!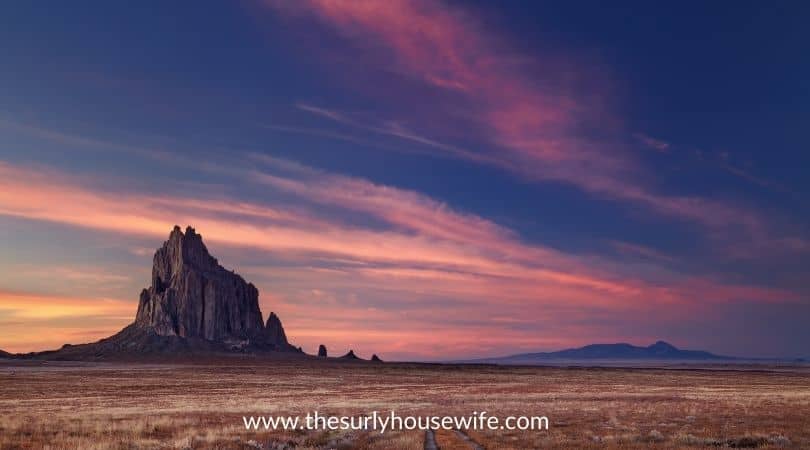 It's finally the day that I have been waiting for since I wrote the blog post about the best children's books about New Jersey!
Or as I have sometimes affectionally called these state book lists: a chance for me to showcase my tv trivia.
You see, my husband and I have this constant argument about what is the best tv show ever made: The Sopranos or Breaking Bad. I say The Sopranos, he says Breaking Bad. The Sopranos takes place in New Jersey, Breaking Bad in New Mexico.
Part of the reason it is so easy to remember the setting of these tv shows is that the setting is like another character. The setting becomes part of the show. And you know what? Books can do that too!
These types of books are called living books and it was my approach to studying the 50 states. Living books was termed by Charlotte Mason, and they are books that make the subject you are studying come alive and are written by people who love the subject.
Studying the 50 states doesn't have to be using boring nonfiction books. You can use various picture books and chapter books set in the states and let the author and characters tell you about the state!
Ready to find some books about New Mexico? Let's get to it!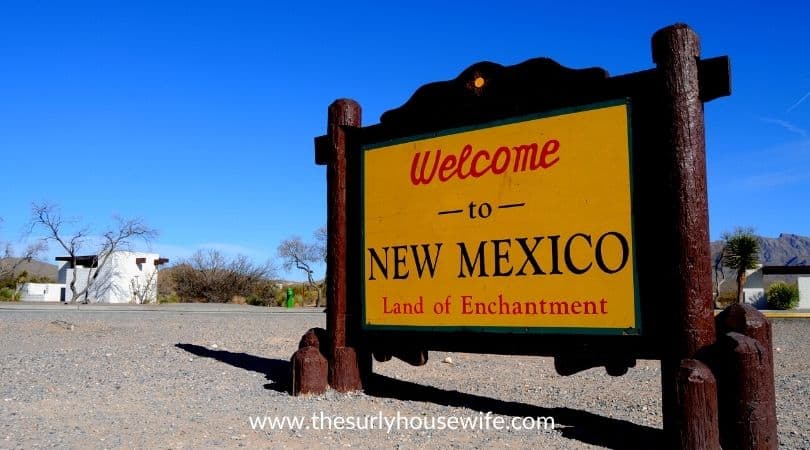 ICYMI, click HERE for all the other state book lists!
New Mexico History and Facts
New Mexico is nicknamed the Land of Enchantment.
Motto – It grows as it goes.
New Mexico entered the Union on January 6, 1912. It was the 47th state.
New Mexico was the name given to the state by sixteen-century Spaniards to the land north and west of the Rio Grande.
Santa Fe is the capital of New Mexico.
This post contains affiliate links. If you click and make a purchase, we earn a commission at NO extra cost to you. For more information, please read my full disclosure policy.
Descriptions come from Amazon; some are edited for length
Living Books about New Mexico
New Mexico Picture Books
E is for Enchantment: A New Mexico Alphabet by Helen Foster James
"New Mexico rightly earns its nickname 'Land of Enchantment' with natural treasures such as the White Sands National Monument, Carlsbad Caverns, and the Gila National Forest. But more than a beautiful landscape, New Mexico is steeped in the mystique, history, and tradition of multiple cultures, including the ancient Aztec and early Spanish explorers. From pueblo villages and stately missions to the nuclear energy research at Los Alamos, E is for Enchantment showcases the past, present, and future of New Mexico."
This series of books called Discover America State By State are some of my favorites for introducing a state to kids. Each letter states a fact or a thing about that state. For example, for New Mexico letter A is for Ancient ones and the letter B is for smokey Bear and so on. Each letter comes with a four line rhyme about that respective letter's fact or subject. What I love most is on the side of the page it gives more in-depth description about each subject. It's a great jumping off point for what sparks an interest in your child!
Spoon for Every Bite by Joe Hayes
"In this lovely New Mexico folktale, a rich man tries to prove his wealth to his poor neighbors by using a new spoon for every bite. In the process, he's served a pretty dish of come-uppance."
How Hollyhocks Came to New Mexico by Rudolfo Anaya
"How Hollyhocks Came to New Mexico is a fanciful folk tale that helps explain the beautiful flowers that can be seen in all parts of the Southwest in the summer and fall. Escaping Herod's wrath, Sueño, a near-sighted angel, takes the Holy Family to New Mexico by mistake. Acclaimed author and teacher Rudolfo Anaya blends history in this tale that shows how different cultures can work together peacefully and respect the land we all need."
Children's Books set in New Mexico
Shaped By Her Hands: Potter Maria Martinez by Anna Harber Freeman
"The most renowned Native American Indian potter of her time, Maria Povika Martinez learned pottery as a child under the guiding hands of her ko-ōo, her aunt. She grew up to discover a new firing technique that turned her pots black and shiny, and made them, and Maria, famous. This inspiring story of family and creativity illuminates how Maria's belief in sharing her love of clay brought success and joy from her New Mexico Pueblo to people all across the country."
Southwest Sunrise by Nikki Grimes
"When Jayden touches down in New Mexico, he's uncertain how this place could ever be home. But if he takes a walk outside, he just might find something glorious. Perhaps this place could be home after all. Gorgeously poetic and visually stunning, this story from acclaimed creators Nikki Grimes and Wendell Minor celebrates the beauty of the Southwest as a young boy sees it for the very first time."
The Night of Las Posadas by Tomie dePaola
"Tomie dePaola's glorious paintings are as luminous as the farolitos that light up on the Plaza in Santa Fe for the procession of Las Posadas, the tradition in which Mary and Joseph go from door to door seeking shelter at the inn on Christmas Eve. This year Sister Angie, who is always in charge of the celebration, has to stay home with the flu, and Lupe and Roberto, who are to play Mary and Joseph, get caught in a snowstorm. But a man and a woman no one knows arrive in time to take their place in the procession and then mysteriously disappear at the end before they can be thanked. That night we witness a Christian miracle, for when Sister Angie goes to the cathedral and kneels before the statue of Mary and Jospeh, wet footprints from the snow lead up to the statue."
Carlos and the Squash Plant by Jan Romero Stevens
"Set in northern New Mexico, young Carlos refuses to take a bath after his farm work each day, until a plant sprouts in his ear."
I'm in Charge of Celebrations by Byrd Baylor
"From the highly acclaimed team of Byrd Baylor and Peter Parnall comes the story of a girl who shares her love for desert life as she tells of treasured experiences like dancing in the wind on Dust Devil Day or sleeping outside on a hot summer night during The Time of the Falling Stars. Baylor's radiant prose-poem and Parnall's exquisite illustrations combine to create a joyous celebration of the human spirit."
Books about New Mexico Historical Figures
Chester Nez and the Unbreakable Code: A Navajo Code Talker's Story by Joseph Bruchac
"As a young Navajo boy, Chester Nez had to leave the reservation and attend boarding school, where he was taught that his native language and culture were useless. But Chester refused to give up his heritage. Years later, during World War II, Chester and other Navajo men like him were recruited by the US Marines to use the Navajo language to create an unbreakable military code. Suddenly the language he had been told to forget was needed to fight a war. This powerful picture book biography includes a timeline and a portion of the Navajo code, and also depicts the life of an original Navajo code talker while capturing the importance of heritage."
Through Georgia's Eyes by Rachel Victoria Rodriguez
"A gorgeous, evocative biography of one of America's most beloved artists. Georgia O'Keeffe saw the world differently from most people. As a child she roamed the prairie with a sketch pad in her hand, struggling to capture on paper what she saw all around her. At art school she learned to speak in paint on canvas. But Georgia felt confined by city life. She longed for vast expanses of space, and she found it in the red hills and silent deserts of New Mexico."
Chapter Books Set in New Mexico
The Boy Who Made Dragonfly: A Zuni Myth by Tony Hillerman
"Abandoned by their people, a small Zuni boy and his sister meet good fortune when a cornstalk dragonfly comes to life"
Tortilla Sun by Jennifer Cervantes
"When twelve-year-old Izzy spends the summer in her Nana's remote New Mexico village, she discovers long-buried secrets that come alive in an enchanted landscape of majestic mountains, whispering winds, and tortilla suns. Infused with the flavor of the southwest and sprinkled with just a pinch of magic, readers are sure to find this heartfelt story as rich and satisfying as Nana's homemade enchiladas."
The Day It Snowed Tortillas / El Dia Que Nevaron Tortillas by Joe Hayes
"Kids of all ages are always asking Joe Hayes, 'How can it snow tortillas? Well, now they'll know where to find the answer. Storytellers have been telling these stories in the villages of New Mexico since the Spanish first came to the New World over four hundred years ago, but Joe always adds his own nuances for modern audiences. The tales are full of magic and fun. The enchantment continues in story after story: a clever thief tricks a king for his kingdom and a prince finds his beloved in a house full of wicked step-sisters. And of course, we listen again to the ancient tale of the weeping woman, La Llorona, who still searches for her drowned children along the riverbanks."
Hour of the Bees by Lindsay Eagar
"While her friends are spending their summers having pool parties and sleepovers, twelve-year-old Carolina (Carol) is spending hers in the New Mexico desert, helping her parents move her grandfather into a home for people with dementia. At first, Carol avoids prickly Grandpa Serge. But as the summer wears on, Carol finds herself drawn to him, fascinated by the crazy stories he tells her about a healing tree, a green-glass lake, and the bees that will bring back the rain and end a hundred years of drought. As the line between magic and reality starts to blur, Carol must decide for herself what is possible. And what it means to be true to her roots."
And Now Miguel by Joseph Krumgold
"This is the story of a twelve-year-old Miguel Chavez, who yearns in his heart to go with the men of his family on a long and hard sheep drive to the Sangre de Cristo Mountains–until his prayer is finally answered, with a disturbing and dangerous exchange."
The Green Glass Sea by Ellen Klages
"It's 1943, and eleven-year-old Dewey Kerrigan is en route to New Mexico to live with her mathematician father. Soon she arrives at a town that, officially, doesn't exist. It is called Los Alamos, and it is abuzz with activity, as scientists and mathematicians from all over America and Europe work on the biggest secret of all: 'the gadget.' None of them: not J. Robert Oppenheimer, the director of the Manhattan Project; not the mathematicians and scientists; and least of all, Dewey know how much 'the gadget' is about to change their lives."
"Eli Frieden has never left Serenity, New Mexico. Why would he ever want to? Then one day, he bikes to the edge of the city limits and something so crazy and unexpected happens, it changes everything. Eli convinces his friends to help him investigate further, and soon it becomes clear that nothing is as it seems in Serenity. The clues mount to reveal a shocking discovery, connecting their ideal crime-free community to some of the greatest criminal masterminds ever known. The kids realize they can trust no one. Least of all their own parents."
Diary of a Waitress: The Not-so-glamorous Life of a Harvey Girl by Carolyn Meyer
"In 1926, droves of Americans traveled by train across the United States to visit the West. They ate at Harvey Houses, where thousands of well-trained waitresses provided first-class service. The Waitresses: The Journal of a Harvey Girl tells the first-person story of one spunky girl, Kitty Evans, as she faces the often funny and painful experiences she and fellow waitresses endure. As Kitty writes about her escapades, a lovable teenager emerges; she embraces adventure, independence, her position as a Harvey Girl, and a freelance writing career."
Kokopellis' Flute by Will Hobbs
"Tep Jones has always felt the magic of Picture House, an Anasazi cliff dwelling near the seed farm where he lives with his parents. But he could never have imagined what would happen to him on the night of a lunar eclipse, when he finds a bone flute left behind by grave robbers. Tep falls under the spell of a powerful ancient magic that traps him at night in the body of an animal. Only by unraveling the mysteries of Picture House can Tep save himself and his desperately ill mother. Does the enigmatic old Indian who calls himself Cricket hold the key to unlocking the secrets of the past? And can Tep find the answers in time?"
Sing Down the Moon by Scott O'Dell
"The Navajo tribe's forced march from their homeland to Fort Sumner by white soldiers and settlers is dramatically and courageously told by young Bright Morning."
Books Set in New Mexico (for Mom!)
I love to read, and I love a good theme or challenge for a reading list. So my final two books on this book list are one adult fiction and one adult non-fiction.
Fiction Book Set in New Mexico
The Crossing by Cormac McCarthy
"In the late 1930s, sixteen-year-old Billy Parham captures a she-wolf that has been marauding his family's ranch. But instead of killing it, he decides to take it back to the mountains of Mexico. With that crossing, he begins an arduous and often dreamlike journey into a country where men meet ghosts and violence strikes as suddenly as heat-lightning. A world where there is no order 'save that which death has put there.'"
Non-fiction Book Set In New Mexico
Fire Season: Field Notes from a Wilderness Lookout by Philip Connors
"For nearly a decade, Philip Connors has spent half of each year in a seven-by-seven foot fire-lookout tower, ten thousand feet above sea level in one of the most remote territories of New Mexico. One of the least developed parts of the country, the section he tends is also one of the most fire-prone, suffering more than thirty thousand lightning strikes each year. Written with gusto, charm, and a sense of history, Fire Season captures the wonder and grandeur of this most unusual job and place: the eerie pleasure of solitude, the strange dance of communion and mistrust with its animal inhabitants, and the majesty, might, and beauty of untamed fire at its wildest."
And there you have it! 20 living books about New Mexico. It is my hope that this book list provides you with JUST ONE book to share with your kids.
Don't forget to check out all the other states!