Keep reading for some of the best books about Kentucky for a state unit study!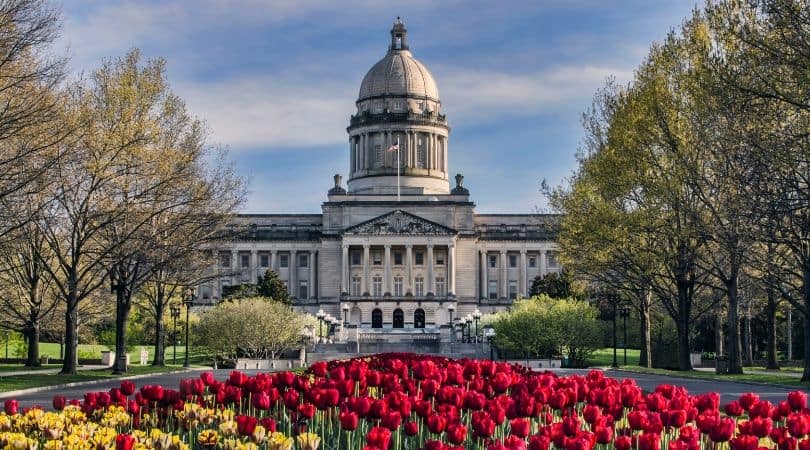 Kentucky is the birthplace of bourbon, crafting 95 percent of the world's supply. I know that doesn't sound relevant to blog post about books, but if you have kids, chances are you have thought about bourbon. Or maybe that is just me.
Kentucky is known for horse racing, bluegrass music, Daniel Boone, and did I mention horse racing?!
However, learning about Kentucky is more than memorizing state facts and the history of agriculture in the state. My approach to studying the 50 states involves what as Charlotte Mason coined, living books. Living books are books that make the subject you are studying come alive and are written by people who love the subject.
This book list contains non-fiction books about Kentucky as well as picture books and chapter books set in Kentucky. Let's get to it!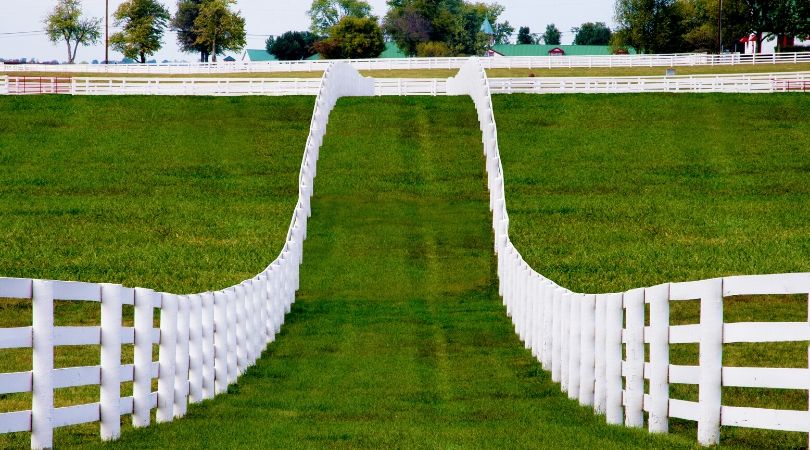 ICYMI, click HERE for all the other state book lists!
Kentucky History and Facts
Kentucky is nicknamed the Bluegrass State because of the type of bluegrass that grows well in the Kentucky soil.
Motto – United we stand, divided we fall.
Kentucky entered the Union on June 1, 1792. It was the 15th state.
Kentucky is named from a Cherokee word meaning "land of tomorrow."
Abraham Lincoln, the 16th President, was born in Sinking Spring, Kentucky on February 12, 1809.
Frankfort is the capital of Kentucky.
This post contains affiliate links. If you click and make a purchase, we earn a commission at NO extra cost to you. For more information, please read my full disclosure policy.
Descriptions come from Amazon; some are edited for length
Living Books about Kentucky
Non-fiction Picture Books About Kentucky
B is for Bluegrass by Mary Ann McCabe Riehle
"Mary Ann McCabe Riehle offers readers, young and old, the opportunity to take a horseback ride through the rich history and beautiful landscape of the Bluegrass State. From A to Z, McCabe Riehle's rhyming verse and interesting sidebar text will impart unique facts about Kentucky's spirited heritage, while Wes Burgiss' colorful illustrations are the next best thing to actually spending a week or two exploring the great state yourself."
This series of books called Discover America State By State are some of my favorites for introducing a state to kids. Each letter states a fact or a thing about that state. For example, for Kentucky letter A is for Audubon and the letter B is for bluegrass and so on. Each letter comes with a four line rhyme about that respective letter's fact or subject. What I love most is on the side of the page it gives more in-depth description about each subject. It's a great jumping off point for what sparks an interest in your child!
D is for Derby by Helen L. Wilbur
"The Kentucky Derby is the oldest continuous sporting event in the United States. But don't call it just a horse race. This annual May event, known as 'the most exciting two minutes in sports,' is steeped in tradition and pageantry far beyond what happens on the track. Following the alphabet, D is for Derby uses poetry and expository text to explain this world-famous event. Topics include famous jockeys, legendary horses, fabled Bluegrass farms and owners, as well as offering a behind-the scenes view of thoroughbred breeding and racing. Readers young and old, along with horse enthusiasts and diehard Derby fans, will enjoy this celebration of one of the most prestigious sporting and cultural events in our country."
Lift Your Light a Little Higher: The Story of Stephen Bishop: Slave-Explorer by Heather Henson
"Welcome to Mammoth Cave. It's 1840 and my name's Stephen Bishop. I'll be your guide, so come with me, by the light of my lantern, into the deepest biggest cave in all of the United States. Down here, beneath the earth, I'm not just a slave. I'm a pioneer. I know the cave's twists and turns. It taught me to not be afraid of the dark. And watching all these people write their names on the ceiling? Well, it taught me how to read too. Imagine that. A slave, reading. But like I said, down here I'm not just a slave. I'm a guide. I'm a man. And this is my story."
Perfect Timing: How Isaac Murphy Became One of the World's Greatest Jockeys by Patsi Trolling
"Perfect Timing tells the story of Isaac Murphy, the grandson of slaves who escaped a life of labor and poverty by turning a chance offer to ride a horse into one of the most successful jockey careers in the history of racing. Many of Isaac's records remain unbroken today. Filled with paintings that capture the excitement, tension, and movement of a horse race, Perfect Timing is a winning combination of sports, biography, and the inspiring story of an African American who made racing history."
Abe Lincoln Crosses a Creek: A Tall, Thin Tale by Deborah Hopkinson
"Now, I'm sure you know lots about Abraham Lincoln, the sixteenth president of the United States. But what you might not know is that Abe would never have become president if it hadn't been for Austin Gollaher. The year is 1816. Abe is only seven years old, and his pal, Austin Gollaher, is ten. Abe and Austin decide to journey down to Knob Creek. The water looks scary and deep, and Austin points out that they don't know how to swim. Nevertheless, they decide to traverse it. I won't tell you what happens, but let's just say that our country wouldn't be the same if Austin hadn't been there to help his friend."
Last Black King of the Kentucky Derby by Crystal Hubbard
"Born into an African American sharecropping family in 1880s Kentucky, Jimmy Winkfield grew up loving horses. The large, powerful animals inspired little Jimmy to think big. Looking beyond his family's farm, he longed for a life riding on action-packed racetracks around the world. Like his hero, the great Isaac Murphy, Jimmy 'Wink' Winkfield would stop at nothing to make it as a jockey. Though his path to success was wrought with obstacles both on the track and off, Wink faced each challenge with passion and a steadfast spirit. Along the way he carved out a lasting legacy as one of history's finest horsemen and the last African American ever to win the Kentucky Derby."
Picture Books Set in Kentucky
"With paintings that capture all the beauty of Appalachia in authentic detail, this tender story about a resourceful mountain girl's special coat will touch readers with its affirming message of love and friendship."
That Book Woman by Heather Henson
"Cal is not the readin' type. Living way high up in the Appalachian Mountains, he'd rather help Pap plow or go out after wandering sheep than try some book learning. Nope. Cal does not want to sit stoney-still reading some chicken scratch. But that Book Woman keeps coming just the same. She comes in the rain. She comes in the snow. She comes right up the side of the mountain, and Cal knows that's not easy riding. And all just to lend his sister some books. Why, that woman must be plain foolish—or is she braver than he ever thought? That Book Woman is a rare and moving tale that honors a special part of American history, the Pack Horse Librarians, who helped untold numbers of children see the stories amid the chicken scratch, and thus made them into lifetime readers."
Sally Ann Thunder Ann Whirlwind Crockett by Steven Kellog
"On the day she was born this amazing baby proudly announces she can out-talk, out-grin, out-scream, out-swim, and out-run any baby in Kentucky. Within a few years Sally is off to the frontier, where she stuns a hungry grizzly bear, makes a lasso out of six rattlesnakes, and is more than a match for the mighty Mike Fink. And when Sally Ann rescues Davy Crockett from a pair of ferocious eagles, even her hornet's-nest bonnet and skunk perfume don't stop him from proposing marriage. You won't find Sally Ann in any history book, but that hasn't kept her from becoming an authentic American frontier legend and the unforgettable heroine of Steven Kellogg's most delightfully rip-roaring tall tale."
Illustrated Chapter Books About Kentucky History
Danger at Sand Cave by Candice Ransom
"When Arly's friend Floyd Collins is trapped by falling rocks in Sand Cave, Arly rushes to help. Arly runs errands for the workers, but he feels that he should be doing more. It is a race against time, so Arly decides to try to make his way through the collapsed cave to help his friend, but he ends up in danger himself."
Daniel Boone: Woodsman of Kentucky by John Paul Zronik
"A true American woodsman, Daniel Boone is remembered for his exploration of Kentucky and the establishment in 1775 of the 'Boonesborough' settlement. This exciting book describes his legendary exploits as a trapper and soldier, his meetings with the Shawnee and Cherokee, and his lasting legacy in helping to build the 'Wilderness Road:' one of the most historic highways in America."
Down Cut Shin Creek: The Pack Horse Librarians of Kentucky by Kathi Appelt
"It's 4:30 in the morning, and the 'book woman' and her horse are already on their way. Hers is an important job, for the folks along her treacherous route are eager for the tattered books and magazines she carries in her saddlebags. During the Great Depression, thousands lived on the brink of starvation. Many perished. In 1935 President Franklin D. Roosevelt created the Works Progress Administration under his 1933 New Deal initiative. One of its most innovative programs was the Pack Horse Library Project of Eastern Kentucky. This is the story of one of the WPA's greatest successes. People all over the country supported the project's goals. But it was the librarians themselves (young, determined, and earning just $28 a month) who brought the hope of a wider world to people in the crooks and hollows of Kentucky's Cumberland Mountains."
Mary on Horseback by Rosemary Wells
"Mary Breckinridge, trained as a nurse during World War I, rode on horseback into the isolated mountains of Appalachia and never looked back. She spent her life fording icy streams and climbing untracked mountains to bring medical help to those in need. More nurses on horseback joined Mary and the Frontier Nursing Service was born."
Chapter books Set in Kentucky
River Runs Deep by Jennifer Bradbury
"Twelve-year-old Elias has consumption, so he is sent to Kentucky's Mammoth Cave, the biggest cave in America, where the cool vapors are said to be healing. At first, living in a cave sounds like an adventure, but after a few days, Elias feels more sick of boredom than his illness. So he is thrilled when Stephen, one of the slaves who works in the cave, invites him to walk further through its depths. But there are more than just tunnels and stalagmites waiting to be discovered; there are mysteries hiding around every turn. The truths they conceal are far more stunning than anything Elias could ever have imagined, and he finds himself caught in the middle of it all, while he's supposed to be resting. But how can he focus on saving his own life when so many others are in danger?"
Schoolhouse in the Woods by Rebecca Caudill
"An a woodland setting of the early 1900s, the Fairchild family is back! And this time, Bonnie is old enough to begin the great adventure, school. We join Bonnie in the excruciating anticipation of the first day, when she will wear her new dress, carry a first reader and slate, and enter into schoolroom learning and playground rites. Along with her older brother, three sisters, her various classmates, and Miss Cora, her teacher, they will have an eventful season of learning in the Kentucky Hills."
Chasing Red Bird by Sharon Creech
"It started out as an ordinary summer. But the minute thirteen-year-old Zinny discovered the old, overgrown trail that ran through the woods behind her family's house, she realized that things were about to change. It was her chance to finally make people notice her, and to have a place she could call her very own. But more than that, Zinny knew that the trail somehow held the key to all kinds of questions. And that the only way to understand her family, her Aunt Jessie's death, and herself, was to find out where it went."
Faith, Hope, and Ivy June by Phyllis Reynolds Naylor
"Ivy June Mosely and Catherine Combs, two girls from different parts of Kentucky, are participating in the first seventh-grade student exchange program between their schools. The girls will stay at each other's homes, attend school together, and record their experience in their journals. Catherine and her family have a beautiful home with plenty of space. Since Ivy June's house is crowded, she lives with her grandparents. Her Pappaw works in the coal mines supporting four generations of kinfolk. Ivy June can't wait until he leaves that mine forever and retires. As the girls get closer, they discover they're more alike than different, especially when they face the terror of not knowing what's happening to those they love most."
Trouble Don't Last by Shelley Pearsall
"Eleven-year-old Samuel was born as Master Hackler's slave, and working the Kentucky farm is the only life he's ever known, until one dark night in 1859, that is. With no warning, cranky old Harrison, a fellow slave, pulls Samuel from his bed and, together, they run. The journey north seems much more frightening than Master Hackler ever was, and Samuel's not sure what freedom means aside from running, hiding, and starving. But as they move from one refuge to the next on the Underground Railroad, Samuel uncovers the secret of his own past and future. And old Harrison begins to see past a whole lifetime of hurt to the promise of a new life in Canada."
"Having lost most of his family to coal mining accidents as a little boy, Curley Hines lives with his grandfather in the Appalachian Mountains of Wonder Gap, Kentucky. Ever since Curley can remember, Papaw has been giving him a word each week to learn and live. Papaw says words are Curley's way out of the holler, even though Curley has no intention of ever leaving. When a new coal boss takes over the local mining company, life as Curley knows it is turned upside down. Suddenly, his best friend, Jules, is interested in the coal boss's son, and worse, the mining company threatens to destroy Curley and Papaw's mountain. Now Curley faces a difficult choice. Does he use his words to speak out against Big Coal and save his mountain, or does he remain silent and save his way of life?"
Dream of Night by Heather Henson
"Untamable. Damaged. Angry. Once full of promise and life, now a fiery knot of resentment and detachment. This is the story of Dream of Night, an injured and abused racehorse. It's also the story of Shiloh, a sarcastic eleven-year-old foster child. By chance, Dream of Night and Shiloh both find themselves under the care of Jessalyn DiLima. Jess fosters animals and kids like Dream of Night and Shiloh for a reason, she's a little broken, too. And as the three of them become an unlikely family, they recognize their similarities in order to heal their pasts, but not before one last tragedy threatens to take everything away."
Books Set in Kentucky (for Mom!)
I love to read, and I love a good theme or challenge for a reading list. So my final two books on this book list are one adult fiction and one adult non-fiction.
Fiction Book Set in Kentucky
Hannah Coulter by Wendell Berry
"Hannah Coulter is Kentucky author Wendell Berry's seventh novel. Hannah, the now-elderly narrator, recounts the love she has for the land and for her community. She remembers each of her two husbands, and all places and community connections threatened by twentieth-century technologies. At risk is the whole culture of family farming, hope redeemed when her wayward and once lost grandson, Virgil, returns to his rural home place to work the farm."
Non-fiction Book Set In Kentucky
Trapped! The Story of Floyd Collins by Robert Murray and Roger Brucker
"When Floyd Collins became trapped in a cave in southern Kentucky in early 1925, the sensationalism and hysteria of the rescue attempt generated America's first true media spectacle, making Collins's story one of the seminal events of the century. The crowds that gathered outside Sand Cave turned the rescue site into a carnival. Collins's situation was front-page news throughout the country, hourly bulletins interrupted radio programs, and Congress recessed to hear the latest word. Trapped! is both a tense adventure and a brilliant historical recreation of the past."
And there you have it! 20 living books about Kentucky. It is my hope that this book list provides you with JUST ONE book to share with your kids.
From the Derby to Mammoth Cave, and from the Lincoln to Daniel Boone, I hope you find some fun things to learn about Kentucky!
Don't forget to check out the other book lists!