20 unit study books about Connecticut!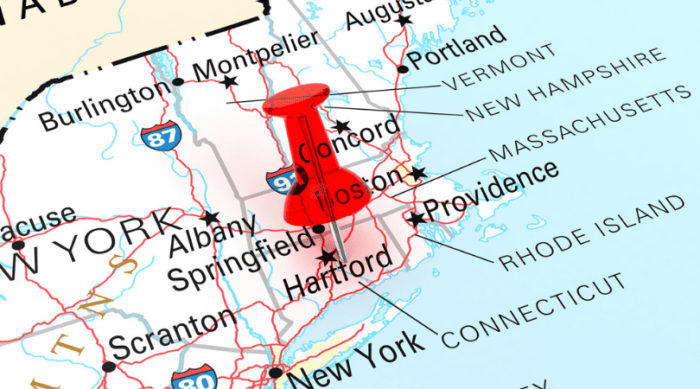 I may lose my homeschool mother badge for this, but I have never seen an episode of Gilmore Girls. Gilmore Girls is set in the fictitious town of Stars Hallow, Connecticut. That's my knowledge on the show. I know nothing about characters or plot but I know the name Stars Hallow and that homeschool moms are NUTS for this show. This really doesn't go anywhere other than the fact that this blog post is all about Connecticut unit study books!
If you are starting to study Connecticut, I have a list of 20 books of various reading levels to get you started. From Webster's dictionary, to Wild Things, this list has something for all interests and age ranges that homeschooling families may have.
Studying and learning about the fifty states is more than memorizing facts about the state bird and square milage. So the books I include in my unit studies are, as Charlotte Mason coined, living books. Living books are books that make the subject you are studying come alive and are written by people who love the subject. Some books are about a family living in Connecticut, while others are about the state's history and resources.
ICYMI, click HERE for all the other state book lists!
Connecticut Background and Facts
Connecticut is nicknamed the Constitution State because it's believed that ideas for the writing of the Constitution of the United States were drawn from the first constitution of Connecticut.
Motto – He who translated sustains.
Connecticut entered the Union on January 9th, 1788. It was the fifth state.
Connecticut was named for the Mohegan wow meaning "beside the long tidal river."
George W. Bush, the 42nd President of the United States was born in New Haven, Connecticut on July 6, 1946.
Hartford is the Capital city of Connecticut.
This post contains affiliate links. If you click and make a purchase, we earn a commission at NO extra cost to you. For more information, please read my full disclosure policy.
Living Books about Connecticut
Picture Books about Connecticut
N Is For Nutmeg: A Connecticut Alphabet by Elissa D. Grodin
"As one of the 13 original colonies, the state of Connecticut has played a pivotal role in our nation's history — from its Revolutionary War figures such as Nathan Hale to its captains of industry and invention. N is for Nutmeg entertains as it informs readers on the history and geography, facts and folklore of Connecticut — learn why Groton is the submarine capital of the world and how Samuel Clemens got his pen name."
This series of books called Discover America State By State are some of my favorites for introducing a state to kids. Each letter states a fact or a thing about that state. For example, for Connecticut letter A is for American robin and the letter B is for Mister Barnum and so on. Each letter comes with a four line rhyme about that respective letter's fact or subject. What I love most is on the side of the page it gives more in-depth description about each subject. It's a great jumping off point for what sparks an interest in your child!
Yankee Doodle Numbers: A Connecticut Number Book by Elissa D. Grodin
"Using numbers as its backdrop, "Yankee Doodle Numbers: A Connecticut Number Book" gives an entertaining and educational travelogue of the state's historic moments, symbols, landmarks, and famous people. From its role during the Revolutionary War to its nickname of the "Land of Steady Habits," the history and wonder of Connecticut comes alive."
Noah Webster and His Words by Jeri Chase Ferris
"Webster's American Dictionary is the second most popular book ever printed in English. But who was that Webster? Noah Webster (1758–1843) was a bookish Connecticut farm boy who became obsessed with uniting America through language. He spent twenty years writing two thousand pages to accomplish that. This clever, hilariously illustrated account shines a light on early American history and the life of a man who could not rest until he'd achieved his dream. An illustrated chronology of Webster's life makes this a picture perfect bi-og-ra-phy [noun: a written history of a person's life]."
Children's Books Set in Connecticut
The Art Lesson by Tomie dePaola
"Tommy knows he wants to be an artist when he grows up. He can't wait to get to school and have real art lessons. When Tommy gets to school and finds out that the art lessons are full of rules, he is surprised and dismayed. However the wise art teacher finds a way to give Tommy the freedom to create and stay within the rules. Based on the author/artist's own experiences growing up it is a wonderfully perceptive picture book about growing up and keeping one's individuality."
The Legend of Hobbomock: The Sleeping Giant by Jason J. Marchi
"The compelling story of a young Quinnipiac brave named Blackbird. Through young Blackbird's eyes we learn the Quinnipiac tribal legend of how the Sleeping Giant landform in Hamden, Connecticut came to look like a giant man sleeping on his back."
Testing the Ice: A True Story About Jackie Robinson: A True Story About Jackie Robinson by Sharon Robinson
"An affectionate tribute to Robinson's father's courage and character. In 1955, the family leaves New York City for a lakeside home in an idyllic, woodsy setting in Connecticut. Sharon and her brothers quickly make friends with the neighborhood kids and spend much of their time playing in and around the lake, though she notices that her dad never joins them in the water. Her new friends are awestruck by him and his stories of his breakthrough into the Major Leagues. When he bravely tests the ice so that the children can play on the frozen lake, Sharon realizes that he can't swim. Robinson neatly sums up the significance of her father's achievements while depicting him as a loving family man. Nelson's large paintings, done in pencil, watercolor, and oils, dramatically convey Robinson's public persona, the intensely competitive athlete, and contrasts that with the relaxed, yet commanding father Sharon and her brothers knew."
Wilhemina Goes Wandering by John-Manuel Andriote
"Wilhelmina Goes Wandering is based on the true story of a runaway cow in Connecticut. For five months in 2011, the 800-pound Black Angus was the talk of the town as she was seen around Milford, Orange, and West Haven, hanging out and traveling with a herd of deer. When she is eventually captured and relocated to another farm, an animal sanctuary in Oxford, Wilhelmina finds that her urge for adventures has been curbed by knowing she is finally accepted and loved by her new farmer friend Betty."
Books by Authors From Connecticut
Where the Wild Things Are by Maurice Sendak
Maurice Sendak lived in Ridgefiled, CT for 40 years. So take this time to reread or discover for the first one of the greatest picture books ever!
The Magical Christmas Horse by Mary Higgins Clark
"Johnny's wish had come true. His family would be visiting his grandparents for Christmas. His grandparents lived in an old house in New England where his father had been born. The family together, the smells of the cookies baking, the snowy Christmas tree farm with trees of so many shapes and sizes, and most of all the wooden horse he had told his brother Liam about would make this the best Christmas ever. In his grandparents' attic Johnny finds many treasures, but the wooden horse he remembered so well is missing. How can Johnny make his brother's Christmas wish come true?"
The Boxcar Children Series by Gertrude Chandler Warner
"The Aldens begin their adventure by making a home in a boxcar. Their goal is to stay together, and in the process they find a grandfather. Gertrude Chandler Warner was born in 1890 in Putnam, Connecticut, where she taught school and wrote The Boxcar Children because she had often imagined how delightful it would be to live in a caboose or freight car. Encouraged by the book's success, she went on to write eighteen more stories about the Alden children."
Chapter Books Set in Connecticut
The Courage of Sarah Noble by Alice Dalgliesh
"In 1707, eight-year old Sarah Noble and her father traveled through the wilderness to build a new home for their family. "Keep up your courage, Sarah Noble," her mother had said, but Sarah found that it was not always easy to feel brave inside. The true story of Sarah's journey is inspiring. And as she cares for her father and befriends her Indian neighbors, she learns that to be afraid and to be brave is the greatest courage of all."
Sybil Ludington's Midnight Ride by Marsha Amstel
"On a dark, cold, and rainy night in April 1777, Sybil Ludington sets out on a journey to warn American soldiers that danger is headed their way. The British are coming! They have already attacked a nearby town, and it is up to sixteen-year-old Sybil to make sure that she reaches the American soldiers before the British do. With only a large stick to defend herself, and her horse, Star, for company, Sybil rides off into the perilous night and changes the course of the American Revolution. The true story of Sybil's bravery and perseverance are faithfully related by Marsha Amstel's appealing text and Ellen Beier's finely crafted illustrations."
26 Fairmount Avenue by Tomie dePaola
"Tomie's family starts building their new house at 26 Fairmount Avenue in 1938, just as a hurricane hits town, starting off a busy, crazy year and many adventures all his own. Tomie dePaola's childhood memories are hilarious, and his charming illustrations are sure to please."
Because of Mr. Terupt by Rob Buyea
"It's the start of fifth grade for seven kids at Snow Hill School. There's: Jessica, the new girl, smart and perceptive, who's having a hard time fitting in; Alexia, a bully, your friend one second, your enemy the next; Peter, class prankster and troublemaker; Luke, the brain; Danielle, who never stands up for herself; shy Anna, whose home situation makes her an outcast; and Jeffrey, who hates school. Only Mr. Terupt, their new and energetic teacher, seems to know how to deal with them all. He makes the classroom a fun place, even if he doesn't let them get away with much. Until the snowy winter day when an accident changes everything—and everyone."
The Hundred Dresses by Eleanor Estes
"Wanda Petronski is a Polish girl in a Connecticut school who is ridiculed by her classmates for wearing the same faded blue dress every day. Wanda claims she has one hundred dresses at home, but everyone knows she doesn't and bullies her mercilessly. The class feels terrible when Wanda is pulled out of the school, but by that time it's too late for apologies. Maddie, one of Wanda's classmates, ultimately decides that she is 'never going to stand by and say nothing again.'"
"Meet the Moffats. There is Sylvie, Joey, Janey, and Rufus. Even the most ordinary Moffat day is packed with extraordinary fun. Only a Moffat could get locked in a bread box all afternoon, or dance with a dog in front of the whole town, or hitch a ride on a boxcar during kindergarten recess. And only a Moffat could turn mistakes and mischief into hilarious one-of-a-kind adventure."
"Meet the marvelous Pyes— Mrs. Pye, Mr. Pye, Rachel Pye, Jerry Pye, and Uncle Bennie, who is Jerry and Rachel's uncle—even though he's only three years old. Lastly is Ginger Pye, the intellectual dog, who Jerry bought for a hard-earned dollar. The most famous pup in all of Cranbury, Ginger knows tons of tricks, is as loyal as he is smart, and steals the hearts of everyone he meets . . . until someone steals him!"
Young Adult Books Set in Connecticut
The Witch of Blackbird Pond by by Elizabeth George Speare
"Sixteen-year-old Kit Tyler is marked by suspicion and disapproval from the moment she arrives on the unfamiliar shores of colonial Connecticut in 1687. Alone and desperate, she has been forced to leave her beloved home on the island of Barbados and join a family she has never met. Torn between her quest for belonging and her desire to be true to herself, Kit struggles to survive in a hostile place. Just when it seems she must give up, she finds a kindred spirit. But Kit's friendship with Hannah Tupper, believed by the colonists to be a witch, proves more taboo than she could have imagined and ultimately forces Kit to choose between her heart and her duty."
"'It's still true.' That's the first thing James Tillerman says to his older sister, Dicey, every morning. It's still true that their mother has abandoned the four Tillermans in a mall parking lot somewhere in the middle of Connecticut. It's still true that they have to find their own way to Great-aunt Cilla's house in Bridgeport. It's still true that they need to spend as little as possible on food and seek shelter anywhere that is out of view of the authorities. It's still true that the only way they can hope to all stay together is to just keep moving forward. Deep down, Dicey hopes they can find someone to trust, someone who will take them in and love them. But she's afraid it's just too much to hope for…."
My Brother Sam Is Dead by James Lincoln Collier
"The Revolutionary War had no clear-cut loyalties: it divided families, friends, and towns. Young Tim Meeker's sixteen-year-old brother goes off to fight with the Patriots while his father remains a reluctant British Loyalist in the Tory town of Redding, Connecticut. Tim's always looked up to his brother, who's smart and brave. With the war soon raging, Tim knows he'll have to make a choice: between the Revolutionaries and the Redcoats. And between his brother and his father. Over the course of the war, Tim learns that life teaches some bitter lessons and does not guarantee clear answers. 'My Brother Sam Is Dead' is a stirring, probing tale full of action and suspense, putting you right into the heart of the Revolutionary War."
Don't forget to check out the other states!!
Books Set in Connecticut (For Mom!)
I love to read, and I love a good theme or challenge for a reading list. So my final two books on this book list are one adult fiction and one adult non-fiction.
Fiction Book Set In Connecticut
Revolutionary Road by Richard Yates
"Hailed as a masterpiece of realistic fiction and as the most evocative portrayal of the opulent desolation of the American suburbs, Revolutionary Road is the story of Frank and April Wheeler, a bright, beautiful, and talented couple who have lived on the assumption that greatness is only just around the corner. With heartbreaking compassion and remorseless clarity, Richard Yates shows how Frank and April mortgage their spiritual birthright, betraying not only each other, but their best selves."
Non-fiction Book Set In Connecticut
Stone by Stone: The Magnificent History in New England's Stone Walls by Robert Thorson
"There once may have been 250,000 miles of stone walls in America's Northeast, stretching farther than the distance to the moon. They took three billion man-hours to build. And even though most are crumbling today, they contain a magnificent scientific and cultural story―about the geothermal forces that formed their stones, the tectonic movements that brought them to the surface, the glacial tide that broke them apart, the earth that held them for so long, and about the humans who built them."
And there you have it! 20 books to begin a unit study about Connecticut. This list has some wonderful fiction books that take place in Connecticut, The Moffats and 26 Farimount Ave. being my faves! From nutmeg to the dictionary and boxcars to wild things, young readers have a lot they can learn from the constitution state.
I hope this book list sparks an interest in your homeschooler. Maybe you will devour all of Tomie dePaola's books or the entire Boxcar Children series! Whatever it is, I hope you find some fun areas to explore and expand during your Connecticut unit study.