Keep reading for 20 awesome books about Kansas!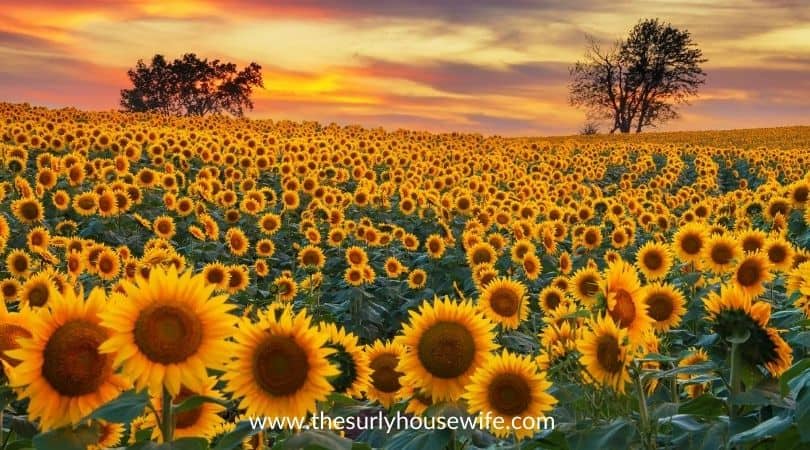 Did you know a Kansas doctor wrote the famous lyrics to the song "Home on the Range?" Brewster Higley wrote the lyrics to describe farming life in the 19th century. And when you think of Kansas you think of a landscape with low hills and rolling prairies.
However, studying and learning about Kansas is more than learning about its landscapes and memorizing its state capital. My approach to homeschooling involves what as Charlotte Mason coined, living books. Living books are books that make the subject you are studying come alive and are written by people who love the subject.
I love using this method because we aren't reading bland nonfiction books. And this book list is anything but! As it is filled with picture books, graphic novels, and chapter books about and set in Kansas. They truly make the state of Kansas come alive to the reader. Let's get started!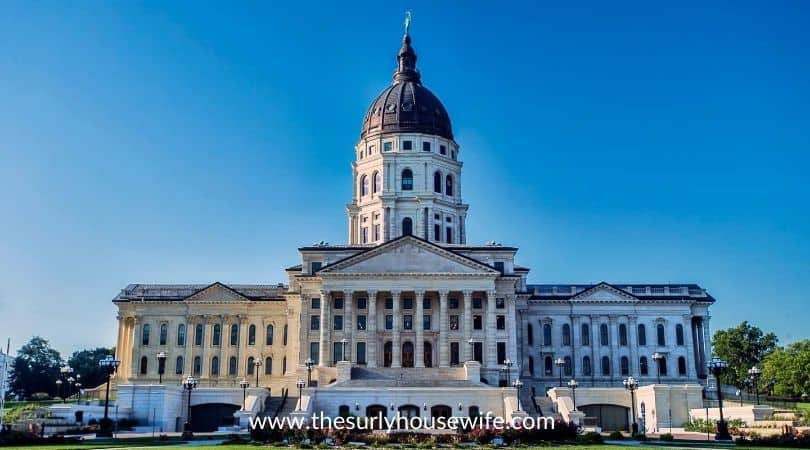 ICYMI! Here are the lists for the other states!
Kansas History and Facts
Kansas is nicknamed the Sunflower State.
Motto – To the stars through difficulties.
Kansas entered the Union on January 29, 1861. It was the 34th state.
Kansas is named from a Sioux word meaning "South Wind People."
Dwight Eisenhower spent much of his childhood in Kansas and was his primary affliction.
Topeka is the capital of Kansas.
This post contains affiliate links. If you click and make a purchase, we earn a commission at NO extra cost to you. For more information, please read my full disclosure policy.
Descriptions come from Amazon; some are edited for length
Living Books about Kansas
Kansas Picture Books
S is for Sunflower: A Kansas Alphabet by Devin Scillian
"Nicknamed the 'world's breadbasket,' the contributions from the great state of Kansas reverberate far beyond its borders. Kansas has given us leaders in politics (Dwight D. Eisenhower), aviation (Amelia Earhart); and sports (Wilt Chamberlain); leads our nation in wheat production; and fuels our Hollywood image of the wild West (Dodge City). From A-Z, S is for Sunflower explores the broad plain of history and people that make up the state of Kansas."
This series of books called Discover America State By State are some of my favorites for introducing a state to kids. Each letter states a fact or a thing about that state. For example, for Kansas letter A is for Atchison and letter B is blue crab, B is for Biscon and so on. Each letter comes with a four line rhyme about that respective letter's fact or subject. What I love most is on the side of the page it gives more in-depth description about each subject. It's a great jumping off point for what sparks an interest in your child!
One Kansas Farmer: A Kansas Number Book by Devin Scillian
"One Kansas Farmer: A Kansas Number Book "counts out" an entertaining and educational travelogue of the state's history, geography, famous people, and places. Topics include the dancing prairie chickens and the invention of the microchip."
P is for Prairie Dog: A Prairie Alphabet by Anthony Fredericks
"Fact: At one time prairies covered about 40% of the United States but today only about 1% of North American prairies exist. P is for Prairie Dog: A Prairie Alphabet explores North American prairies as it explains their important role and showcases their wonders. Science writer Anthony Fredericks gives an A-Z tour of the many facets and fascinating facts of the prairie ecosystem. Inhabitants including the bison, the quail, and, of course, the prairie dog are highlighted along with descriptions of insect and plant life."
Van Gogh and the Sunflowers by Laurence Anholt
"Young Camille befriends a strange visitor to his small town, and one day he brings this man a gift of bright, beautiful sunflowers. The man is the artist Vincent van Gogh, and the sunflowers quickly become the subject of a magnificent painting. In B.E.S. Anholt's Artists Books for Children series, author and illustrator Laurence Anholt recalls memorable and sometimes amusing moments when the lives of the artists were touched by children."
Going West by Jean Van Leeuwen
"One day in early spring they packed everything they had into our wagon, and set out to find a new home. Sleeping under the stars, weathering terrible storms, and fording swollen rivers, Hannah and her family made the journey of a lifetime."
Picture Books Set in Kansas
No Small Potatoes: Junius G. Groves and His Kingdom in Kansas by Tonya Bolden
"Discover the incredible true story of how one of history's most successful potato farmers, Junius G. Groves, began life as a slave and worked until he was named the 'Potato King of the World'!"
Aunt Minnie and the Twister by Mary Skillings Prigger
"An affectionate, humorous tale about the indomitable spinster Aunt Minnie and her nine adopted nieces and nephews. Minnie keeps her growing kids busy: they plant in the spring, harvest in the summer, and can in the fall. But when a wild twister sweeps through the farm one spring day, everything turns topsy-turvy. Luckily, Aunt Minnie knows just what to do!"
Green City: How One Community Survived a Tornado and Rebuilt for a Sustainable Future by Allan Drummond
In 2007, a tornado destroyed Greensburg, Kansas, and the residents were at a loss as to what to do next. They didn't want to rebuild if their small town would just be destroyed in another storm. So they decided they wouldn't just rebuild the same old thing; this time, they would build a town that could not only survive another storm, but one that was built in an environmentally sustainable way. Told from the point of view of a child whose family rebuilt after the storm, this is an inspiring story of the difference one community can make."
The Buffalo Are Back by Jean Craighead George
"This stirring picture book tells the dramatic story, following bison from the Plains Indians to the cowboys, Teddy Roosevelt to the Dust Bowl, and from the brink of extinction to the majestic herds that now roam our national parks. Paired with gorgeous paintings by landscape artist Wendell Minor, Jean Craighead George's engaging text will inspire a new generation to understand and protect nature's delicate balance."
Children's Books Set in Kansas
Prairie Skies: Cabin in the Snow by Deborah Hopkinson
"Storms are brewing! Gray skies, bitter cold, and vicious winds warn that a prairie blizzard is coming. Charlie is always getting into trouble for daydreaming and forgetting his chores. Now he has to show he's grown-up enough to help Momma, his sisters, and his newborn baby brother survive in their tiny cabin in the snow."
Wagon Wheels by Barbara Brenner
"The Muldie boys and their father have come a long way to Kansas. But when Daddy moves on, the three boys must begin their own journey. They must learn to care for one another and face the dangers of the wilderness alone."
Rose's Journal: The Story of a Girl in the Great Depression by Marissa Moss
"On January 1, 1935, Rose Samuels bids good riddance to a dry, desolate year and begins a new one. The severe drought has left the fields too dry for crops and the farms are all failing. Times are tough, but with hope, love, and determination, Rose and her family manage to turn the year around."
Graphic Novels Set In Kansas
The Storm in the Barn by Matt Phelan
"In Kansas in the year 1937, eleven-year-old Jack Clark faces his share of ordinary challenges: local bullies, his father's failed expectations, a little sister with an eye for trouble. But he also has to deal with the effects of the Dust Bowl, including rising tensions in his small town and the spread of a shadowy illness. In a land where it never rains, it's hard to trust what you see with your own eyes. And harder still to take heart and be a hero when the time comes. With phenomenal pacing, sensitivity, and a sure command of suspense, Matt Phelan ushers us into a world where desperation is transformed by unexpected courage."
The Adventures of Beanboy by Lisa Harkrader
"Tucker MacBean has been drawing comic books almost as long as he's been reading them. When his favorite comic has a contest for kids, he hopes he has finally found a way to fix his family. All he has to do is create the winning superhero sidekick. Introducing 'Beanboy,' the first comic book character to truly harness the power of the bean for good. He is strong, he is relentless, he can double in size overnight (if given enough water)."
Chapter Books set in Kansas
Moon Over Manifest by Clare Vanderpool
"Abilene Tucker feels abandoned. Her father has put her on a train, sending her off to live with an old friend for the summer while he works a railroad job. Armed only with a few possessions and her list of universals, Abilene jumps off the train in Manifest, Kansas, aiming to learn about the boy her father once was. Having heard stories about Manifest, Abilene is disappointed to find that it's just a dried-up, worn-out old town. But her disappointment quickly turns to excitement when she discovers a hidden cigar box full of mementos, including some old letters that mention a spy known as the Rattler. These mysterious letters send Abilene and her new friends, Lettie and Ruthanne, on an honest-to-goodness spy hunt!"
"What dangers are locked behind the cupboard doors? Henry isn't brave, but when he hears a thumping and scratching on the other side of his bedroom wall, he can't ignore it. He scrapes off the plaster and discovers mysterious doors: cupboards of all different shapes and sizes. Through one he sees a glowing room and a man strolling back and forth. Through another he sees only darkness and feels the cold sense that something isn't right. When his cousin Henrietta boldly travels into the worlds beyond the cupboards, it's up to Henry to follow her. Now that he's opened the doors, can he keep the evil inside from coming through?"
The Thing about Luck by Cynthia Kadohata
"Summer knows that kouun means 'good luck' in Japanese, and this year her family has none of it. Just when she thinks nothing else can possibly go wrong, an emergency whisks her parents away to Japan–right before harvest season. Summer and her little brother are left in the care of their grandparents (Obaachan and Jiichan) who come out of retirement in order to harvest wheat and help pay the bills. The thing about Obaachan and Jiichan is that they are old-fashioned and demanding, and between helping Obaachan cook for the workers, covering for her when her back pain worsens, and worrying about her lonely little brother, Summer just barely has time to notice the attentions of their boss's cute son. But notice she does, and what begins as a welcome distraction from the hard work soon turns into a mess of its own."
The Van Gogh Cafe by Cynthia Rylant
"At the Van Gogh Cafe, 'anything' can happen. Clara's dad owns the cafe, and she's seen it all. From food that cooks by itself to poems that foretell the future. This award-winning collection of vignettes by Newbery medalist Cynthia Rylant is a treat to be relished. So bring your appetite for the unexpected, because at the Van Gogh Cafe, your order of tea and toast comes with a side of magic!"
The Wonderful Wizard of Oz by L. Frank Baum
"Dorothy thinks she is lost forever when a terrifying tornado crashes through Kansas and whisks her and her dog, Toto, far away to the magical land of Oz. To get home Dorothy must follow the yellow brick road to Emerald City and find the wonderfully mysterious Wizard of Oz. Together with her companions the Tin Woodman, the Scarecrow and the Cowardly Lion whom she meets on the way, Dorothy embarks on a strange and enchanting adventure."
Little House on the Prairie by Laura Ingalls Wilder
"Laura Ingalls and her family are heading to Kansas! Leaving behind their home in the Big Woods of Wisconsin, they travel by covered wagon until they find the perfect spot to build a little house on the prairie. Laura and her sister Mary love exploring the rolling hills around their new home, but the family must soon get to work, farming and hunting and gathering food for themselves and for their livestock. Just when the Ingalls family starts to settle into their new home, they find themselves caught in the middle of a conflict. Will they have to move again?"
Books Set in Kansas (for Mom!)
I love to read, and I love a good theme or challenge for a reading list. So my final two books on this book list are one adult fiction and one adult non-fiction.
Fiction Book Set in Kansas
"Libby Day was seven when her mother and two sisters were murdered in 'The Satan Sacrifice of Kinnakee, Kansas.' She survived and famously testified that her fifteen-year-old brother, Ben, was the killer. Twenty-five years later, the Kill Club, a secret society obsessed with notorious crimes, locates Libby and pumps her for details. They hope to discover proof that may free Ben. Libby hopes to turn a profit off her tragic history: She'll reconnect with the players from that night and report her findings to the club. For a fee. As Libby's search takes her from shabby Missouri strip clubs to abandoned Oklahoma tourist towns, the unimaginable truth emerges, and Libby finds herself right back where she started. On the run from a killer."
Non-fiction Book Set In Kansas
In Cold Blood by Truman Capote
"On November 15, 1959, in the small town of Holcomb, Kansas, four members of the Clutter family were savagely murdered by blasts from a shotgun held a few inches from their faces. There was no apparent motive for the crime, and there were almost no clues. As Truman Capote reconstructs the murder and the investigation that led to the capture, trial, and execution of the killers, he generates both mesmerizing suspense and astonishing empathy. In Cold Blood is a work that transcends its moment, yielding poignant insights into the nature of American violence."
And there you have it! 20 living books about Kansas. It is my hope that this book list provides you with JUST ONE book to share with your kids. For our homeschool unit we read The Wonderful Wizard of Oz, and let me tell you Anne Hathaway as the narrator made it all the more wonderful!
From tornados to wizards, and from the prairie to the railroad I hope you find some fun things to learn about Kansas!